Every red meat-lover enjoys a medium or rare juicy steak, and you will find the best steakhouse in DC that serves them. In this political hub state, you will find politicians, journalists, and celebrities, discussing political agendas & gossip over well-served cuts of mouthwatering steaks and other outstanding food menus.
Although the Washington DC restaurant scene is full of eclectic steakhouses, only a few serve the best of the best steaks menu. We'll be discussing 10 of the best steakhouse in Washington DC down below, so when next time you have a craving for juicy steaks, you can try out any of these restaurants without any hesitation.
Let's take a grand & juicy tour of the 14 best steakhouses in DC!
14 Best Steakhouse in DC
1. Mastro's Steakhouse, 600 13th St NW, Washington, DC 20005
With its strict dress code, opulent decor, soft lighting, delicious & artistically presented food menu, live piano music, and an expansive wine list, Mastro's Steakhouse ensure you a memorable dining experience.
Decked out with steakhouse classics like their famous double-cut porterhouse steak, bone-in-ribeye, a fine selection of Sushi dishes by chef Angel Carbajal, delicious crabcakes, twice-baked potatoes, to Lobster Bisque, all served with perfectly paired wine, Mastro's offers something for every tastebud is very well known as one of the best steakhouses in DC.
2. The Prime Rib, 2020 K St NW, Washington, DC 20006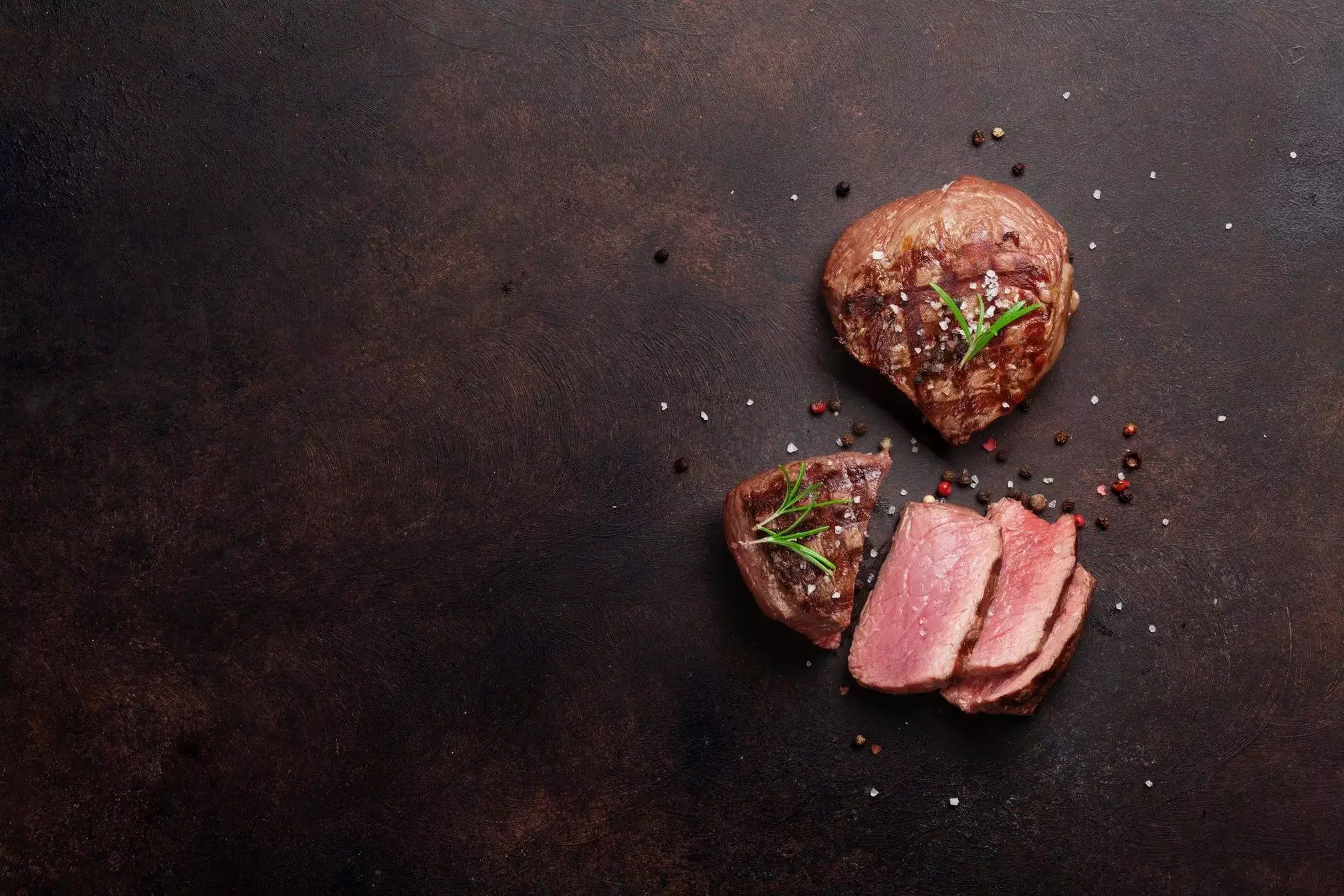 Oozing 1940s Hollywood charm with its black plush leather seatings, dramatic mood lighting, and tuxedoed waitstaff, The Prime Rib is still a crown jewel in the Washington DC steakhouse scene since its opening in 1970.
Counted amongst the top five romantic restaurants in America and the Silver Plate Award winner restaurant, the Prime is perfect for date nights, weddings, birthdays, anniversaries, or business events.
You can't go wrong with the restaurant's famous Prime Rib, Lobster Bisque, or Crab Cake; all can be matched with their exquisite wine list, which guests can enjoy with live jazz music.
3. BLT Steak, 1625 I St NW, Washington, DC 20006
With its dark sued upholstery furniture and intimate atmosphere, the upscale steakhouse BLT Steak sits in Dupont Circle in the same neighborhood as the White House. BLT Steak is another glamourous restaurant for fine dining among the best steakhouse in dc.
BLT Steak prized serving range from classic steak cuts like Porterhouse, Japanese Kobe Beef, Cowboy Ribeye & New York Strip, Filet Mignon, American Wagyu Beef, and Steak Tartare; all can be perfectly paired with their award-winning wine selections.
4. Charlie Palmer Steak, 101 Constitution Ave. NW, Washington, D.C 20001
Charlie Palmer Steak restaurant features timeless elegance in its ambiance is another best steakhouse in dc. A few blocks from Capitol Hill, located off the National Mall, Charlie Palmer Steak has always been the political powerhouse. It doesn't mean Charlie Palmer Steak only caters to politics-based clientele.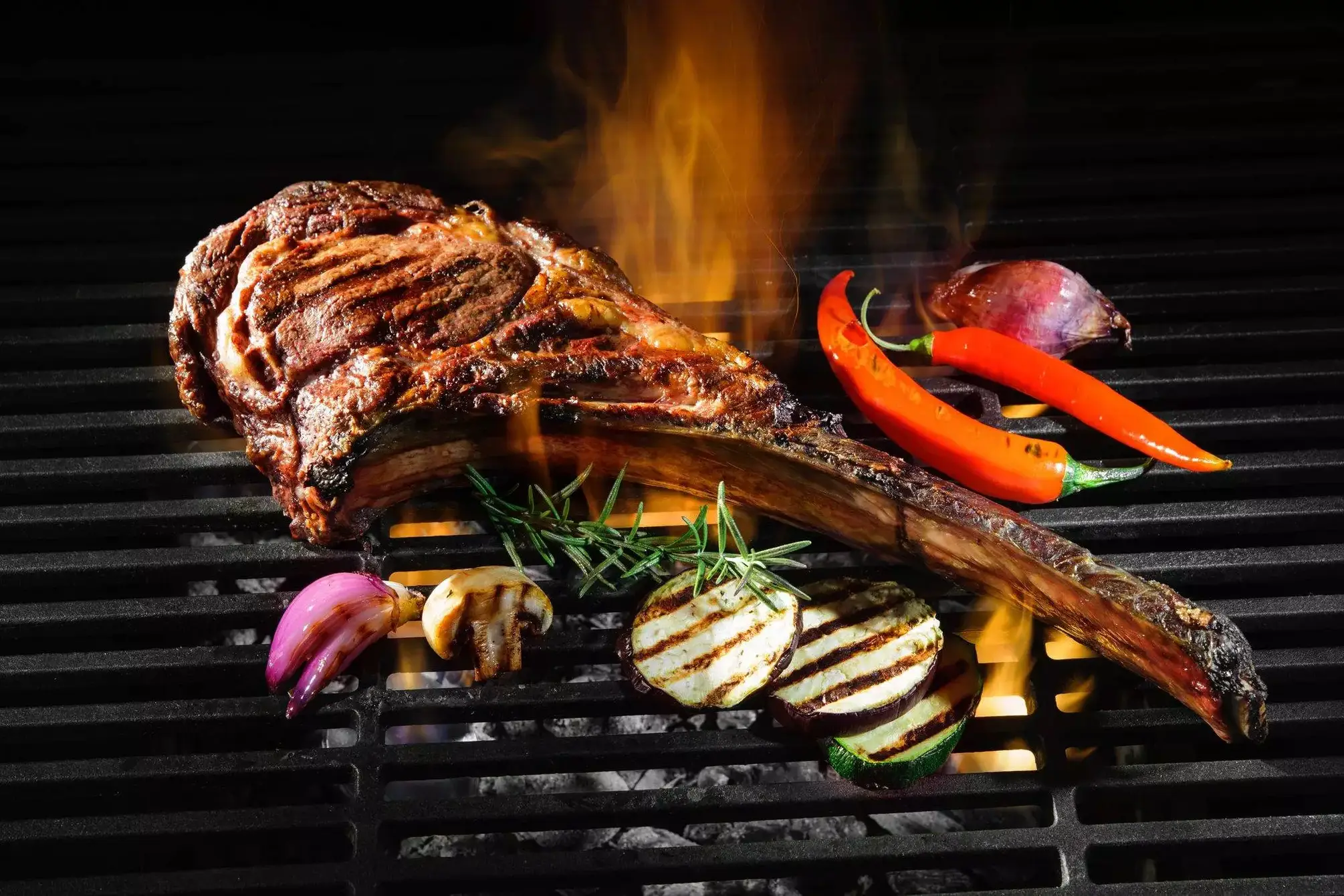 Restaurant's artistically presented expansive food menu includes Dry-aged Porterhouse, Bone-On Ribeye Steak, Filet Mignon, Raw bar, Cheepsakebay Oysters, Crab Cake, and the regularly updated menu of fresh seafood, and more. There are more than 500 selections of wine, nationally & internationally present, which can be perfectly paired with all dishes served.
Charlie Palmer Steak's rooftop terrace boasts an impressive view of Capitol Hill, accommodating private events with guests up to 400.
5. RARE Steakhouse and Tavern, 1595 I St NW, Washington, DC 20005
Rare Steakhouse has tried to bring. Back the nostalgic & romantic old-time classic steakhouse atmosphere to life midwestern charm, the best dry-aged steaks, and award-winning wine selections.
Most ordered dishes here are 30 OZ medium rare Ribeye, Wet-aged Filet Mignon, Wagyu, Seafood Platter, and Porterhouse. You can't go wrong with Chocolate Temptation Cake or Espresso Martini for dessert.
The attentive and knowledgeable wait staff are always around to guide you through the menu or make your choice of food and wine easier.
6. Bourbon Steak, 2800 Pennsylvania Avenue NW, Washington, DC 20007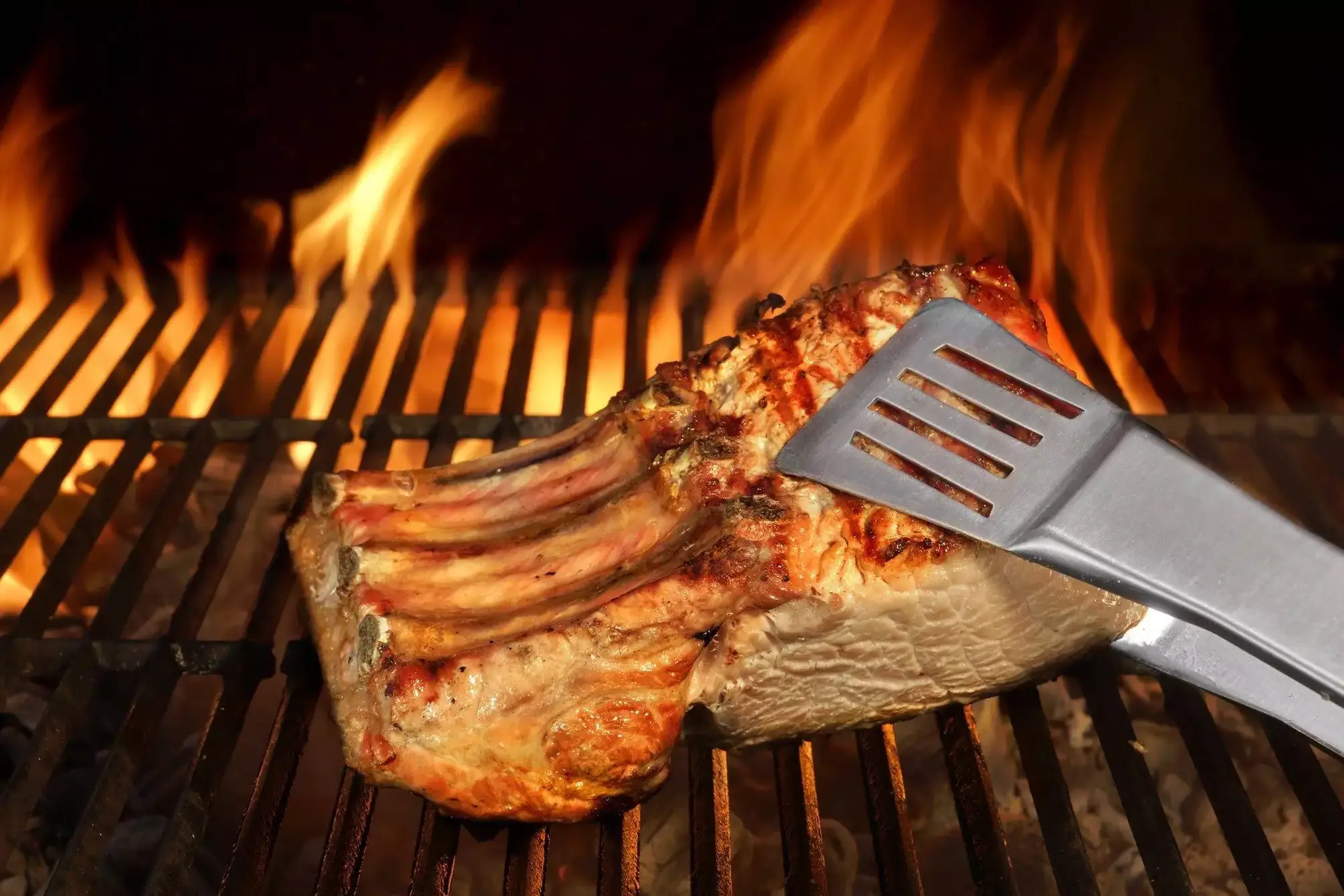 Another best steakhouse in dc is Bourbon Steak. Located in the timeless, luxurious & sophisticated Four Seasons Hotel, Bourbon Steak is one of the most luxurious restaurants in DC. Whether you're going for their lunch or dinner menu or want to unwind with a cocktail at The Lounge, you're in for a deliciously memorable experience.
From lunch menus, you can opt for their 14 OZ Prime Rib Eye, 12 OZ New York Strip, and Japanese Wagyu Striploin from the restaurant's famous wood-burning grill. Also, there are Michael's Ahi Tuna Tartare, Prime Steak Burger, Mixed Greens Salad, and many delicious options to choose from.
If you're going to dine out, go for their signature dish, Lobster Pot Pie, Porterhouse, Dry-aged Steaks, Hot Miso Butter, Shellfish Platter, and various other delicious options.
But if you want to unwind after a long day of work, The Lounge at Bourbon Steak's is the perfect spot. You can choose from 25+ classic cocktail menus, which bartenders will make as per your choice.
7. The Palm, 1225 19th St NW, Washington, DC 20036
Known as the hub for politicians, journalists, and celebrities, the Dupont Circle-based The Plam is a classic & trendy and another best steakhouse in dc that doesn't only cater to power clientele but customers of all fields.
For the dinner menu, you can't go wrong with starters like Jumbo Lump Crab Cake, Jumbo Shrimp Cocktail, Lobster Bisque, salad of your choice, then follow it with your preferable dry-aged steaks and chops or restaurant's famous Gigantic Lobsters and a side dish of Garlic Mashed Potatoes or Creamed Spinach. If you're there for lunch, go for their signature Beef Salad, Cajun-inspired dishes, or their Italian specialties.
8. Joe's Seafood, Prime Steak & Stone Crab, 750 15th St NW, Washington, DC 20005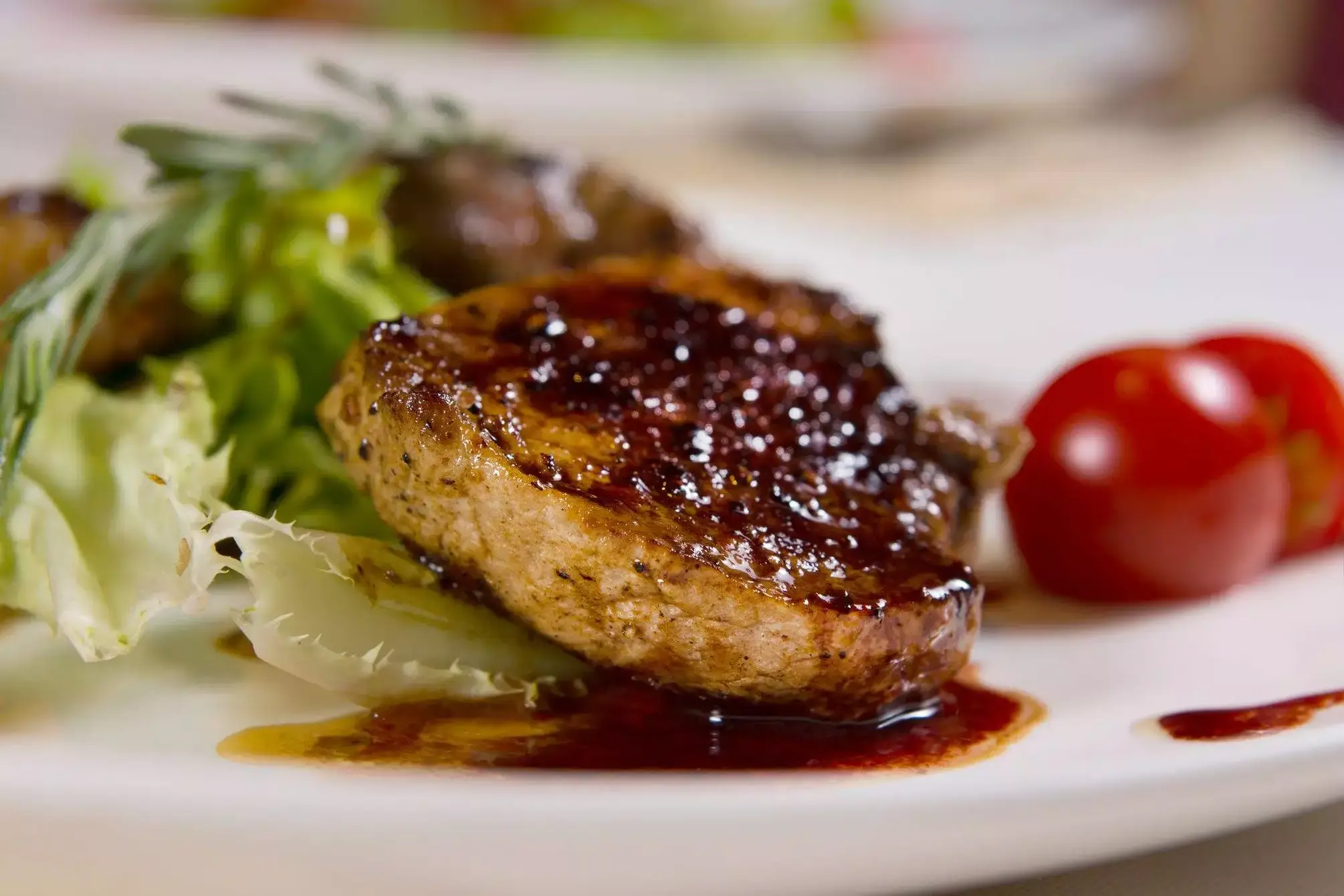 Although Joe's is famous for its seafood, the restaurant also serves classic steak cuts. If you're a fan of seafood, Joe's Seafood is a must-try. Famous for their signature Florida Stone Crab Claws, flown straight from Florida, Joe's is also known for its Bone-In Alaskan Halibut, Sockeye Salmon, and Key Lime Pie.
When it comes to steaks, Joe's offers dry & wet-aged prime beef and a selection of bone-in steaks. From Monday – to Friday, 2:30 pm – 6:00 pm, Happy Hour is also available at Joe's Seafood. Joe's offers its signature cocktails, beer on draft, and wine by the glass with snacks.
9. Oak Steakhouse, 901 N St, Alexandria, Washington, DC
Exposed brickwork, rustic reclaimed wood, and crimson leather banquettes help create a contemporary ambiance in Oak Steakhouse, making it another best steakhouse in dc serving highly prized Angus Beef cuts. With an open kitchen concept, guests can catch a closer look at chefs in their element.
There are beef cuts like New York Strip, Cowboy Ribeyes, Fillets of certified Angus beef which can be topped off with the restaurant's delicious french fries, made up of beef fat, olive oil, sea salt, & parmesan cheese, and fried & baked potato doused with white cheddar sauce, bacon, pickled pepper, scallion on the sides. And with outdoor sitting available, guests can enjoy all this deliciousness al fresco.
10. Del Frisco's, 950 St NW Suite 501, Washington, DC
Del Frisco's is what you call a classic American-style steakhouse but with a modern twist. Its abundant features, large floor-to-ceiling windows looking out onto the city, impeccable service, and award-winning food menu & wine lists make Del Frisco's another best steakhouse in dc. Since its a high-end restaurant, guests must follow a business casual dress code.
You can order hand-cut steaks from their special menu like Filet Mignon, Prime Ribeye, Japanese Wagyu, or 45 days dry-aged Prime Strip. If you like seafood, you can try Shanghai-style Fried Calamari. Pair all of these with the perfect wine available from more than 1,200 labels spread throughout the three-level in the exposed cellar.
11. Randy's Prime Seafood & Steaks, 8051 Leesburg Pike, Vienna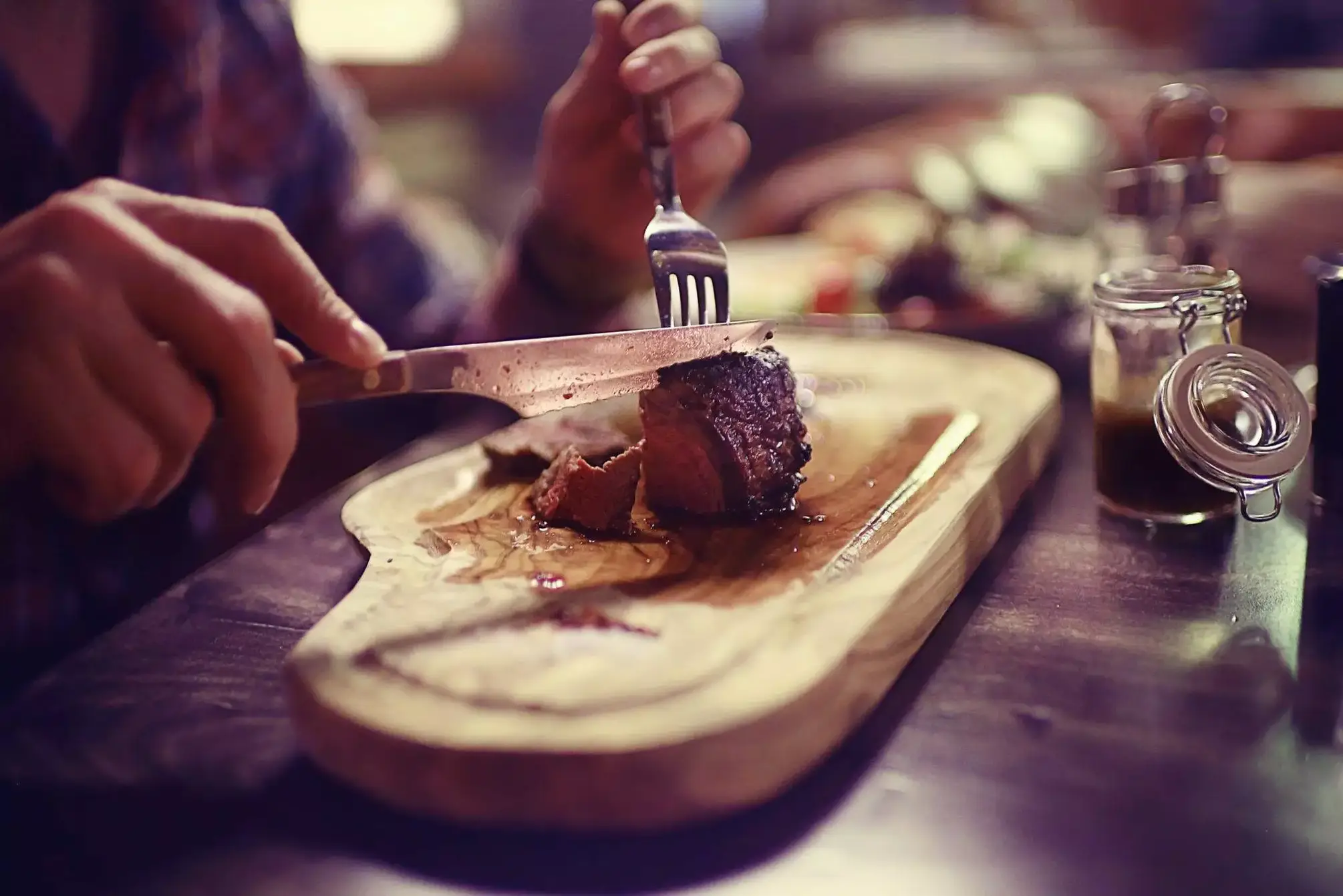 Restaurant royalty Randy Norton of the Great American Restaurants family has included Randy's Prime Seafood & Steaks – a classy addition to his portfolio in Tysons Corner. The dining room is furnished with green mohair booths, mahogany tables, and walls are adorned with five paintings by John Gable. Randy Norton has hand-picked all food menus and a very expansive wine list.
Seafood platter from Raw bar includes The Triple Decker, Seafood Tower, Shrimp Cocktail, and more. Then there are sherry-glazed Lobster Bisque, Day Boat Scallops, and crispy pan-seared Ora King Salmon from New Zealand.
Great steak options include award-winning American Wagyu from Snake River Farm in Idaho, Tomahawk Ribeye, New York Strip, Filet Mignon, and more for steaks.
For dessert, there are five-layered Patsy's Carrot Cake, Randy's Cheesecake, Crispy Meringue finished with Passion Fruit Coulis, and The Chocolate Cake. Also, there are Randy's signature cocktails.
12. Medium Rare, 3500 Connecticut Ave NW, Washington, DC
Famous among locals as a neighborhood gem, the Medium Rare steakhouse near Cleveland Park is perfect for pocket-friendly dinners. Medium Rare offers a prix fixe menu for dinner & brunch for $25.95 and $27.99.
The brunch menu includes Steak Frites – an award-winning Culotte Steak & hand-cut fries with their secret sauce, which is delicious; steak & perfect poached Eggs, French Toast & local artisanal, Medium Rare's famous Benedict, and Egg Frites & Sausage. The drink menu includes Bottomless Bloody Marys, Mimosas, and Screwdrivers.
The dinner menus include Artisan Rustic Bread, Mixed Green Salad, award-winning Culotte Steak & Hand-Cut Fries. For vegan dinners, there is Grilled Portobello & Hand-Cut Fries.
For sweet tooth lovers, there are Yum! Yum! Grandma's Apple Pie, House Special – Hot Fudge Sundae, Six Layer Carrot Cake, Double Chocolate Fudge 3 Layer Cake, and Key Lime Pie.
Enjoy all this great food in a relaxed, friendly environment by pairing them with the perfect wine & Beer.
13. The Capital Grille, 601 Pennsylvania Avenue NW, Washington, DC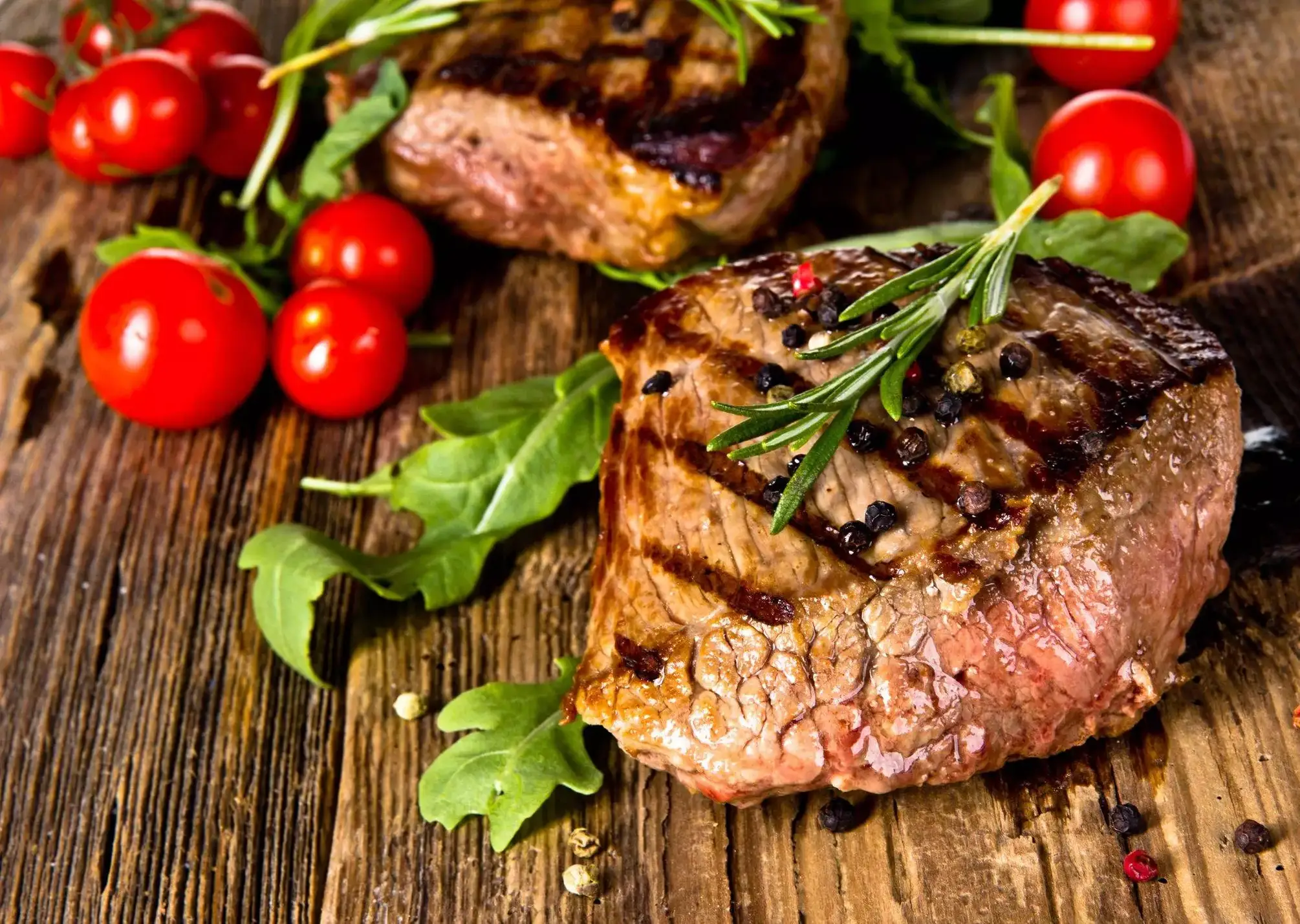 With its African mahogany paneling, artistic decor, and comfortable elegance, the Capital Grille makes known its stately presence with its African mahogany paneling, artistic decor, and comfortable elegance makes known its stately presence showcasing it as another best steakhouse in dc. Its stately building provides guests a stunning view of the Capitol Building & Pennsylvania Avenue.
The Capital Grille is nationally known for 18 – 24 days of dry-aged steaks, later hand-carved, fresh seafood, and world-class wines. Their special food menu includes classic cuts like NY Strip, Filet Mignon, Bone-In Ribeye, Seared Tenderloin with Butter Poached Lobster Tails, Lobster & Crab Cake, Lobster Bisque, Lobster mashed potatoes and more with a side dish of Lobster Mac n Cheese or Parmesan Truffle Fries.
Relax with their signature cocktails options and prized wine list at the bar, and you're going to end up with a relaxed, memorable experience.
14. Fogo de Chao, 1101 Pennsylvania Avenue, NW Washington, DC
Fogo de Chao is a Brazilian-based steakhouse specializing in roasting meats through the churrasco technique, making it another best steakhouse in dc. Located in the historical building of Evening Star, Fogo de Chao offers so many cuts of beef, lamb chops, chickens, and pork chops that guests can never indulge themselves in one go. They have to revisit, which most do readily.
All those meat cuts slow-roasting away over the fire on skewers bring out their natural flavor, which later got carried out (still on a skewer) from table to table as per guest need.
The restaurant also has an interesting The Market table option which is an open salad bar spread out with fresh-exotic fruits & vegetables, imported cheese, Black Pepper Candied Bacon, Fogo Feijoada (traditional black bean and sausage stew served over white rice.) Season with fresh orange, Malagueta spicy sauce, and farofa (baked yuca flour with bacon), as desired. Cured meats, smoked salmon, and much more are on the way.
In the brunch section, guests can indulge with Seafood Tower, Jumbo Shrimp Cocktail, and Chilled Lobster & Shrimp served with Brazilian Malagueta Cocktail Sauce. Their cheesy bread is to die for!
Signature cuts of fire-roasted meat you should order are Fraldinha – Bottom Sirloin, Picanha – Prime part of Top Sirloin, Costela – Beef Ribs, Alcatra – Top Sirloin, Wagyu Ancho, Wagyu NY Strip, Dry-aged Tomahawk Ancho and so much more.
Try Creme Brulee, Tres Leches Cake, and Molten Chocolate Cake from the dessert section.
Fogo de Chao steakhouse is for die-hard red meat lovers where they can eat their heart desire and still want a repeat experience!
Hearty and Juicy Ending!
From luxurious & fine-dining steakhouse restaurants to pocket-friendly & laid-back taverns or grilles, Washington DC caters to some of the best steakhouses, serving the best steaks cuts and expansive wine lists. For lunch, brunch, dinner, or happy hours, DC's steakhouse scene offers dinners in one place or another.
So next time you're craving red meat or are on vacation in Washington DC, without hesitation, choose any restaurant from the above-mentioned best steakhouse in DC of your choice; you won't go wrong with any of them.
Verified Content by Experts
USA Tales has content written by niche experts, travelers, students, and those with real-life experience. Our content is also periodically reviewed by subject matter experts to ensure content accuracy and relevancy. Have a question? Email us at team@usatales.com