Graffiti wall art is a hybrid of street and urban art that is distinguished by gritty themes and the use of vibrant colors. This vivid and occasionally confrontational art form represents the present moment – the ultimate style statement with a twist.
It can be used as a wall decoration to create a new and trendy atmosphere. Whether you prefer simple stencil-type compositions or more intricate and colorful hip-hop-inspired motifs, graffiti makes a unique and memorable aesthetic statement!
It has gone a long way from its street roots in recent decades, and today's homeowners and designers are eager to embrace this unique and energetic art form to breathe new life into modern interiors.
A) Think to Keep in Mind!
Some areas are more graffiti-friendly than others. The vibrant writing painted celebrity figures, and red and blue accents all come together to create a fun family hangout. Consider the space's purpose: lively, vibrant areas, such as this game room, are perfect, yet this level of color would easily overwhelm a more modest bedroom.
A1) Make the switch to vinyl:
Don't want to spend the money on a graffiti artist's unique mural? This vinyl wall covering is a cost-effective solution. It comes in a range of sizes, with kid-friendly illustrations and colors.
A2) You can use Stencil or Wallpaper
You might be wondering how you can incorporate this design into your own home unless you are a magnificent graffiti artist.
If hiring a graffiti artist to come into your home to paint full-size murals on your walls seems like a step too far, don't worry; there are lots of other, more subtle, and appropriate ways to get your piece of graffiti art.
Investing in graffiti stencils is one of the quickest and most effective home design ideas for this theme.
If you want to add a little piece of Banksy's wit to your project, check out Ideal Stencils' Banksy Stencils or download one of the hundreds of free graffiti stencils accessible online.
Alternatively, a large variety in various forms is available, providing a less permanent alternative — canvasses and wooden boards painted with a graffiti design look particularly good.
A3) Accessories to make the graffiti wall?
It can be challenging to figure out how to incorporate such a bold style into your home. An exposed brick wall gives the perfect backdrop for a graffiti stencil or piece of wall art if you're already going for an industrial look.
However, this is a look that may be applied in various schemes. Graffiti-inspired interior furnishings, such as lampshades, cushions, and decorative accessories, can bring a crisp contemporary room to life with graffiti art on the walls or within statement furniture. Graffiti-inspired household furniture, such as lampshades, pillows, and decorative accessories, tend to suit more classic aesthetics.
A4) When it comes to Dark Spaces
When natural light is scarce, use graffiti to add color to your space. The black foundation in this powder room helps the bright yellow, purple, and blue stand out.
A5) Consider using transparent panels
These vibrant hanging panels add a splash of color to a plain white wall. You could make your version using Plexiglas, spray paint, cables, or rope if you're a creative type.
B) Graffiti Wall Decals In the USA
If you are wondering where you can buy them, then we got you! Here are the details of where you can purchase.
B1) Places to buy Canvas Print, Graffiti Stickers.
B2) Graffiti Street
An established top urban art store that brings some of the best graffiti and street art from across the world into your home.
We will constantly be exploring the globe to uncover and bring you the freshest rising artist talent, in addition to exhibiting works by famous artists.
B3) Wall Art Prints
Wall art prints page features many artists and different kinds of artworks, and they also sell graffiti canvas. The price range depends on the artwork, and they have a wide variety of genres in stock.
B4) Esty
If you're looking for handcrafted things, Etsy is typically your first stop, but if you're not ordering art from the site, you're missing out. Their shop features a lot of original artwork and prints available.
B5) Icanvas
Canvas street art prints with vibrant colors use premium inks and stretch each canvas print by hand. They have artworks with a wide variety of color art and exclusive offers for you to check out!
B6) Amazon
If you are looking for an affordable option, then Amazon has a wide variety of art that you can shop from, and shopping from Amazon would be the better option if you have a limited budget.
B7) Fine Art America
Fine art America website this freehand style medium, a fantastic canvas print that depicts a variety of subjects. This collection covers a wide range of themes and motifs, from graffiti-themed portraits and landscapes to brick walls used as spray paint portfolios. They also have a community of featured artists and brands.
B8) Photo Wall
Graffiti can be considered the modern equivalent of calligraphy in many aspects. Many street artworks are simply words haphazardly scrawled over one another until all you see is a blur that suddenly coalesces into a message. The art in this situation is the message, whether it's names or poems scrawled over and above each other.
When you look at antique calligraphy, the art is the message, and the message is the art. They combined to create something nearly transcendental.
When you get canvas prints from photo wall sites in their Graffiti and Street Art collection, you're getting a glimpse of a location's essence at a certain point in time.
C) How To Make Your Own Wall Art
If you don't want to spend money and prefer DIY art, here are easy ways to create your graffiti art wall.
C1) You Can Use a Spray Paint
Use color markers to practice your design on paper.
Drop cloths should be used to cover every exposed surface in the space, including the floor, surrounding walls, and furniture, to avoid stains from over-sprayed or drifting paint. Make sure the room is well-ventilated.
Instructions for use and safety, which may include wearing a breathing apparatus or a dust mask and safety glasses, as well as instructions to shake the can before and during use, can be found on the spray can.
Transfer your design to the wall in the proportions you desire using a pencil.
Fill up the sketch with the colors you like. Hold the can three or four inches from the wall for thin lines and one foot away for large areas or broad lines. In small spurts, depress the nozzle. To ensure equal paint distribution and eliminate drips, move the can flexibly.
If necessary, tilt the can in any direction for a few seconds, but operate from a vertical posture most of the time to allow the paint to enter the inner tube.
Use dark grey or black paint to outline the design for added effect. Using comma-shaped curves, create light reflection points.
D) What Tools Do You Need?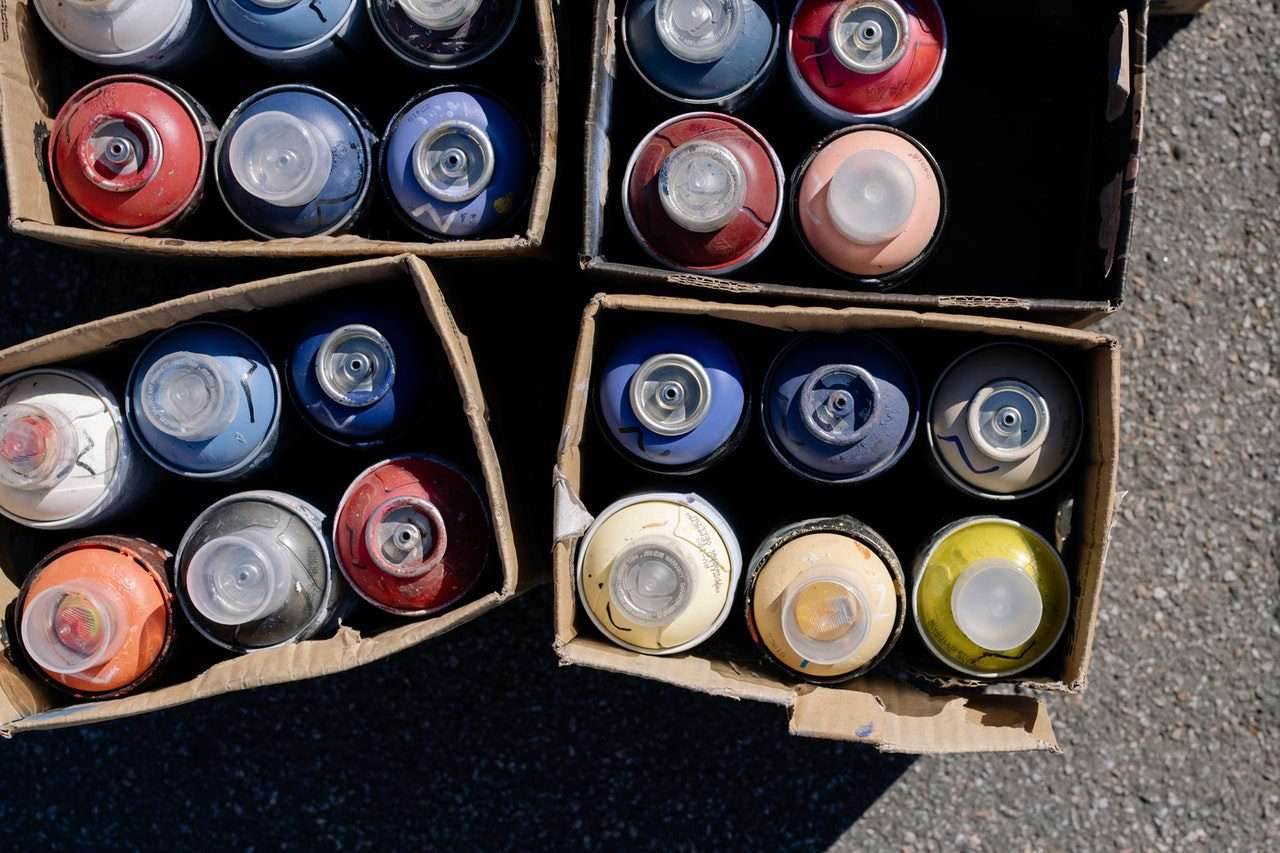 When it comes to Art, the tools are essential. Aerosol spray paint, marker pens, fire extinguishers, etching tools, and wall paint are the most frequent graffiti instruments.
To keep up with the trend, new companies entered the ever-growing spray paint market in the late 1990s, offering a wide range of high-quality cans. Graffiti cans, markers, and other instruments are specialized by Molotow, located in Germany, and Montana, based in Spain.
Both companies are now household names, and their aerosol cans are the favored spray paint tools of almost all graffiti, mural, and street painters. There is a slew of other places to get spray cans, markers, and other graffiti tools; check out Complex's list of the finest spray paint brands in the US to see who's currently on top.
E) Tips For Creating
A simple suggestion can go long, especially for design. To make a thin line, get the can as close to the wall as possible; the closer the can is to the wall, the thinner the line will be. Also, tip the can downwards slightly to make it cleaner and more exact.
If you hold it in one place for too long, it will drip; if you're going for extremely thin lines, you'll need to move quickly. On the other hand, depending on the intended effect, you should pay attention to a specific angle and distance from the surface while spray painting with soft fading or smooth shadowing.
Different caps can create different layers of thickness and permanence; most of the other caps cannot be purchased in regular stores and must be ordered online.
However, you don't need to worry about that for now; use regular cans and caps until you need to move on to other surfaces and further develop your spray painting style.
F) Final Note
It is a fun, colorful, and unique way to decorate your room. You make it your own and add tiny details to customize it, and who doesn't love it? Do DIY! Many websites sell unique designs that will suit your style. Also, you can shop on sites available online.