Are you prepping for a holiday in San Diego? Here's a way to spice it up and make it more memorable. Feel like a joyous teen again as you explore San Diego by cycling around using rental bikes and this unique experience is sure to make you feel the full ambiance of the city.
1. Why Is Renting a Bike Recommended?
We love to tour breathtaking places. Tourists who aren't familiar with the place book a cab or taxi.
However, the discomfort to stop the whole automobile from adorning the place and capturing pictures for the memory can make it a hectic job.
One must be more comfortable looking at and viewing themselves than through a window. Moreover, these bikes are family and environmentally friendly and you can have a never before the moment of your life with these group bike rentals in San Diego.
Grab a ticket from Fever to capture the beauty of landmarks around San Diego.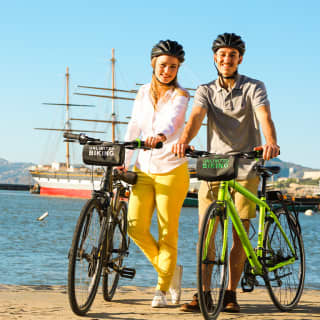 2. Famous Places to Stop By
San Diego is home to multiple famous sights. This bike experience will make you feel like the locals of the city. USS Midway, the Bob Hope Memorial, and Seaport Village are to grind up your Instagram game.
These scenic bike routes are ready to make your social media pictures stand out from any others. Pass by Balboa Park, the Bea Evenson Fountain, the Japanese Friendship Garden, and the historic Gaslamp Quarter while you reach the famous scenery at the Embarcadero.
Many other famous sights will be covered in the map provided to you.
3. When Can I Rent These Bikes?
The bike rentals are available on all days of the week from 9 am to 5 pm and you can pick them up at your convenience. The affordable bikes come with a helmet, a map showing bike paths, a bike basket, and a bike lock.
It is available on all days of the year; so take a step forward to this experience where you can find your adventurous self with a bicycle.
4. Additional Information I Need to Know
Ensure that you follow all the guidelines for safe travel around the city.
People of all ages are welcome to ride around San Diego and people under the age of 18 must accompany an adult over the age of 18 to rent the bike.
Bikes can be picked up at any point during the available hours and moreover, you can ride to any place in San Diego but must be returned by the closing time.
Ensure that the helmet is put on properly. You can pedal around San Diego with the best cycling routes.
Guide the people under the age of 18 whom you have brought along.
5. Where Do I Get My Tickets?
Sway away in the air of San Diego. Reserve your bike now. Tickets are available on feverup.com.
You have a variety of options to choose your ticket. For a 2-hour bike rental, the ticket for people under 12 is $16.16, and for people of 13 and above is $17.24. For a 4-hour rental, it's $32.33 for kids under 12 and $34.48 for 13 and over.
If you plan for a whole-day ride, the ticket costs $39.87 for people under 12 and $43.10 for people of age 13 and over.
What: Explore San Diego using a Rental Bike.
When: Multiple dates available from Monday- Sunday.
Where: 330 K Street San Diego, CA 92101,92101
Timings: From 9 a.m. to 5 p.m.
Location Restriction: Around the whole city of San Diego.
Tickets: To avail of booking, click here.