Found in 1863 as an agricultural college, the University Of Massachusetts, Amherst or UMass Amherst is a co-educational public land-grant research university located in Amherst in the American state of Massachusetts. It is the premier and the largest campus in the entire University of Massachusetts system.
Under the motto "By the sword, we seek peace, but peace only under liberty.", the University of Massachusetts Amherst has an annual student enrollment of more than 30,000 with an estimated 1,300 experts for their faculty, making it the third-largest university in Massachusetts, just behind the distinguished Boston and Harvard Universities. It is considered to be one of the best national universities.
The University of Massachusetts Amherst has a suburban campus spread across 1,463 acres of land in Western Massachusetts. The University has taken home many honors, including "Top Colleges and Universities Contributing to Teach For America's 2010 Teaching Corps." UMass Amherst entered the 21st century with 19,061 students enrolled. The University provides 47 doctoral degrees, 75 master's degrees, and 111 bachelor's degrees. 
Rankings
The University of Massachusetts Amherst has emerged as a preeminent center for public higher education in 11 northeastern states. They have gained a status for their growing academic excellence and exponentiating historical contribution in community service, affordable public education, and research. All of these factors combined, it does not come across as a surprise that UMass Amherst enjoys a QS Global Ranking of #246 and is ranked #66 nationally. 
To add to this list, UMass Amherst has also been ranked #26 in Top Public Universities, #38 in Best Colleges For Veterans, #66 in Best Undergraduate Engineering Programs at schools that have the highest degree of that of a doctorate, #111 in Best Value Schools, and #174 in Top Performers on Social Nobility. Also, its undergraduate business program is ranked #1 in the Northeast. The U.S. News & World Report, an American media company whose rankings of American universities and colleges are given extreme importance by the general public and influence college application processes, issues these rankings.
Academics
New England Commission of Higher Education (NECHE) accredits the University of Massachusetts Amherst. It is the same commission that accredits the schools and colleges in its six states. UMass offers undergraduate, graduate, doctoral, honors, and pre-college programs.
Five College Consortium
Five College Consortium allows students to enroll in Hampshire, Amherst, Mount Holyoke, and Smith Colleges. If you're a student with no personal vehicle, you can use the five buses in service to help students commute easier. 
Schools & Colleges
UMass Amherst offers its students admissions in academic programs in the following schools and departments:
Bachelor's Degree with Individual Concentration
The Bachelor's Degree with Individual Concentration (BDIC) program at UMass Amherst allows self-driven and self-directed students to curate their own major. The BDIC program enables students to pursue academics in areas unavailable in the present curricula of the existing department. Through the help of a faculty sponsor, students focus their major and select courses based on a unifying issue, subject, theme, culture, era, or question. This is called an area of concentration.
Commonwealth Honours College
The honors college allows students to intensify their UMass academic curriculum. The students will have access to less-populated, discussion-based classes, particularly in their first year. You will join a residential community where you will be living with students who share similar interests and are as motivated as you academically.
The Commonwealth Honors College experience will blend with your educational interests and gives you an involved association that helps develop your intellectual explorations. Commonwealth Honors College offers improved assistance, intellectually intriguing classes, and a supportive framework with funding opportunities to enable you to complete an Honors Thesis, the conclusion of your learning experience at UMass Amherst.
College of Education
The College of Education offers several pathways to students. This opportunity will equip you with the necessary education and skills to become an efficient, empathetic, and accomplished educator. As an efficient educator, you will impart exceptional knowledge and create a withstanding impact within your student community.
The pathways include an Education Exploratory Track, an Education Minor, an Education major (B.A.) with a concentration in Community Education & Social Change, Early Childhood Education, or Special Education, and a teacher licensing path through the University to Schools program.
College Of Engineering
As the top public engineering program in New England, the UMass Amherst College of Engineering offers an affordable professional degree, valuable skills, and a well-balanced preparation for life and career. The college's mission and vision are to provide world-class engineering education to produce a diverse community of engineering practitioners and leaders.
They aspire for this community to conduct groundbreaking and innovative research, and they hope for this research to contribute to the development of the Commonwealth and the country.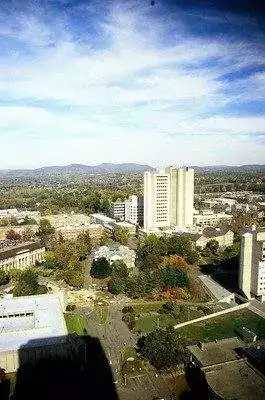 College Of Humanities and Fine Arts
The College Of Humanities and Fine Arts at UMass Amherst takes pride in itself as the cultural and creative heart of UMass Amherst. The college consists of 14 departments, 12 institutions & centers, 38 majors, 25 minors. With 48.8% classes of fewer than 20 students, they boast a student-faculty ratio of 13:1, which is the lowest on the UMass Amherst Campus.
This college at the University of Massachusetts Amherst also offers a diverse selection of courses with dedicated teachers and career advisors. It also offers the academic rigor and individual attention of a liberal arts college within the vibrant community of a prominent research university. 
College of Information and Computer Sciences (CICS)
The College of Information and Computer Sciences at UMass Amherst administers a world-class curriculum. Being one of the highest-ranked and highest impact graduate research programs in the nation subsequently makes UMass Amherst CICS one of the most competitive. Its unique practice of collaboration that enhances both research and teaching makes the college stand out. CICS also has an interdisciplinary B.A. degree in Computer Science.
Isenberg School Of Management 
Isenberg claims to offer an exceptional education, owing to its reputable rankings and accreditation with the AACSB. Their students enjoy an educational experience that gives them a head start in the contemporary complex business environment.
The unique culture at Isenberg sparks community and collaboration, sharpening the skills to be dynamic team players and bold leaders. Their entrepreneurial spirit encourages students to manage the enormous challenges of the modern-day business environment creatively.
College Of Natural Sciences (CNS) 
CNS excels in interdisciplinary research in the life, environmental, computational, and physical sciences that touch lives. The 400 faculty members of the college who work across thirteen departments and two schools are awarded half of the total academic research grants. Thomson Reuters surveys list them among the leading scientific minds of the world. CNS faculty are correspondingly dedicated to efficient teaching and committed to mentoring its 7,000 undergraduates.
College Of Nursing
The College Of Nursing at the University of Massachusetts Amherst develops students to practice in a comprehensive variety of healthcare environments. It develops nursing leaders and researchers to teach coming generations. The students use state-of-the-art technology and techniques, while the faculty members use advanced clinical skills and innovative research in their teaching.  
School Of Public Health
The School of Public Health and Health Sciences is a national pioneer discovering ways to improve public health and quality of life. The award-winning faculty focuses on several pressing public health problems and cross-cutting issues like obesity and diabetes prevention, female health, aging and healthy living, and autism spectrum disorders.
The school provides many chances for community-based student internships and experience in clinical outreach programs and partnerships that promote health and the quality of life in diverse societies.  
College of Social & Behavioral Sciences
The UMass Amherst College of Social and Behavioral Sciences (SBS) is interested in how students will influence society. Students will study human behavior from different social science vantage points in the programs offered by the college. SBS will allow you to choose an educational path that spans liberal arts and science. The college will motivate you to take classes not limited to your field, think past your major, and participate in discussions beyond your discourse.
Stockbridge School Of Agriculture
The Stockbridge School of Agriculture is fundamental to the purpose of the University of Massachusetts Amherst. The school provides research-based information to policy-makers, farmers, the public, green-industry professionals, and other people who have experience with or are related to the field.
University Libraries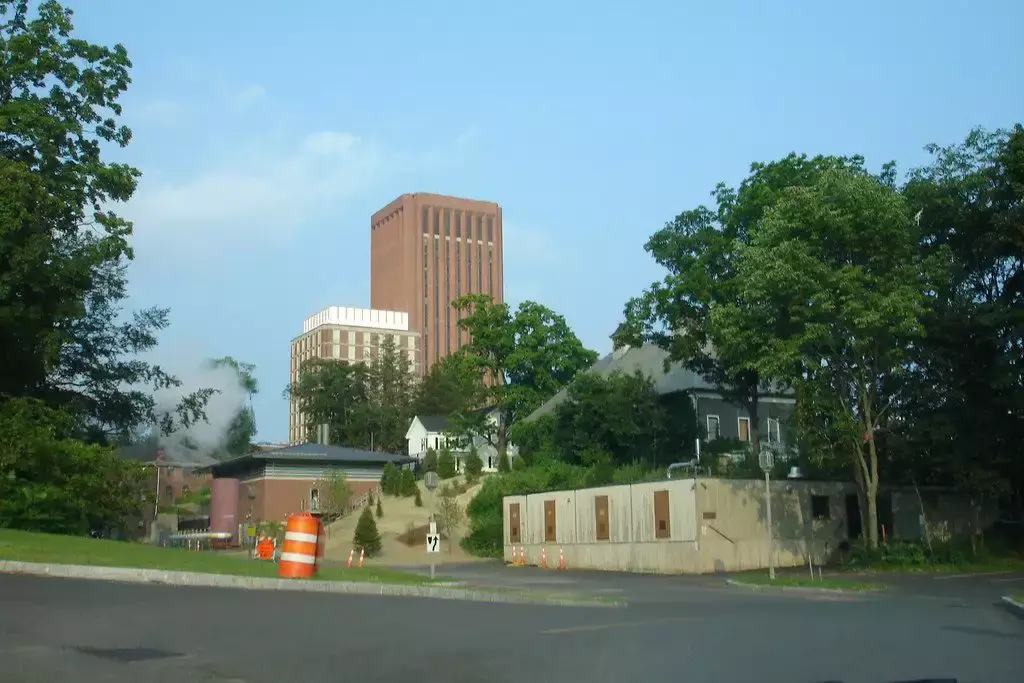 The libraries at the University Of Massachusetts Amherst encourage an environment of learning, curiosity, and collaboration.
The UMass Amherst libraries on the campus have cutting-edge technologies, resources to aid the students with their academic goals and are a significant partner in teaching, learning, and researching. The University Of Amherst libraries are great to enhance your critical thinking skills and contemplate innovative research methods.
W.E.B Du Bois Library: This is the largest library on the University of Massachusetts Amherst campus. Along with an array of several other resources, the library is home to the papers and memoirs of W.E.B. Du Bois, a renowned African-American scholar.
Science & Engineering Library:  University Of Massachusetts Amherst's SEL is the most preferred place if you want to dig up information in the field of engineering, sciences, and mathematics.
Mount Ida Wadsworth Library: Your destination for academic support on the Mount Ida Campus of the University of Massachusetts Amherst is the Wadsworth Library. It is home to a copier, a color printer, 11 desktops & a scanner with additional facilities for faculty and students alike.
Academic Advising
As a student at the University of Massachusetts Amherst, Academic Deans and advisers will always be there to guide you on choosing a major, changing majors, and developing a suitable plan to advance towards a timely graduation. The advising faculty and staff will ensure that your student experience at UMass Amherst is smooth.
Admissions
Undergraduate Admissions Requirements
The UMass community of undergraduate students has a revolutionary spirit. UMass Amherst students, current or future, have a range of popular majors to choose from. The student body is under the guidance of professors from a world-class department, with most popular majors having a lower student-faculty ratio.
First-Year Students: A complete application for the University Of Massachusetts Amherst includes a complete Common App application (including the UMass questions), official high school transcript (grades 9 -11), which includes your high school GPA, official transcripts for all completed college coursework, letter of recommendation, an application fee of $85, and (Optional) SAT or acted scores.
Transfer Students: UMass Amherst typically looks for a GPA of 2.7 or higher for transfer applicants. But, they use a holistic admissions process considering factors such as your grades in courses connected to your major, most recent semester grades, the diligence of the courses you took, and other information you list in your college application.
International Students: Along with the requirements mentioned above, international students must prove their English proficiency if their native language is not English. This can be done by taking the IELTS or TOEFL and getting decent test scores.
Graduate Admissions Requirements
UMass Amherst offers future graduate students a range of programs to choose from. With professors for assistance, students with a revolutionary spirit often conduct groundbreaking research.
Domestic- Admissions into a graduate degree are dealt with by the UMass Graduate School. To be considered for graduate admission, applicants need to satisfy the requirements of the Graduate School and the graduate program. The minimum requirement is to have a Bachelor's Degree. 
International- Along with the requirements mentioned above, international students must prove their English proficiency if their native language is not English. They need to take the IELTS, TOEFL, Duolingo English Test, or PTE.
If one of the below-mentioned circumstances applies to you, you will be exempted from proving your English Proficiency:-
You are a lawful citizen of Zambia, Zimbabwe, West Indies, Tanzania, Uganda, Swaziland, Sierra Leone, South Africa, Scotland, Nigeria, New Zealand, Namibia, Malawi, Liberia, Lesotho, Kenya, Ireland, Hong Kong, Guyana, Great Britain, Ghana, Gambia, Dominica, Canada, Caribbean English Speaking Countries, Botswana, or Australia.
You have earned your undergraduate or graduate degree in one of the countries mentioned above or the US.
You have a degree from NYU Abu Dhabi, NYU Shanghai, RIT in Dubai, Kean University in Wenzhou, China, Bogazici University in Turkey, American University of Greece, American University in Bulgaria, or the American University in Beirut.
You are presently a full-time student who will have complete two years of college coursework in the United States before the date of the foreseen University of Massachusetts entrance.
You have been certified by the ECFMG.

 
Financial Aid
For UMass students, the university tries to ensure that a great education does not create a big hole in your pocket. On an average, 11% of the student body have their financial need fully met. With different options for in-state students and out of state students, here are seven facts to consider when applying for financial aid, according to the UMass Amherst Financial Aid Guide:
Complete the FAFSA even if you think you may not qualify since it is the key to unlocking financial aid in the form of grants, work-study, and loans.
Submit all required forms and documents requested by the Financial Aid Office.
You must be a U.S. citizen or eligible non-citizen.
You must have a high school diploma, GED, or have completed homeschooling.
If male, under the age of 26, you must be registered with the Selective Service.
You must be enrolled in an eligible program of study and maintain Satisfactory Academic Progress.
If you have a bachelor's degree, you will not be eligible for a Federal Pell Grant. However, you may still be for other Federal Student Aid programs.
Are International Students Eligible for Financial Aid?
International students are not eligible for federal and state financial aid programs. There are, however, several privately-funded scholarship programs for international students.
Student Life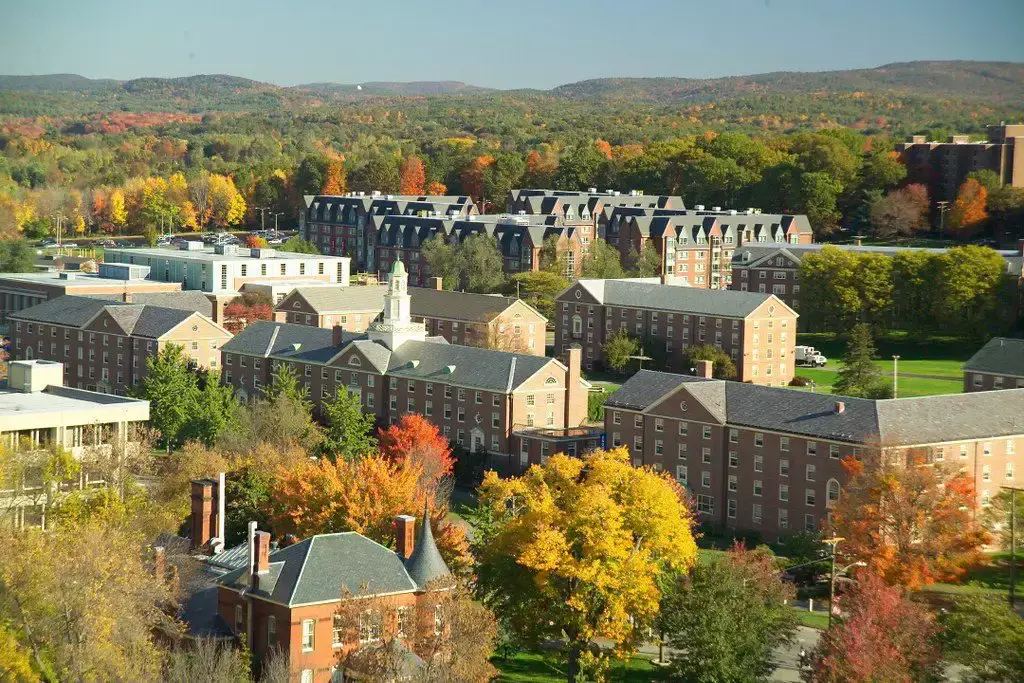 As a UMass Amherst student, your campus life will keep you busy, from managing events to cheering your home team as they compete in varsity sports. With a world-class city like Boston just a 2-hour car ride away, your social life will never be dull. The right balance of academics and fun events is what sets UMass Amherst apart. It is pertinent to note that the university gives equal importance to campus safety.
Living And Dining
The University of Massachusetts Amherst has housing options to meet everyone's needs and desires. They range from high-rise towers, residential houses, community-based housing to family-friendly off-campus housing options.
The University of Massachusetts Amherst lives by minimal food wastage and sources 30% of its produce locally. It serves over six million meals every year through sustainable menus and small portions. The Princeton Review has been ranking UMass Amherst #1 for Best Campus Food in the U.S. for five years. You have flexible meal plans to choose from, or you can pay as you go to get nutritious and delicious meals the way you want them.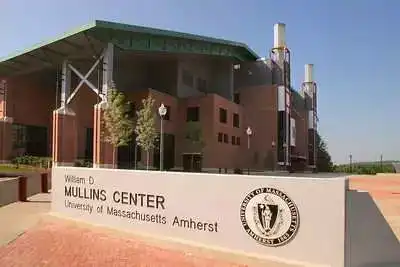 Student Activities
As a UMass Amherst student, you have plenty of opportunities to put yourself out there, meet new people, explore hobbies, and stay active. You can join or even start various clubs and engage in activism by volunteering across the Pioneer Valley at various student-led clubs like Campus Zero and MASSPIRG.
Club sports offer you the opportunity to be a part of everything from Alpine skiing to paintball and triathlons. You can be a part of intramural recreational and competitive sports teams, including broomball, volleyball, soccer, and more.  Or, you can get in for free in the 200 varsity games held on campus every year and cheer for the Minutemen or Minutewomen as they compete in Division I games like ice hockey and field hockey.
Student Support and Wellness: The University of Massachusetts Amherst recognizes that you can only give your best to academics when your mental and physical well-being is whole. Thus, the campus offers a myriad of resources to promote your sense of well-being. Diversity, inclusion, and equity are the top priority of UMass Amherst as vital aspects of their student support and wellness system. The University of Massachusetts Amherst will do everything to ensure that you are safe, supported, and respected.
Life in Amherst: Amherst is hands-down one of the best college towns in America. Being the birthplace of several artistic and literary laureates, Amherst has endless places to take a stroll through for creatives and artists, including, but not limited to, art museums and underground storytelling events. The town is also a haven for people who love the outdoors. Bike paths run across different towns along the Old Rails, which first characterized the region. Miles of hiking trails and the largest climbing gym in Hadley are the places to visit for people looking to push their limits. 
Frequently Asked Questions:-
What is the most known thing about UMass Amherst?
UMass Amherst is one of the most comprehensive institutions in the Northeast, with relatively high admissions intake and excellent academics.
Is the University of Massachusetts Amherst hard to get in?
UMass is one of the more competitive public colleges or universities in the United States, with a 64% acceptance rate, an average of 1294 on the SAT, an average of 28 on the ACT, and a rough average unweighted GPA of 3.7 (unofficial).
Is UMass Amherst a party school?
UMass Amherst is stereotyped as a party school. The southwest of the campus living area is deemed the party and jock area filled with bro-heads and biddies.
What is UMass Amherst's acceptance rate?
It has an acceptance rate of almost 64%, with an early acceptance rate of 75.1%.
How many dorms does UMass Amherst have?
UMass Amherst has 52 residential halls and apartment buildings. These are further classified into seven different residential areas.
Do first-year students have to live on campus at UMass Amherst?
Full-time enrolled freshmen must live on campus, and they are automatically billed for room and board.
Who are some notable alumni of UMass Amherst?
Some notable alumni of the University of Massachusetts Amherst include actor-producer Richard Gere, biologist Jeff Corwin and UMass has alumni who have played/are playing professional field hockey and ice hockey. Some of them include Cale Makar, Mario Ferraro, and Conor Sheary.

Verified Content by Experts
USA Tales has content written by niche experts, travelers, students, and those with real-life experience. Our content is also periodically reviewed by subject matter experts to ensure content accuracy and relevancy. Have a question? Email us at team@usatales.com