Mexico is an enchanting destination, renowned for its rich folklore, rustic allure, and widespread musical ambiance. It's a land of immense diversity, where you can find stunning beaches, lively nightlife, and a vibrant cultural scene, all within its borders. Mexico has rightly earned its place on many people's bucket lists. It's a destination that promises unforgettable experiences and lasting memories.
1. Introduction 
1.1 Overwater Bungalows
Whenever people think of overwater bungalows, places like Maldives and Bora Bora come to mind. These exotic locales are renowned for their beautiful water villas perched above crystal-clear lagoons. However, unless you want to spend several hours just to get there, the overwater bungalows in Mexico are a much closer and equally spectacular option. Apart from being close by, the overwater bungalows in Mexico also come in many flavors, perfect for all the different tastes and budgets.
1.2 Riviera Maya
The Riviera Maya, located south of Cancun, is renowned for being one of the world's most beautiful stretches of beach. Stretching for approximately 100 miles along the coastline, it encompasses popular areas such as Playa del Carmen and Tulum, ultimately reaching Punta Allen. Travelers from across the globe flock to this region, drawn by its magnificent sandy shores and radiant sunshine. Overwater bungalows in Mexico require quiet waters of the Caribbean Sea, which is more easily accessible here. So it's no surprise that it's home to some of the best overwater bungalows in Mexico.
1.3 Overwater Bungalows in Mexico
Let's head towards some of the magnificent marvels in Mexico that'll surely transport you to a tropical paradise. Let's explore the overwater bungalows in Mexico, from the luxurious resorts to the beautiful turquoise waters. After all, the experience of tropic bliss is best seen not from the shores, but in the embrace of the ocean waves.
Mexico is home to four luxury resorts with overwater bungalows- Palafitos overwater bungalows, Rosewood Mayakoba, Banyan Tree Mayakoba, and Akalki all of which bring their unique contributions to give you an amazing experience.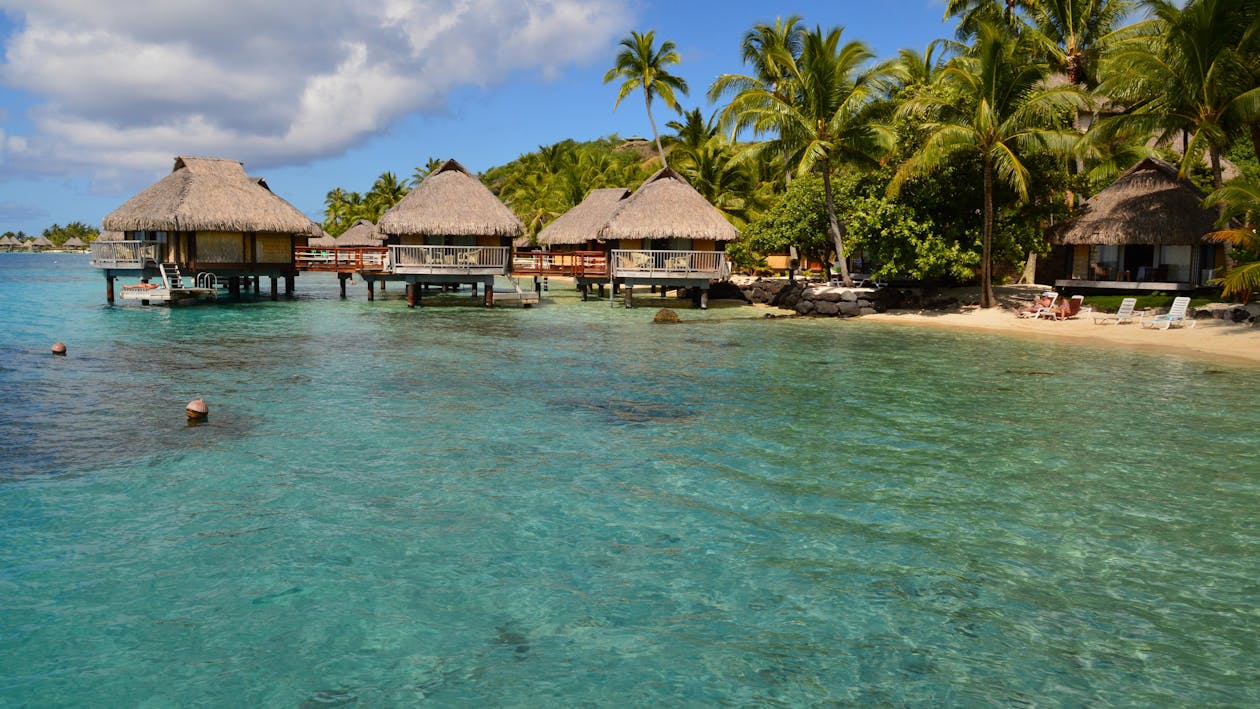 2. Palafitos El Dorado
2.1 All Inclusive
The first overwater bungalows in Mexico and one of the top ten overwater bungalows in the world, Palafitos-Overwater Bungalows consist of a collection of 30 secluded, personal huts situated directly above the crystal-clear waters of Maroma Beach at Playa del Carmen. These all-inclusive overwater bungalows allow visitors to see Maroma Beach from an entirely different perspective. The soft, rhythmic waves invite you to take a dip and gently cradle you into slumber each night.
2.2 Special Features
The epitome of luxury, each suite has its private infinity pool. The spectacular sunrises and sunsets will leave you in awe, all from your private deck. Furthermore, there are large glass floors in each suite, offering you the opportunity to observe marine life beneath the surface without even needing to step into the water. The perfect choice to be one with nature!
2.3 Resort Amenities
Resort amenities include private spa tubs, furnished balconies, private coffee machines, and 24-hour room service. Every room is equipped with air conditioning and features a cozy seating area, a flat-screen TV, and a private bathroom complete with a hot tub, comfortable bathrobes, and soft slippers. Not to mention that within easy reach, you'll discover the "gourmet inclusive" dining experiences at the Overwater Grill & Wine Bar. This restaurant boasts two dining rooms with glass bottom floors that offer magnificent views of the surrounding sea.
2.4 Things to Do
This 5-star resort provides an extensive range of activities, including opportunities for snorkeling, diving, and windsurfing. It's situated right over the turquoise waters of the Caribbean Sea. Additionally, you can unwind at the spa or embark on a day excursion to explore Tulum. Free private parking is available, and the property also features an on-site restaurant and bar, an outdoor pool, a fitness center, and evening entertainment options.
2.5 Location
These overwater villas are located at a distance of 1.7 miles from the Playa del Carmen beach. The ADO international bus station is about 5 miles away, while the Cancun airport is about 13 miles away. These amazing overwater bungalows are for adults only; the perfect choice for a romantic getaway!
3. Rosewood Mayakoba
3.1 Location
Rosewood Mayakoba is nestled amidst lush green jungle and meandering lagoons and is an exceptionally luxurious retreat located along a pristine stretch of white-sand beach on Mexico's Riviera Maya. A set of 18 secluded deluxe lagoon suites boasts individual plunge pools and spacious rooms, with numerous suites even offering private docks. They are found over the water in a mangrove lagoon. 
3.2 Socially Conscious
This resort opened its doors to the world in 2008. About a 45-minute drive from the Cancun Airport, at Rosewood Mayakoba, you can enjoy the convenience of private chauffeured transfers from the airport, complete with a warm and welcoming meet-and-greet service. There are six infinity pools and many beach activities. Emphasizing both social and ecological sustainability, and proudly holding the Rainforest Alliance certification, Rosewood Mayakoba stands as one of the most socially conscious hotels in the Riviera Maya. It has earned a Gold Badge in U.S. News & World Report's esteemed 2023 Best Hotels List.
3.3 Exceptional Service
This resort is situated over a mile of white-sand beach. One of the best luxury resorts, there are over 20 restaurants and bars. From the elegant design of the suites to the private butler service enjoyed by each guest, Rosewood Mayakoba has left no stone unturned. What truly stands out at Rosewood Mayakoba is its exceptional service, thanks to a remarkable team that consistently goes beyond expectations to provide an unparalleled guest experience and a high level of personalization. 
3.4 Area
The property spans across an expansive 250 hectares, comprising a total of 129 rooms and suites. The walk from the most distant rooms to the beach covers about a mile. During this stroll, you can enjoy the scenic beauty, see exotic birds and perhaps even catch a glimpse of young crocodiles in their natural habitat.
3.5 Special Features
Located right at the Playa del Carmen beach, it offers beautiful views of the Caribbean Sea. Rosewood Mayakoba offers Sense, the resort spa, which has been ranked as the best spa in the world by Forbes Mexico. It has its own private island. These elite overwater bungalows come with an array of luxury features like a private outdoor shower, hot tub, heated plunge pool, walk-in closets, private sundeck, and a separate lounge area. The resort also offers a championship golf course, so there is plenty to do here.
4. Banyan Tree Mayakoba
4.1 Location
Situated at a distance of 35km from the Cancun International Airport, Banyan Tree Mayakoba is a Triple AAA 5 Diamond resort. Nestled in the heart of Mexico's Riviera Maya, Banyan Tree Mayakoba is where the warmth of local customs and hospitality intertwines with the essence of Asian culture. It is encompassed by a shielded untamed coastline, stunning lagoons, mangrove forests, coral reefs, and a host of other natural wonders. You'll find at least 200 bird species here.
4.2 Special Features
Each of the exquisite villas spans across two levels, offering considerably more room and seclusion compared to other overwater bungalows in Mexico. Furthermore, these villas come complete with their own heated pool and outdoor lounge area. The Caribbean beaches are just a short walk away from this location, offering you the chance to experience the sensation of warm sand running beneath your feet as you venture out for a day at the beach. While the beach can be visited at any time of the year, seaweeds appear between April and September, so you might want to keep that in mind while booking your room.
4.3 Resort Amenities
Situated in proximity to Rosewood Mayakoba, Banyan Tree Mayakoba offers an array of amenities, including an 18-hole golf course, a beachside bar, and a bar by the pool. Additionally, guests can take part in recreational activities such as kayaking, archery, and hiking/biking. Complimentary in-room Wi-Fi is provided to all visitors, and the resort also features a terrace and boutique shops for a delightful shopping experience right on-site.
4.4 Rooms
The resort is comprised of 162 villas rife with lush jungle and an outdoor pool. Each villa has lofty ceilings, Talavera tile ceramic sinks, a Nespresso coffee machine, and a complimentary minibar stocked with refreshing beverages. You will be able to access a fitness center and plenty of restaurants serving international cuisines. Despite being a Thai-owned hotel, elements of Mexican and Mayan aesthetics are thoughtfully incorporated into both the rooms and the entire resort.
4.5 Things to Do 
There are only six overwater bungalows here so don't hesitate to book. You can explore complimentary snorkeling and stand-up paddleboarding, unwind on sun loungers by the infinity pool right by the ocean, or embark on exciting adventures like trajiIn-Depthnera boat tours with dining experiences, tours of enchanting cenotes, kayaking, tequila tastings, nature trails, and even play a round of golf on a PGA-championship course if you're feeling adventurous. 
It's the newest of all the Mexico overwater bungalows. Banyan Tree Mayakoba has recently launched villas with rooftop pools in 2022. It has quickly earned a reputation as one of the best resorts.
5. Akalki
5.1 Location
Located on the Bacalar lagoon, Akalki offers one of the cheapest overwater bungalows which are perfect for families. Although much less visited than the other resorts, the journey to this destination is certainly rewarding because once you arrive, you'll be captivated by the breathtaking beauty of Laguna Bacalar. This natural wonder is often referred to as the "Lake of 7 Colors" due to its mesmerizing array of turquoise-blue shades.
5.2 Special Features
The structure of these overwater suites embodies ecological and rustic characteristics, with intricate Mayan accents. It is constructed primarily from organic materials like wood, thatch, and palm tree fibers. Their in-house dining provides a holistic experience by blending nutritious menu options with a musical ambiance. Free breakfast is included and some of the rooms even have a private patio.
5.3 Things to Do 
The nearest airport is Chetumal International Airport, located a mere 19 miles from here. Nearby points of interest encompass archaeological wonders like Chacchoben and Kohunlich, the enchanting Cenote Azul, historic forts, and the charming town of Chetumal. Upon request, custom menus can be crafted to enhance special occasions such as romantic dinners, proposals, anniversaries, and birthdays.
5.4 Other Features
The restaurant, La Botika, takes pride in serving nourishing and thoughtfully crafted dishes, while with Akalki Spa you can indulge in various calming treatments that incorporate heated stones, therapeutic sounds, massages, and traditional Mayan herbal remedies. There are over 50 massages to choose from! It's worth checking out. The overwater bungalows come equipped with a king-size bed, an outdoor rain shower, and a bathtub situated on the balcony. Akali provides a range of water bungalow options, allowing guests to select between views overlooking the lake, iconic landmarks, or the serene garden surroundings for their accommodations.
5.5 Reconnecting with Nature
The resort grows its food and all the huts are powered by solar energy, making it a self-sustaining resort. You won't find a fast internet connection or many plugs and cables. That's because this resort is mainly focused on reconnecting with nature. The place offers a variety of activities like yoga and kayaking. You also won't be living in a luxury overwater bungalow, but if you want a relaxing holiday by disconnecting from the online world, this is the place to go!
6. Conclusion
These were the best Mexico overwater bungalows. Overwater bungalows have an inherent charm that appeals to many, as they offer a romantic and unconventional experience. The prospect of living above the gentle, rippling sea, where you awaken to breathtaking vistas and sleep under a sky filled with shimmering stars, holds an irresistible attraction for many people. However, if you want to try something different, there are also hotels where you can swim right up to your room. It's like having a pool right outside your door.
You can get a taste of the turquoise Caribbean sea, watch the stunning sunrises and sunset from your extended sun deck, or simply spend some quality time with your family at your private pool. You can even get a private beach area! It's like having your piece of paradise. All of these amazing overwater bungalows have their specialty so whatever it is that you're looking for, it's there for you!
Click here to learn more!