Cambodian Food is the most famous thing about the country which attracts a plethora of visitors or foodies in search for having a foodgasm.
This exquisite place is so magical all the visitors that visit here feel like they've been spell cast!
10 Delicious Cambodian Food to Try
The ancient and modern world here mixes and matches so well together that it creates an authentic experience. This country is bordered by Thailand, Vietnam, Laos, and Indochina Peninsula.
Also known for its rich and chic lifestyle, life here is full of fun and entertainment!
As soon as you enter this country, you will be greeted with the lush flora and fauna, culture, and of course, thick forests surrounded by valleys.
Cambodia is your match made in heaven if you're a foodie and looking for a fancy vacation that can satisfy food desires.
People worldwide visit this place mostly because of its food diversity and tasteful and healthy Cambodian cuisine.
The variety of
Cambodian food
items available here is just unbelievable. Read on to find out more!
Best Time to Visit
The best time to fancy Cambodia is between November to April when it's a little rainy.
It will be the most beautiful in the monsoon season since the countryside would be full of lush and green flora and fauna and the rivers and all the water bodies would be full.
Coming to the end of the summer, you can also fancy one of Cambodia's most famous spots: Tonle Sap, the largest lake consisting of freshwater in the southeast side of Asia, and it's also home to a lot of ancient villages.
About Cambodian Food
The best part about Cambodian cuisine is its variation of herbs, spices, and condiments.
People mistake Cambodian food for Thai a lot, but the major difference is that Cambodian cuisine is mild and filled with pickled and tangy flavours, whereas Thai cuisine is spicy.
Going through the streets of Phnom Penh, you see the diversity of Cambodian food, its complex flavour, and the influence caused by French Architecture.
The Khmer diet globally is renowned worldwide; it mainly consists of rice and freshwater fish as their staple food items.
The Cambodian food items revolve around seafood, and that's due to the 2 important freshwater sources – Tonle Sap and the Mekong River.
Cambodian food's typical meal usually consists of a fish item, salad, vegetables, soup, and rice. Even the dessert in Cambodian food has rice as the key ingredient and fruits to enhance natural flavours.
1. Nom Banh Chok
Popularly described as 'Khmer Noodles' in layman's terms is a Cambodian food item usually served for breakfast, but people often consume it as a quick snack.
It is made up of fermented rice noodles as a key ingredient made in wooden mills or stone.
It is sizzled with flavourful fish gravy and fresh vegetables, including water lily, cucumber, and banana flowers. Alongside the banana blossom, a dash of different variations of fresh herbs can be added too.
Many new variations are available in this Cambodian food item. It is eaten in sunny weather, and folks may even say the idea of nice noodles was taken from Cambodians by the Chinese.
2. Bai Sach Chrouk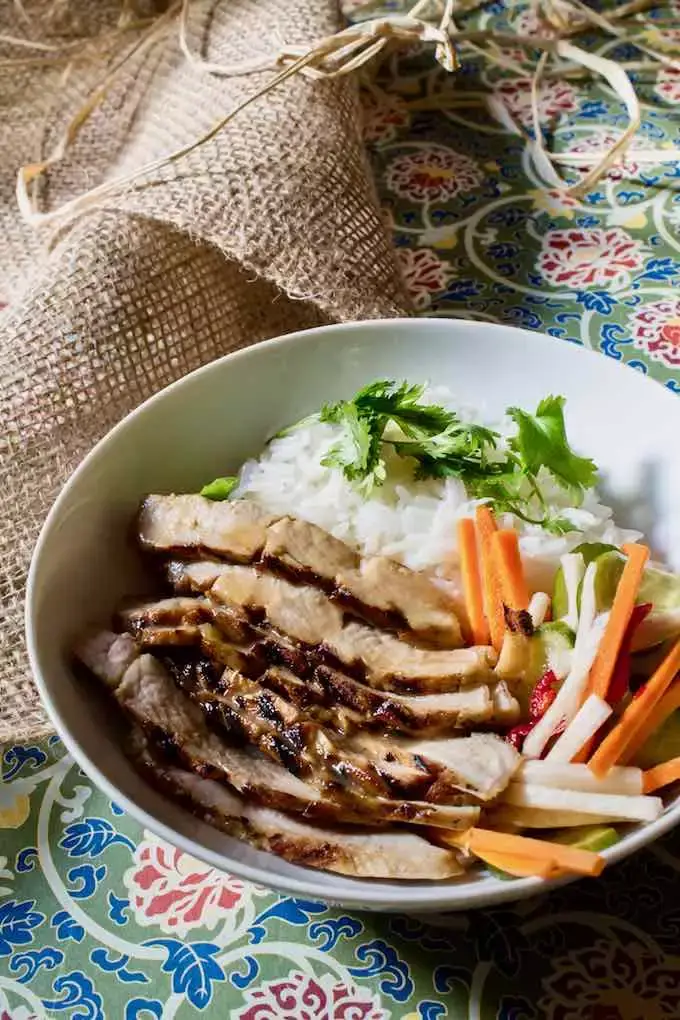 It is one of the most popular Cambodian food eaten at breakfast, made up of pork and rice. It is next to impossible not to hear about it in the best Cambodian food items.
This is so famously eaten there among tourists and residents that it gets stocked out after a certain time in the morning.
The dish is comprised of marinated and then further grilled pork and thinly sliced. The marination consists of garlic, soy sauce, and coconut milk, and the Kampot pepper gives the meat a lip-smacking flavour that's irresistible.
3. Kuy Teav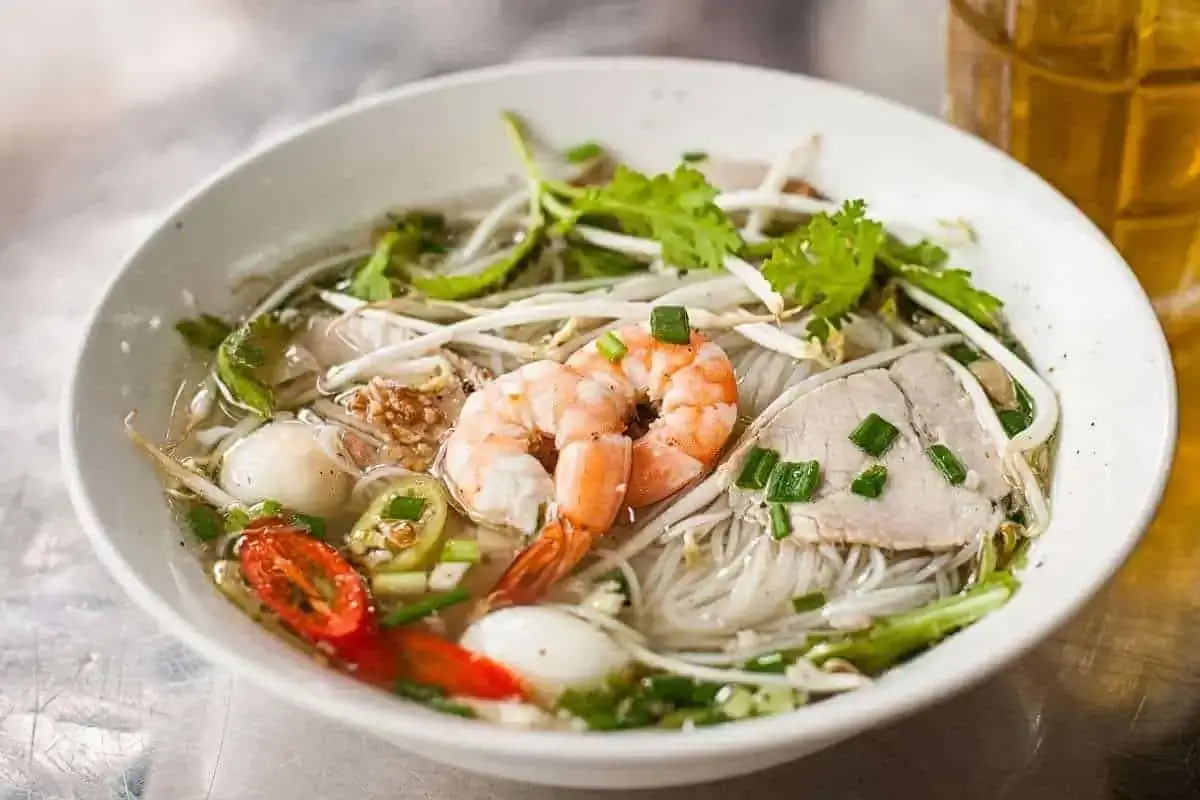 Like the usual Cambodian food items in the breakfast category, this one's made up of rice and noodles. It's a tasty famous local item made up of beef, herbs, and broth filled with noodles alongside rice.
Bean sprouts and the nicely boiled noodle soup sit at the base with crispy layers of garlic pieces.
Tender lime and herbs are the main ingredients that provide the aroma and flavour enhancement to this Cambodian cuisine dish.
4. Kdam Chaa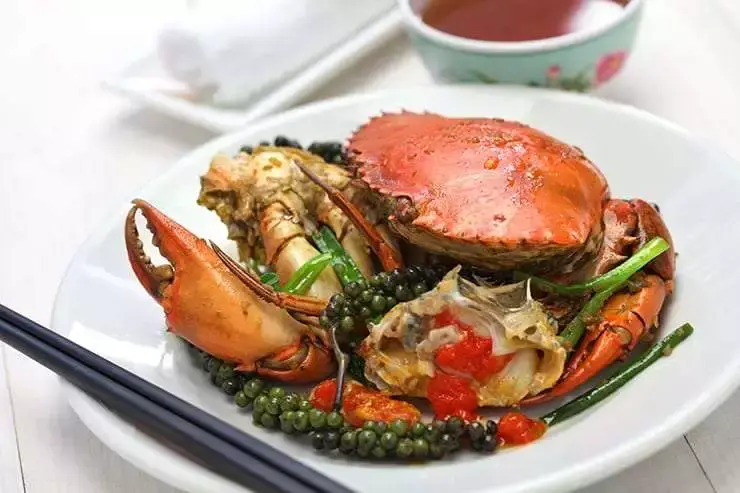 Kep, the seaside town of Cambodia, has the specialty of fried crab. This Cambodian food item is prepared with a spice that's grown locally called 'Kampot pepper.'
This delicacy beautifully enhances the taste of white rice with its spicy pepper flavour.
5. Samlor Korkor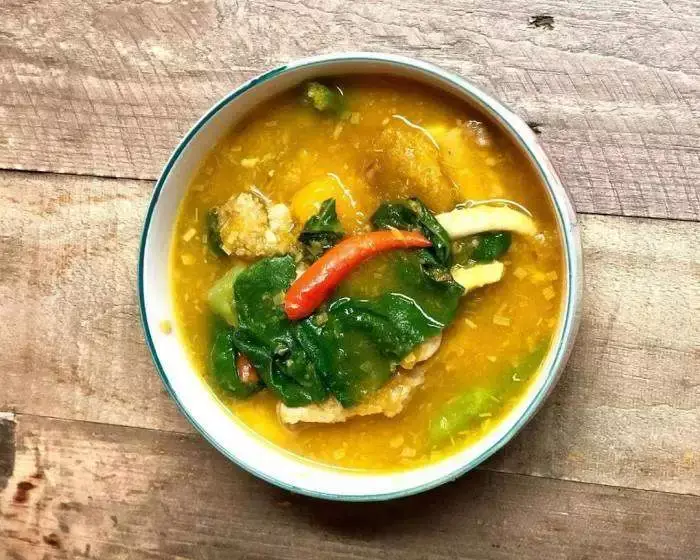 Though Amok is sometimes fondly called the country's national dish, Samlor Korkor holds a special place in tourists' hearts.
It's a very ancient dish that people have eaten for centuries and is now available in almost every Cambodian restaurant and the local households there.
This versatile, healthy soup consists of more than a dozen of fresh vegetables. Any meat can go with this soup, but the best ones are catfish and pork belly due to how their taste compliments one another.
6. Kroeung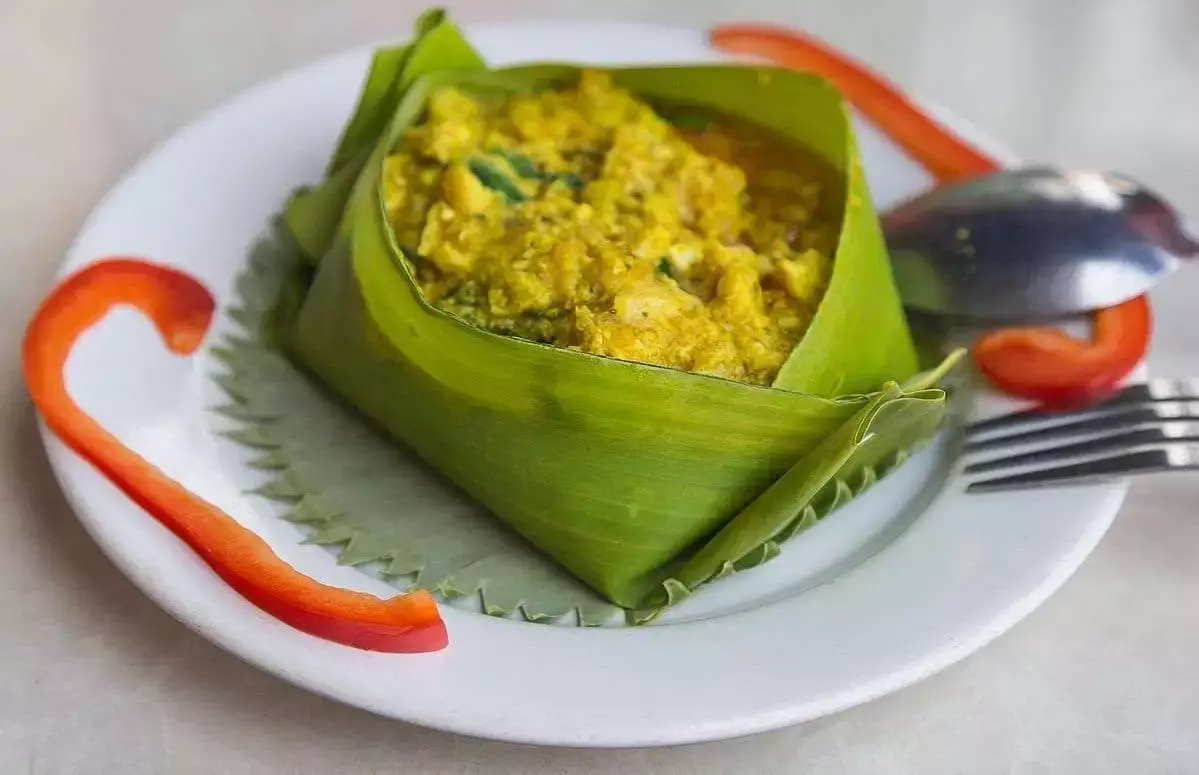 This flavourful Cambodian paste is made with kaffir lime leaves, cardamom, garlic, lemongrass, and all the aromatic spices and condiments there are out there.
The term 'Kroeung' generically means a wide spectrum of flavour-packed Cambodian paste used in an endless number of tasty Cambodian food items.
This dish has 2 main types: the colour categorizes the identical individual one, and another one is like if it's green, it's due to lemongrass, or red made up of red chillis.
7. Lok Lak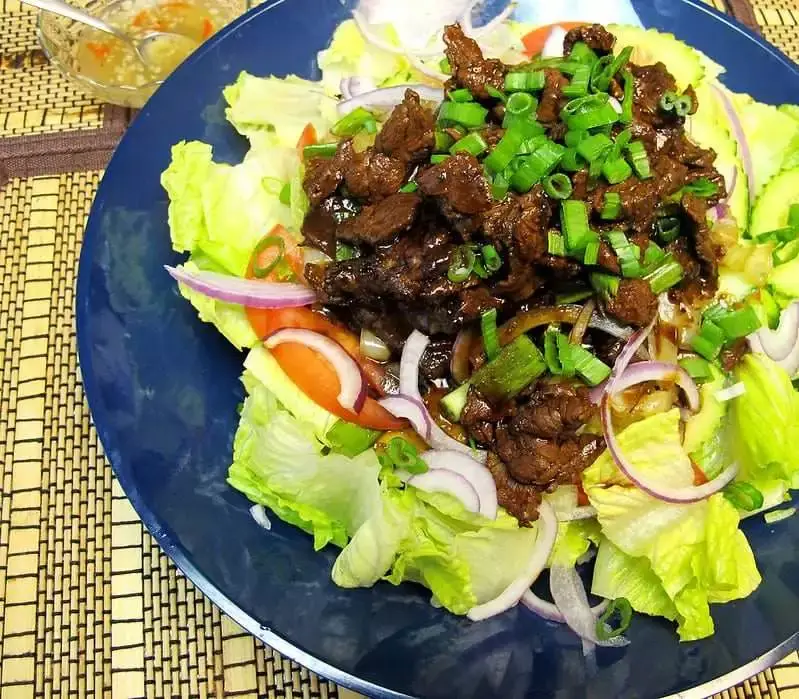 It is a basic Cambodian cuisine item made up of stir-fried beef or shrimp or the common meat, chicken.
Although beef is the preferable option, people also enjoy chicken in it. A layer of lettuce is garnished with tomatoes, onions, and other juicy vegetables, with the main item is stir-fried beef with juices.
It is commonly eaten by putting the lettuce leaves on top and bottom as a wrap and is often served with rice, allegedly brought to Cambodia from Vietnam by French people.
8. Fried spiders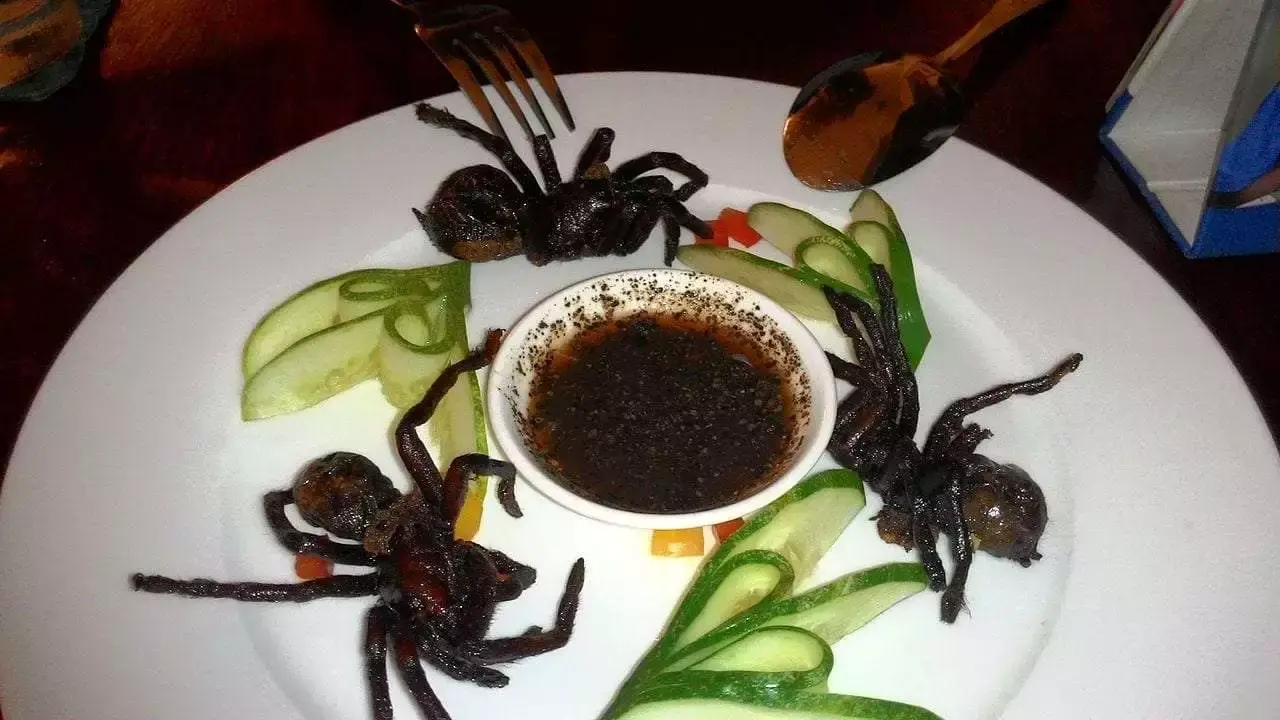 Though people usually don't like eating spiders, it is a typically Cambodian food item in Skuon caused by spider infestation.
Since the folks there used to starve due to the infestation, they started cooking spiders and consuming them, and now it's a famous historical Cambodian food item. No wonder how Skuon is also fondly called Spiderville.
It tastes like chicken as described by the tourists, so if you're worried it will taste horrible, don't worry, it tastes like normal meat.
The fried spiders, usually Tarantulas, are deep-fried and served by garnishing them with flavourful herbs. If there's no rice or noodles alongside it, is it even a Cambodian dish? Exactly.
9. Bok I'hong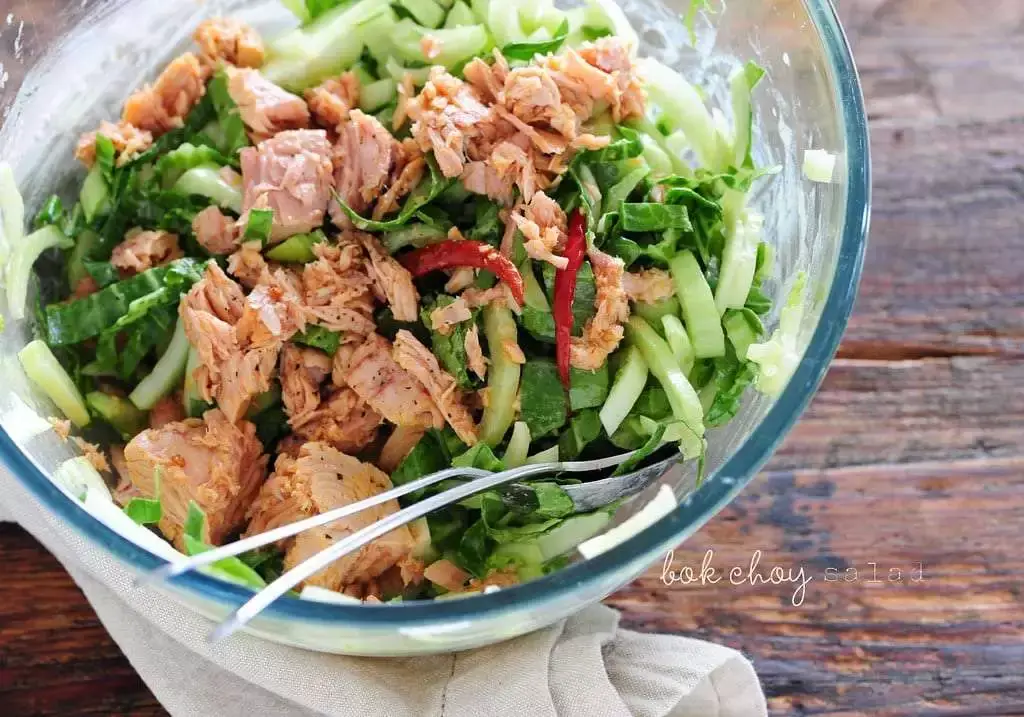 This Cambodian food item means papaya, it is a salad made up of green papaya from Southeast Asia.
Unlike the Thailand version, this food item consists of thinly sliced papaya and other fruits and ingredients. Some may even use shredded papaya and wouldn't include fruits.
Sometimes it even consists of Cambodian fish paste, and it can also have salted crabs or grilled fish and of course with a side of rice and maybe some chicken too.
The main key ingredient in this green papaya salad is the white fish sauce instead of the fermented fish paste used in the older times by the local folks.
10. Mung Bean Pudding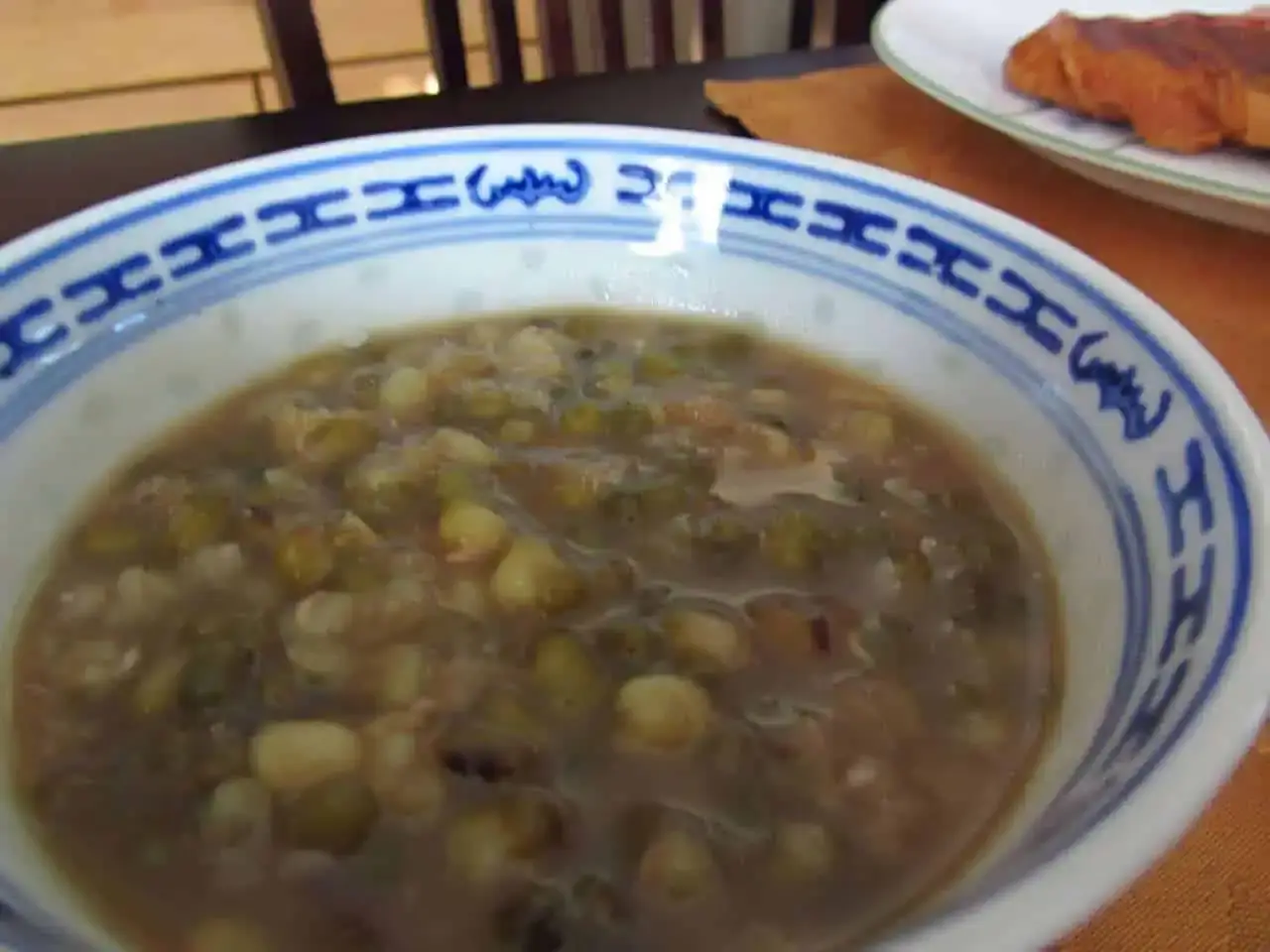 Though Cambodian cuisine is full of meat, rice, and noodles, there are some great desserts.
Usually, Cambodian desserts are made up of palm sugar, coconut milk, cream, and condensed milk. It can also be served with fruits since Cambodian cuisine is not only tasty but healthy too.
It is famously available at street stalls, and the traditionally made version of it helps cool down your body temperature. Thus, it's widely consumed in the summer season.
This Cambodian food item is commonly served with an enormous amount of coconut sauce. This sweet and thick mouth-watering dessert is mostly made a day over to be chilled overnight and served cold.
Bottom Line
Cambodian cuisine should be the key to your experience if you do decide to visit Cambodia. It is a feast for your taste buds waiting to be explored.
Discover and let us know your experience in the comments!
Verified Content by Experts
USA Tales has content written by niche experts, travelers, students, and those with real-life experience. Our content is also periodically reviewed by subject matter experts to ensure content accuracy and relevancy. Have a question? Email us at team@usatales.com