Cape May, New Jersey, is the oldest seaside resort in the USA, full of beaches and natural beauty, rich culture and history, and of course excellent restaurants.
Along with the best restaurants in Cape May, NJ, this place also stands out in a variety of ways with its magnificent beaches, promenade, variety of gourmet cuisines, all of the attractions of a seaside town, along with a rich history and architectural diversity that is unrivaled.
Today we are going to discuss the best restaurants in Cape May NJ.
Cape May NJ, has over 700 restaurants. A diverse range of diners can be found here. Locals and visitors have a wide range to discover a variety of dining options from ranging from beachside stalls to globally acclaimed restaurants.
Today, I'm going to brief you about the best 26 restaurants in Cape May NJ, for the best fine dining restaurant experience.
1. The Lobster House
What's better than seafood by the harbor? Fresh Seafood. The Lobster House specializes in a diverse menu with the freshest seafood available. 
The restaurant's highlight is the beachfront dining with freshly caught seafood, five dining rooms, and a dynamic and colorful bar.
The Lobster House, right on the water's edge, close to the fish docks, includes a seasonal outdoor raw bar and drinks served aboard a docked schooner. It has been a fixture in the Cape May community for almost fifty years, an amazing place for fine dining with its flavorful and innovative food and one of the best restaurants in Cape May NJ.
The 130-foot long sailing vessel, called The Schooner American, is anchored dockside during summer months and used as an outside cocktail lounge with a full raw bar, lunch hours, and specialty house appetizers. All in all, the service is pleasant, food is great, albeit pricey.
2. Iccara Italian Bistro
Iccara is a BYOB Italian restaurant situated in Cape May NJ and is one of the best restaurants in Cape May NJ. Iccara introduces traditional, unique, and charming Sicilian flavors in the heart of Cape May is a centrally located dining spot just a few steps from the Washington Street Mall.
Named after the Sicilian town, Iccara, now known as Carini, was established by Vincenzo Sanzone. He learned the complex yet beautiful flavors of Sicilian delicacies from his Nonna and has continued to spread the love and legacy through his restaurant.
Sanzone's BYOB does justice to the fresh seafood available in Cape May, with their fresh fish served, Squid Ink Fettuccine, or Filet Mignon with Shallot Butter, or Crab Cakes with Lemon Beurre Blanc Risotto, Grilled Salmon, will take you to Italy.
From the comfortable atmosphere to the impeccable service and, of course, the delicious food, Iccara Italian Bistro is definitely a 5-star experience and one of the best restaurants in Cape May NJ.
3. 410 Bank Street
410 Bank Street has not altered much since its debut night and is still on a top rank in a list of the best restaurants in Cape May NJ. 
The cuisine is inventive and lively; the menu's French New Orleans and Caribbean influence works well with the New Californian touch. It is one of the favorite tourist spots, making it one of the best restaurants in Cape May NJ
The quality of Finfish and their grilled Shrimp starters, seared Cape May Yellowfin Tuna, are unrivaled, and their freshly baked desserts like the Key Lime Pie is to die for. The 410 Bank Street restaurant is open during the summer.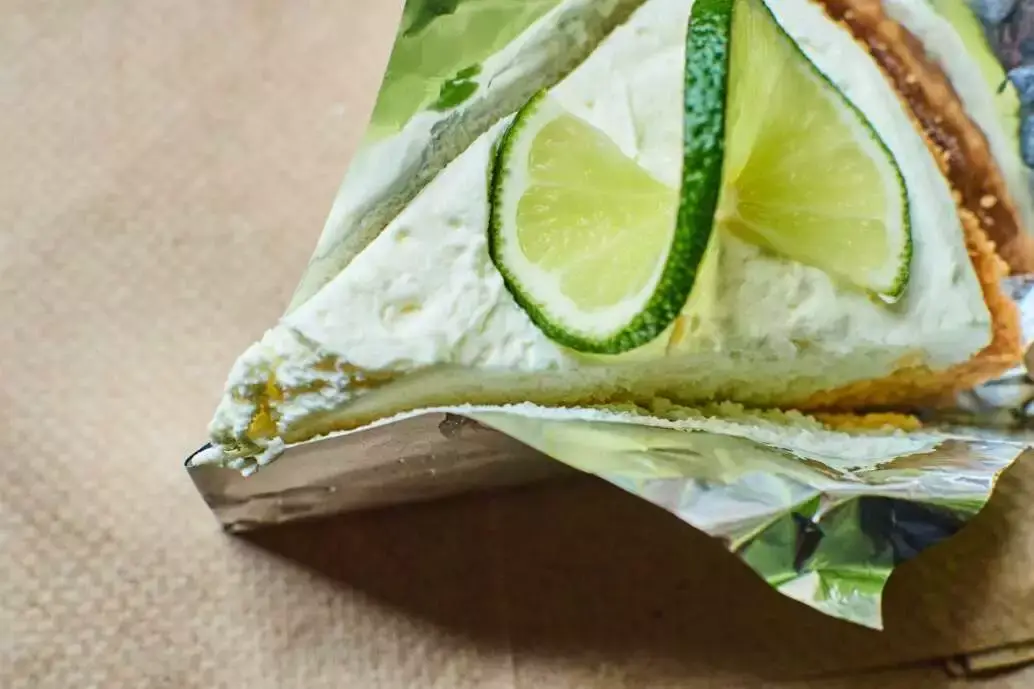 4. McGlades On The Pier
If you want to be close to the water and get a chance of seeing Dolphins swim, definitely opt for McGlade's beachside deck! The service is welcoming, the restaurant is very popular in the summer, and the restaurant features outdoor seating.
Enjoy your meals with the stunning view of the Ocean, with a wide range of dishes to choose from, for a memorable visit to Cape May, which makes this restaurant a strong contender for one of the best restaurants in Cape May NJ.
You can't beat the location, the service, or the food. It's a great place on the screened-in porch, right off the boardwalk, with outdoor seating next to the beach.
5. Beach Plum Farm
Located in West Cape May, the Mise En scene is just as appealing as the cuisine. The farm is owned by Cape Resorts, and fresh produce is provided to the company-owned restaurants, like The Ebbitt Room, Boiler Room, and others. 
It is known that the farm has expanded produce over 100 different fruits and vegetables and Berkshire Hogs and Chickens since 2008.
They also host a shop where you can shop their fresh fruits, vegetables, and produce directly from the fields and specialize in jams, jars of honey, different types of Pasta, wines, and other products made by local artisans.
The farm kitchen is located in the main Amish barn and presents a new menu every morning based on what's fresh in the fields. Eat farm-fresh, home-cooked style meals. The restaurant serves breakfast and lunch at a picnic table surrounded by woodland, greenery and sunshine—one of the must-visit restaurants in Cape May NJ.
6. Black Duck On Sunset
The Black Duck restaurant located in the historic neighborhood near the Heart of Cape May, at the Washington Street Mall, is housed in a traditional seashore house. Its dining room creates a casual, calm atmosphere reminiscent of an old porch on Cape May with wicker paddle ceiling fans and tropical palms. 
A quaint setting offers a contemporary Asian-American style smaller menu, BYOB, which serves excellent food in a house full of character. Black Duck on Sunset is among the best restaurants in Cape May NJ.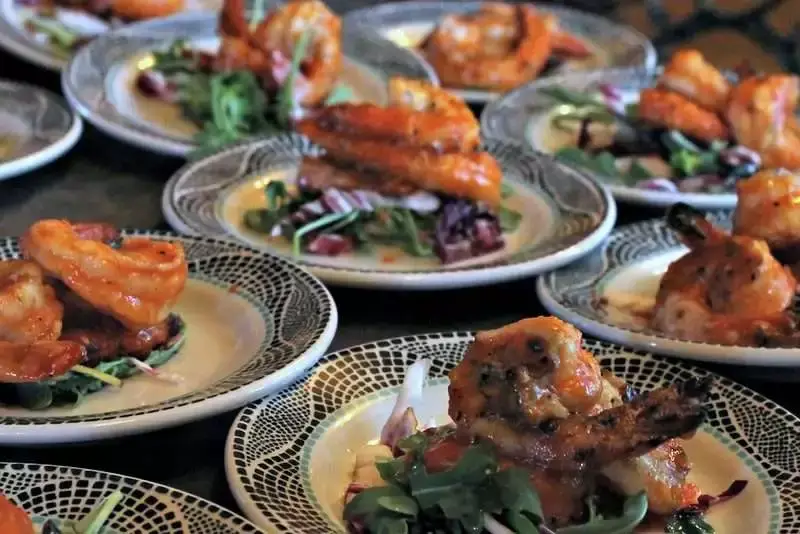 7. Mad Batter Restaurant and Bar
Popularly known as the "Grandfather" of all fine dining restaurants in Cape May, Mad Batter Restaurant and Bar has been open since 1882. The restaurant has been the recipient of multiple awards and is considered a national landmark.
Join them at this exquisite fine dining restaurant, in Carroll Villa Hotel, in the skylit dining room with live music and happy hours every day, on a beautiful garden terrace or the front porch.
8. Washington Inn
Housed in a Victorian plantation mansion, this high-end restaurant offers an extensive wine list and bar.
This restaurant offers its visitors a unique fine dining experience, which includes fresh local delicacies matched with a choice of wines and a spectacular and elegant seaside setting; this helps Washington Inn get on our list of best restaurants in Cape May NJ.
The food is delicious and imaginative, inspired by Mediterranean and Asian cuisines is at par considering the restaurant's attention to detail and ambience. The restaurant is open during summer.
9. Primal by Mia Mia
One of the best restaurants in Cape May NJ that offers mouth-watering fresh seafood such as Oysters, Mussels, and more. The food is excellent and keeps the customers coming back for more.
The lovely dining room décor, amazing food, and service make it a hard place to get reservations for. The food offered in Primal is innovative, with a new spin on classic American cuisine.
Primal is stylish, inventive, and delectable. It's the newest hotspot in Cape May, New Jersey.
It's one of the few locations in Cape May NJ, that's truly on the beach, with a stunning view, fantastic décor, faultless service, meticulous attention to detail, and unique flavors. The owners and chefs deserve praise for delivering a five-star experience to their customers.
10. Tisha's Fine Dining
Located on the Washington Street mall, Cape May NJ, Tisha's is over 30 years old and a staple when it comes to trying New American and fine Italian cuisine. In a classic setting, they continue to provide exquisite dinners, such as grilled Fish and Prawns, salads and Risotto, a variety of Burgers, Po'boys, and wraps as well.
Tisha's is highly recommended; they're BYOB but offer Cape May Wines. The staff is attentive, prompt and, friendly. All in all, Tisha's Fine Dining is a wonderful experience and is one of the best restaurants in Cape May NJ.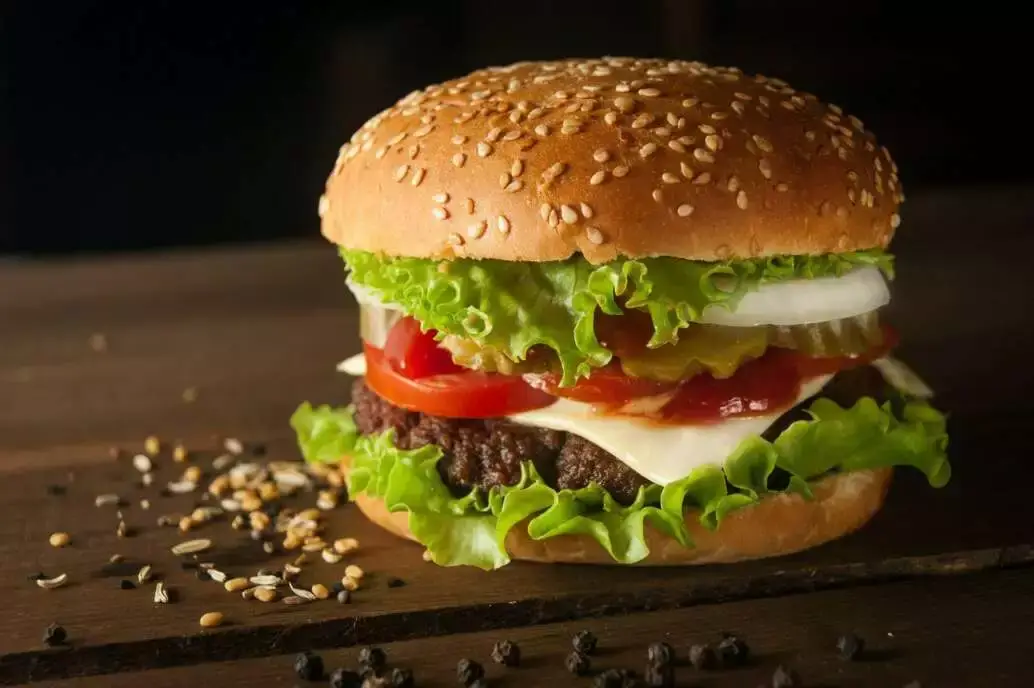 11. Lucky Bones Back Water Grille
In 2006, The Craig family, who also owns the fine dining Washington Inn and the Cape May Winery, opened the 150-seat Lucky Bones.
It is open all year and serves casual comfort food such as brick-open pizzas, Buffalo wings and specializes in Seafood delicacies like cream-less clam chowder and steaks and chops, including a full bar. Lucky Bones Back Water Grille is a sophisticated, family-friendly setting.
12. The Ebbitt Room
The refurbished 1879 Virginia Hotel, Ebbitt Room, is one of the best places for dining in downtown Cape May. Its classic American menu puts heavy emphasis on freshly caught seafood, fresh vegetarian options straight from Beach Plum Farm, and exquisite steaks and mouth-watering Crab Cakes.
The award-winning Ebbitt Room is one of the most popular and well-known restaurants with welcoming dining rooms in Cape May. This is among the best restaurants in Cape May NJ.
Ebbitt Room serves creative, contemporary American cuisine, emphasizing alfresco dining with ingredients grown at its own Beach Plum Farm. Their wine list includes selections from all the major wine regions of the world.
13. The Blue Pig Tavern
The Blue Pig Tavern, featured in an 1800s cozy and rustic hotel's dining room, serves traditional American cuisine. The name of the restaurant comes from a gambling parlor, that formerly stood in the building around the 1800s. 
The Blue Pig Tavern in Cape May has been awarded several times, including "Best American Restaurants."
14. Harry's Ocean Bar and Grille
A rooftop bar with a selection of fresh local seafood and sandwiches with the comfort of live music is available at this waterfront resort diner. Harry's Ocean Bar and Grille is a popular dining destination for visitors and locals.
This is the only place in Cape May with a rooftop bar with a magnificent view of the Ocean. Harry's was named the Best Place to Drink Outside on the Jersey Shore.
15. Aleathea's Restaurant
Aleathea's waterfront is a fine dining restaurant housed in a restored Victorian-style house, delivers upmarket American food in an attractive setting. Considered to be Cape May's one of the best-kept secrets, Aleathea's gives a one-of-a-kind dining experience by the sea.
Set in a Victorian-Era setting, with an ocean view and porch dining during the season, Aleathea's offers a one of a kind experience.
The restaurant specializes in contemporary American cuisine, with a range of Steaks and fresh fish. During the season, Aleathea's Restaurant serves Breakfast, Lunch, and Dinner, all seven days a week.
16. Oyster Bay Restaurant and Bar
A big bar area and nautical-themed décor distinguish this upscale steak and seafood restaurant from the others. The Oyster Bay Restaurant and Bar is a popular eating destination for visitors in Cape May.
With daily dishes freshly prepared by professional chefs, and polite, attentive service, the restaurant provides a great dining experience. Certified Angus beef and fresh local seafood are served at Oyster Bay, which specializes in New American cuisine.
17. Hemingway's Steaks and Seafood Restaurant
Hemingway's Steaks and Seafood Restaurant features dark woods, and a wraparound bar, in the Grand Hotel. Hemingway's serves contemporary American food with a variety of culinary masterpieces, which usually include locally sourced fresh seafood and famous juicy steaks.
Hemingway's provides a calm environment, which makes it a fantastic place to unwind at the end of the day, with their specialty cocktails that have delightfully unique backstories. The restaurant serves a "Sunset Dining" menu and is open all day; and is one of our top picks for one of the best restaurants in Cape May NJ.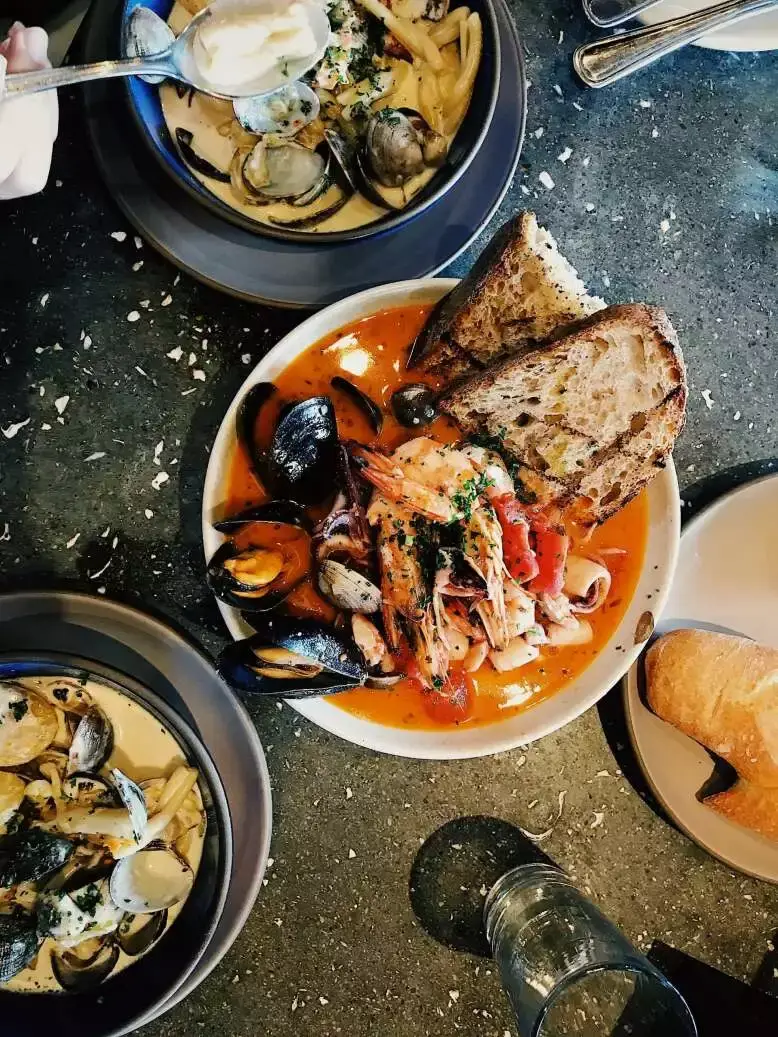 18. Magnolia Room
The Magnolia Room Restaurant in Cape May is a nationally recognized restaurant that serves Southern-style cuisine prepared using recipes that have been in the family for over three generations.
The restaurant's balcony is a great place to dine during the warmer months. Magnolia Room is an exquisite, historic location for Southern favorites like fried Chicken and Crab Cakes.
19. Key West Tacos
Key West Tacos is a quirky beach shack-style Mexican restaurant with outside tables. The food is pleasant and serves high-quality American Southwest and Mexican style, Burritos, quesadillas, and tacos. Key West Tacos offers the Florida Keys experience.
20. Sapore Italiano
Housed in a renovated Victorian-style house, Sapore Italiano serves excellent Italian cuisine created with local, fresh farm-picked ingredients in an attractive environment.
In a restored home, old-school Italian cuisine served in an elegant setting, Sapore Italiano is an upscale dining Italian restaurant in West Cape May that offers BYOB.
Salmon, Tilapia, Calamari, Mussels, Fresh Flounder, fresh farm tomatoes, homemade sweets baked fresh every day are among the best dishes offered on the evening menu at Sapore Italiano.
21. The YB (Younger Brother)
One of the customer's favorite restaurants, The YB, also known as Younger Brother, is an elegant dining spot situated on the beachfront with thoughtfully and beautifully prepared dishes.
This BYOB restaurant is a modest eatery that offers an ever-changing menu of contemporary American cuisine with seasonal changes. Younger Brother offers Lobster Brunch, serves edgy riffs on upscale dining and traditional classics in a relaxing, upscale-casual setting.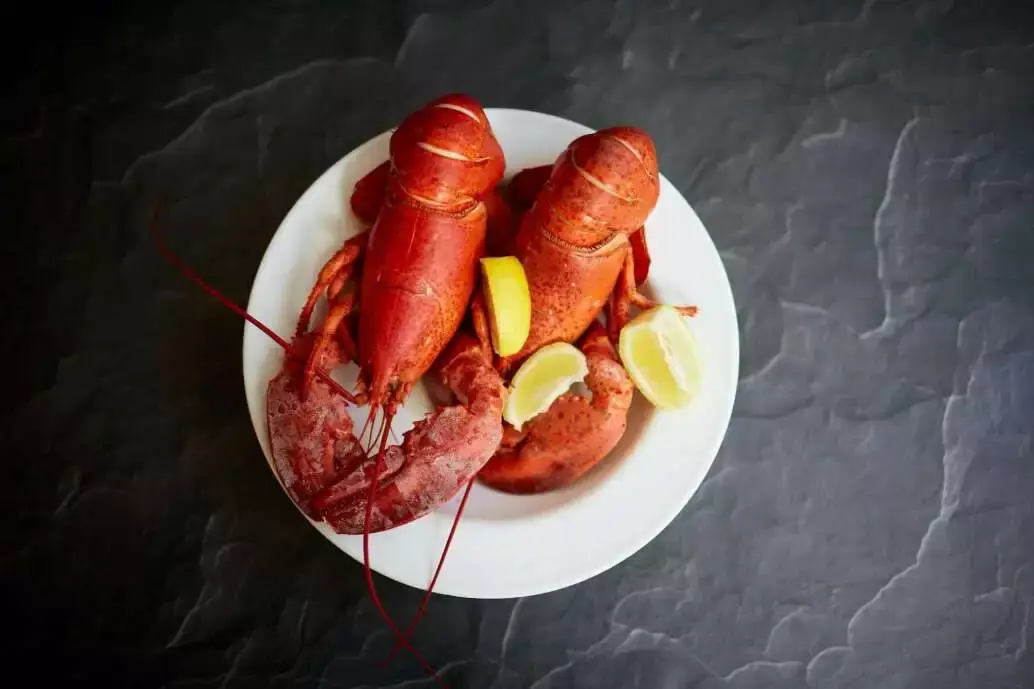 22. George's Place
George's Place in Cape May is a well-known, successful Kara restaurant group, vouched by important people in the Culinary world, such as Guy Fieri, and shows like Drive-Ins and Dives making it one of the best restaurants in Cape May NJ.
George's Place specializes in Mediterranean, Greek and, American cuisines and is devoted to serving the neighborhood with fresh, delicious, generous servings and reasonable rates year long.
George's Place's exceptional menu is BYOB and one of the best restaurants in Cape May NJ, with a comfortable dimly lit dining hall but is cash only.
23. Good Earth Organic Eatery
The Good Earth Organic Eatery is an All-Organic restaurant proud to serve the Cape May neighborhood delicious, home-cooked, healthful food. They assist local farmers by incorporating seasonal produce into their menu, as well as local seafood.
Their aim is to be one link in a chain that leads to healthier people and a cleaner environment all across the world. They moved from Le Marche, Italy, in 2012. 
They keep their ingredients simple and fresh, allowing the cuisine's flavors to speak for themselves in the traditional Italian style. Good Earth Organic Eatery's simplicity has helped it make its way into our list of best restaurants in Cape May NJ.
24. The Rusty Nail
The Rusty Nail, also known as "The Nail", is a popular surfer bar and eatery from the 1970s and quickly became a local favorite. Lifeguards, surfers, and gorgeous beach bunnies congregate around the wood bar.
During the Summer, The Rusty Nail has a comfortable fire pit where you can gather for a quick refreshing drink and outdoor dining and an indoor fire pit for the colder months, along with live music and comfort food. 
With generous portions and food made from the fresh local farm produce, The Rusty Nail is on the list of best restaurants in Cape May NJ, for a relaxing day at the beach.
25. Mario's Pizza and Italian Eatery
Mario's Pizza and Italian Eatery is a true, authentic Italian-owned and operated pizzeria and family-style Italian eatery with traditional Italian dishes and a strong contender in the list of best restaurants in Cape May NJ. It is affordable and is highly recommended for delicious Pizzas, which makes it one of the best restaurants in Cape May NJ.
26. Union Park Dining Room
Views of the Ocean, a front porch, delectable cuisine, and attentive service, along with globally inspired cuisine employing fresh, locally grown ingredients, make Union Park Dining Room an award-winning relaxed, classy setting. It is a must-visit and one of the best restaurants in Cape May NJ!
Cape May NJ, is known for its fresh seafood and Historic elegance, but dining options range from casual to gourmet dining in expensive settings. The City of Cape May isn't exaggerating when it calls itself "the nation's oldest beachside resort" and adds charm to it with its specialty cocktails and outdoor dining areas with a gorgeous ocean view.
Since as early as 1766, Cape May has been declared a "good resort." Cape May is home to one of the largest commercial fishing ports on the East Coast, great for local diners. However, many restaurants close their doors during the winter. 
We hope you have a great stay at Cape May and enjoy the aforementioned best restaurants in Cape May NJ.
These were our picks for the best restaurants in Cape May NJ; for more, check this out! 
Also check out, Best Asian Restaurants in NYC.
"Best Spanish Restaurants in NYC"
Verified Content by Experts
USA Tales has content written by niche experts, travelers, students, and those with real-life experience. Our content is also periodically reviewed by subject matter experts to ensure content accuracy and relevancy. Have a question? Email us at team@usatales.com