We may earn money or products from the companies mentioned in this post.
The most widely consumed and oldest alcoholic drink in the world is beer. In fact, in the most popular beverages, beer comes in third place after water and tea. The Coors Brewery Tour showcases the history and fashion of brewing in just 30 minutes.
Beers are generally produced by brewing, and the fermentation of starch and hops adds flavor to them. Hops also add bitterness to the beer and act as a natural preservative. Beers are also sometimes flavored using herbs or fruits.
Foundation Of Coors Brewing Company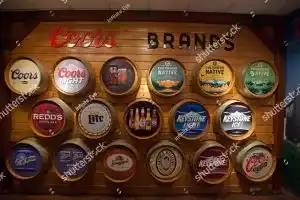 In 1873, German immigrants from Prussia, Adolf Coors and Jacob Schueler, laid the foundation of the Coors brewery in Golden, Colorado. Their journey began as they bought a recipe for Pilsner-style beer from William Silhan.
Today, the Coors Brewing Company is headquartered in Golden City, Colorado, USA, holding a successful 148-years long track record.
Golden Brewery
The Golden brewery covers over 1500 acres and the Golden Valley. On-site, they produce nearly 1 billion bottles of beer each year. They also make close to 3.6 billion cans each year in the largest can plant worldwide.
The employees of the brewery log work an average of more than 7000 hours of community service each year.
At Coors, they believe in responsible and controlled drinking, for which they have initiated several awareness programs.
History Of Golden City
The Coors brewery was founded in 1859 at the same time around when gold was discovered in the clear creek canyon. Golden City was the terrestrial capital of Colorado from 1862 to 1867. At that point in time, the population comprised only around a thousand people. Today, it has hiked to more than twenty thousand.
Places To Visit In Golden
1. Lariat Loop Trail
In the mountains just west of Denver, Lariat Loop welcomes you to discover a history of treasures. Along this 40-mile picturesque route connecting the communities of Golden, Morrison, and Evergreen, relive the thrill of motor traveling.
The 5-mile Lariat Trail, which crosses the Lookout Mountain, is a remarkable marvel of engineering that equally challenges thrill-seeking car drivers and cyclists.
Visitors exploring the foothills, canyons, and meadows around the Loop will find dozens of open space parks, museums, and other cultural sites.
2. Astor House
The Astor House, located at 822 12th St. in Golden, Colorado, is a historic stone hotel dating back to the town's early years. It was constructed in 1867.
It is also known by other names like Astor House Hotel, the Lake House, and Castle Rock House. Today, it is called The Astor House Hotel Museum.
3. Armoury Building
The Colorado National Guard Armory Building was built on June 14, 1913, at 1301 Arapahoe Street in Golden, Colorado.
Company A Engineers, of whom 20% were students at The Colorado School of Mines (CSM) stayed there. It also served as the headquarters for the CSM ROTC unit during World Wars I and II.
4. Colorado School Of Mines
Colorado School of Mines is a public research institution specializing in science and engineering. Here, students and professors come together to address society's pressing issues, notably those concerning the Earth, energy, and the environment.
5. Golden Visitors And Information Centre
The Golden Visitors & Information Center provides information about local companies, civic organizations, and agencies to travelers and residents in the Golden area.
Volunteers with extensive knowledge of the region's commercial, cultural, and recreational features contribute valuable information.
Visit the Golden Visitors & Information Center, located at Washington Avenue in the heart of historic downtown. Their friendly volunteers will gladly assist you in planning your visit.
Molson inc
In 2005, Adolf Coors company merged with Molson inc. to become Molson Coors. Hence, Molson Coors beverage company is the parent organization of Coors brewing Company which showcases the Coors brewery tour.
The Coors Brewery Tour showcases the history and passion for brewing a 30-minute stroll through the brewing and packing processes. The tour even shares old photos, neon signs, historical beer cans, bottles, and memorabilia from their archives.
Coors and Company gift shop in Golden City is a place to get souvenirs. They carry the latest styles and novelties with a little touch of Coors.
Beer – Making; Coors Brewery Tour

If you plan for a tour this vacation, then the Coors Brewery Tour is a fresh way to learn something new and to enjoy some lip-smacking beer.
You get a chance to explore a live working factory, and you can observe every step of the beer-making process. The Coors has the largest brewhouse in the whole world.
They have 50 copper kettles about two stories tall and hold nearly 13600 packs of beer. They use the best ingredients in a beer like Rocky mountain water, two-row Moravian barley hops, and cereal grains.
The recipe starts in the first kettle, which is called malt mash-in. Then the mixture is transferred to mash tons, where starch is converted to sugar. Mash is then sent through filter presses to separate the solids from liquids. The liquid is called malt extract, which is collected in a third Kettle called the brew kettle.
Hops are then added to give 'wart,' which is the German word for unfermented beer.
The wart is heated in a brew kettle and then sent in a whirlpool which spins the beer and separates the solid from liquid. It is then sent through a wart cooler, where it is drastically cooled.
From this point onwards, the entire process is cold and sterile. The wart is then sent to the fermenting tanks, where yeast is added. The yeast consumes the sugar in the wart and produces alcohol and carbon dioxide, which is carbonation in the beer.
Once this is done, it is officially beer but not quite ready to drink. It is then sent to aging tanks where three things happen naturally- Secondary fermentation, secondary carbonation, and flavor maturation.
After the aging process, it is cold-filtered to remove the yeast. Then it is sent to the Enzyme filter to remove any remaining solids.
Coors brewery is the birthplace of Banquet and Coors Light. It is a sort of walking tour where tourists can observe the whole process.
The Coors Brewery has strived to earn the legacy of quality and consumer service throughout the years. It is a must-try if you want to experience traditional brewing at the foot of the mountains.
As an affilate-driven website, USA Tales earns from qualifying purchases.
We may earn money or products from the companies mentioned in this post.
Verified Content by Experts
USA Tales has content written by niche experts, travelers, students, and those with real-life experience. Our content is also periodically reviewed by subject matter experts to ensure content accuracy and relevancy. Have a question? Email us at team@usatales.com
As an affilate-driven website, USA Tales earns from qualifying purchases.