Want to find out how to make Tzatziki sauce? Then, keep reading. 
Hailing from the land of Greek Gods comes to the lip-smacking, full-of-flavor Tzatziki sauce. Commonly known as the garlic-cucumber sauce and sometimes confused with the Southern Ranch dressing, it is traditionally known as the Greek Tzatziki sauce (if you wonder how to pronounce Tzatziki – it's Tsah-zee-kee).
People gush about Tzatziki sauce after having a hearty meal at authentic Greek restaurants and wordy reviews in some of the other food blogs and shows – you must wonder through your taste buds about the secret and recipe behind this delicious dip.
The creamy, coarse but consistent blend of grated cucumber, lemon juice, garlic, and Greek yogurt with a generous dash of fresh herbs and olive oil is something so simple yet a taste you will not forget for long.
Fresh Dill, a type of herb, was not traditionally included in the authentic Tzatziki sauce recipe, but it has evolved over the years.
With different cultures interacting and being introduced to the tasteful, creamy dip, modifications are bound to occur – some for merging cultures and dietary requirements and sometimes merely for ease of consumption.
The tzatziki sauce is one of the most liked Greek recipes. You will find it a part of many Mediterranean recipes.
Other than that, the sauce can be witnessed as a burger topping and salad dressing and is enjoyed with grilled vegetables, roasted meat, chicken gyros, and whatnot – that's just how versatile its taste is!
Now, we jump on to the main question – how do you make true-to-taste, authentic Greek homemade Tzatziki sauce?
1. Tzatziki Sauce Recipe
1.1. Ingredients
Starting with the ingredients, Tzatziki demands everything you already have in your kitchen.
1 and 1/2 cups of plain Greek yogurt can use either fat-free Greek yogurt or full fat. The authentic recipe involves fat-free yogurt.
One generous tablespoon of zesty lemon juice, ideally freshly extracted lemon juice, is preferred.
Extra virgin olive oil, about two tablespoons.
One medium-sized clove of fresh minced garlic – because who doesn't love garlic?
1/2 of an English cucumber, grated or diced and unpeeled.
Herbs – finely chopped dill or fresh mint
Sea salt to taste
Let's Dive Into the Process of Making Creamy Tzatziki Sauce
Take half of an English cucumber or 2-3 regular cucumbers and shred it precisely with the help of a grater. Squeeze the grated cucumber with your palms or a fine mesh strainer to remove the excess water.
Squeeze out the drained cucumber and smoothen it in a food processor. Transfer the shredded cucumber to a large bowl. A medium bowl would do too.    Alternatively, you can place diced cucumber over cheesecloth. Apart from this, if you want no excess water, you can let the shredded cucumber rest on the cheesecloth or mesh overnight.
Add in the Greek yogurt. You can alternatively use regular yogurt as well.
In this bowl of yogurt and cucumber, add olive oil, garlic, salt, and fresh lemon juice (you can use bottled lemon juice too – but you'll miss out on the freshness). Stir the mixture to smoothness with no lumps.
Stir and taste the mix and add more lemon juice, salt, and fresh herbs if necessary. You can also add more fresh herbs before serving to preserve the freshness.
If there is a rush to divulge into this creamy dip, let it rest for a minimum of five minutes. Transfer it to a serving bowl, cover it, and refrigerate overnight to allow the flavors to meld.
Tip: The longer you let garlic and herbs rest with the yogurt-cucumber mix, the sharper and more distinct the taste will be.
There you go – your authentic Greek Tzatziki refreshing sauce is ready!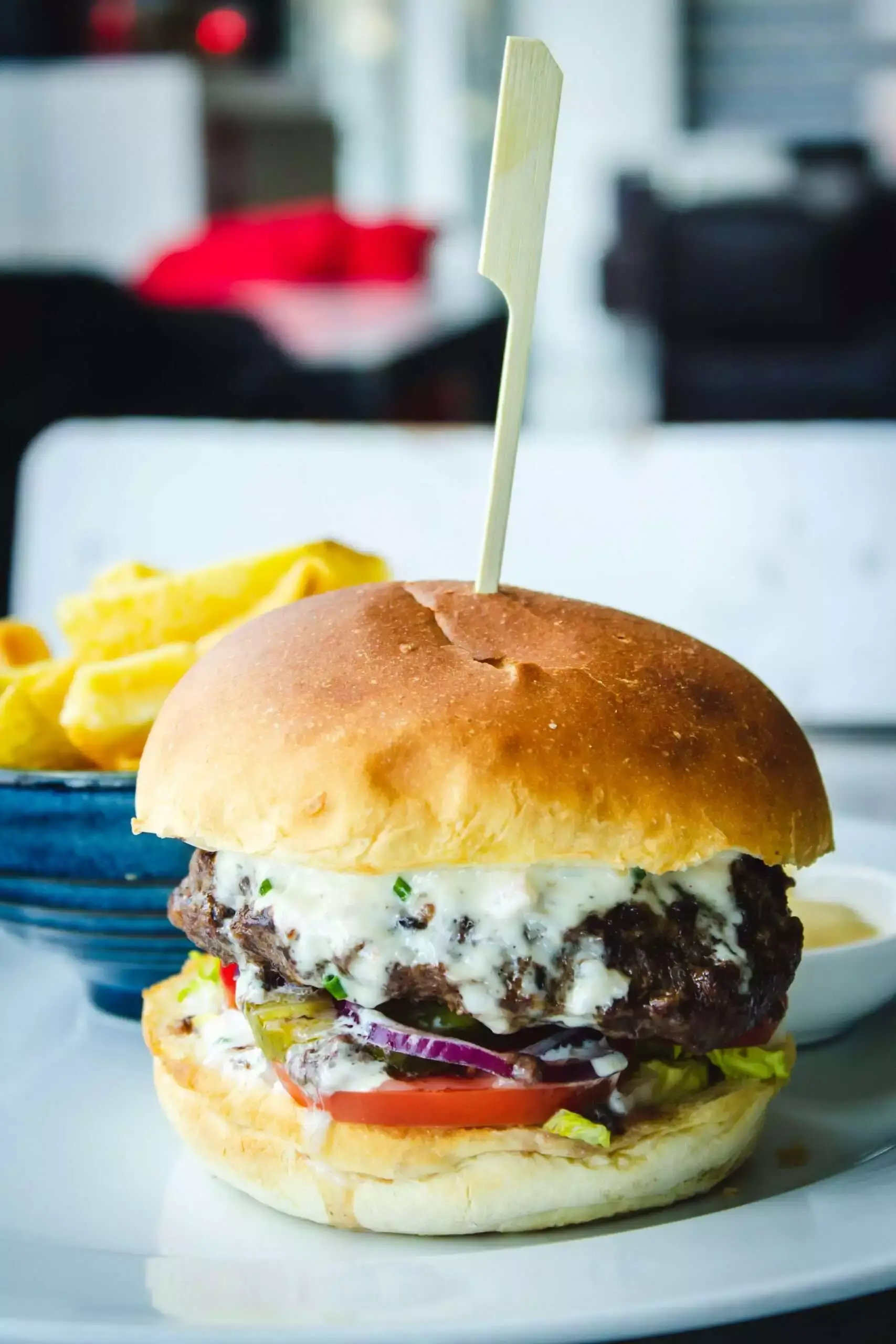 You can enjoy this delicious dip with warm Pita bread, grilled veggies, roasted chicken and other meats, Pita chips, and more. You can even munch fresh, raw veggies and merely warm bread with Tzatziki sauce.
Of the many delicious recipes falling under Greek cuisine, Tzatziki has got to be one of the best. While Greece is a sight to behold, its food is something you cannot miss – people all around love Greek food!
Amidst the scenic, the Mediterranean beauty of Greece enters the soothing yet flavorful Greek food. Greek food, in general, is more savory and has little to negligible spiciness.
This Tzatziki sauce is high on the list of condiments and dips because it is delicious but healthy and easy to make. You have everything you need in the Tzatziki recipe, sitting cozily in your kitchen and fridge.
But in case you do not have it around, here are a few alternatives you can opt for –
1.2. Alternatives
If you cannot find fat-free Greek yogurt or full-fat Greek yogurt, get some sour cream or whole milk yogurt – but make sure you use strained yogurt to avoid excess water content in your dip.
If allowed into the dip mixture, the extra water will affect the consistency by thinning it out. What we want as our result is a thick, creamy and consistent dip.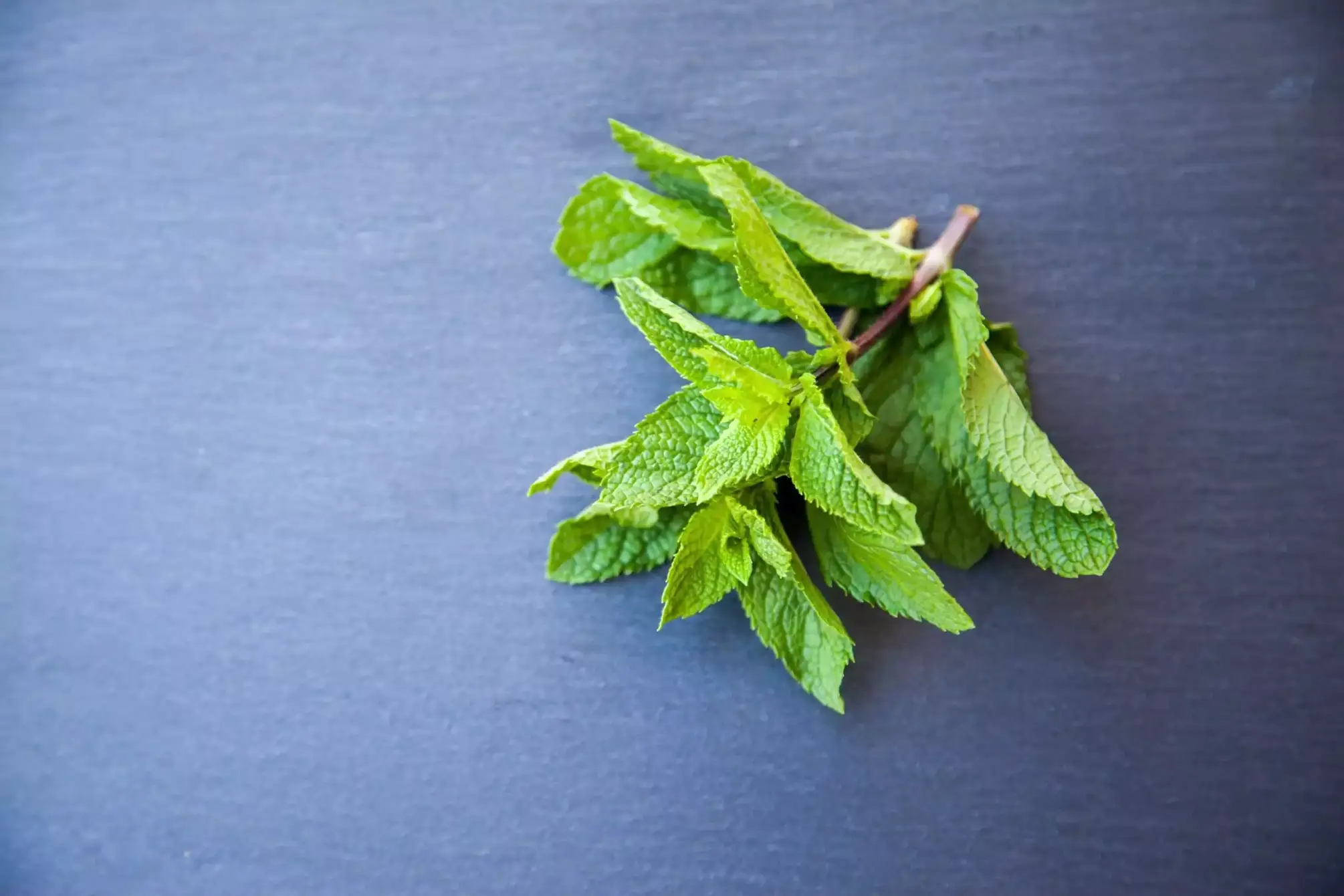 While it may not replace the flavors of fresh dill, mint leaves can be used as a substitute to make Tzatziki sauce. The smacking, minty taste of these herbs provide even more depth to the fresh creamy texture of this sauce.
Additionally, as a cooking tip, dill and mint, both green herbs can be added – ensure they are fresh.
To enhance the dip's flavor with mint or dill, ditch away from the chopping knife, tear the leaves off with your fingers, and add it.
Additionally, use white vinegar to add a splash of sourness to replace lemon juice. As mentioned, Greek food shifts your taste buds more towards the savory side.
The tanginess from a freshly squeezed lemon can somewhere be matched by white vinegar.
Substituting the original ingredients will hinder the true taste of authentic Tzatziki, but do not worry. It will not take you too far. As long as the balance between salty, tangy, minty, and freshness is preserved, we're good to go!
1.3. The Vegan Way
Nobody should miss out on the deliciousness of Tzatziki sauce. Hence, to make Vegan Tzatziki sauce, replace Greek yogurt with Coconut milk yogurt. This will be a workaround for people opting for dairy-free recipes as well.
2. Health Benefits
As mentioned, Tzatziki sauce is often confused with Ranch dressing. A striking feature that bifurcates them from each other is – about two spoons full of Tzatziki sauce contain approximately 50-55 calories and 1.7-2 grams of fat. This is a lot, a lot less than Ranch dressing.
In fact, what's better than thoroughly enjoying a dip AND not caring about the fat content in it?
2.1. Precious Protein
About two to three tablespoons of Tzatziki contains 10% protein of the total required for an average human to consume daily – yes, that's right.
Pair it with roasted or grilled chicken and a crunchy, fresh salad; there you go, you have a protein-packed plate!
2.2. Blood Pressure and Heart Health
A regular serving of Tzatziki sauce contains zero Cholesterol – here is another reason to keep coming back to this delicious dip – it's impeccable in terms of taste. It deems good for your heart health and blood pressure levels.
2.3. Carbs
The tzatziki sauce is considered to be low in carbs and sugar too. Two selective spoons of Tzatziki sauce carry merely 1 gram of carbohydrates!
2.4. Vital Vitamins
Two to three tablespoons of Tzatziki sauce contains 100 UI of vitamin A – the one that's also good for your eyes and bones. Thanks to the lemon juice, it has about 1.2 mg of Vitamin C!
2.5. Good Gut
The authentic Greek recipe includes Greek yogurt, which is known to have healthy probiotics – the good bacteria buddies for a healthy gut.
2.6. Others
Intaking Tzatziki sauce in considerable quantities can help reduce appetite. Along with that, it can additionally regulate the hunger hormones and increase one's metabolism.
Hence, key findings suggest that Tzatziki is a source that can be consumed without worrying about reducing weight.
Since Tzatziki goes well with different foods, it is also low in sodium and healthier than heavier dips like hummus.
This delicious recipe has a tinge of every flavor satisfying your various taste buds. Enhancing almost every main or side dish, the dip makes you want more and more – and that's not even a problem because it's good for your health.
3. What Do I Enjoy My Homemade Tzatziki Sauce With?
You have made all the required efforts to make Tzatziki sauce. Now you are wondering what to pair it with. Read on to find out!
Quite frankly, it can be enjoyed on its own too.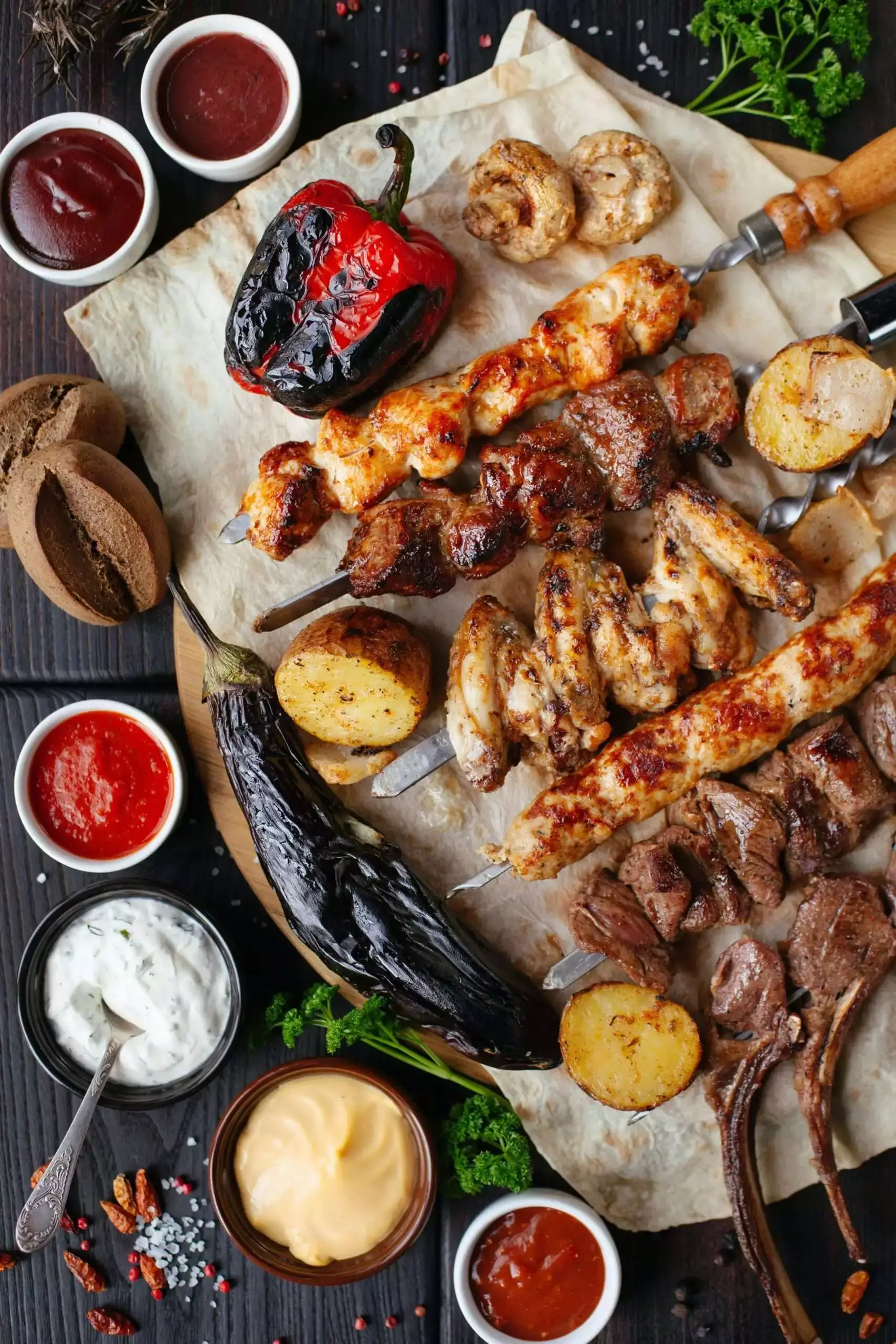 3.1. Fresh Vegetables
Slice up those beautiful, juicy red, green, and yellow bell peppers, carrots, and cucumbers. Dunk these veggies into this creamy dip and enjoy your light snack.
You can pair this entire snack with a portion of chicken, lamb, fish, or any meat. This provides the needed fiber for your meaty meal and the extra crunch.
You can also devour this delicious dip with slow-grilled vegetables.
3.2. Grilled Chicken
Tenderly grilled chicken, slowly cooked on the heat with rich, spicy flavors, is enjoyed best with a cool, creamy condiment – Tzatziki sauce.
Tzatziki sauce perfectly compliments the grilled chicken's texture and the occasional crunch of cucumbers, garlic, and lemon flavoring kick.
Another chicken recipe involving Tzatziki sauce involves marinating boneless chicken cubes with generously added Tzatziki sauce.
Apart from providing impeccable flavoring, Greek yogurt also tenderizes the meat and prevents it from being rubbery. Let the marinated chicken rest overnight and cook it as you like – grill, bake, or fry.
3.3. Zucchini Fritters
Here comes another tongue twister after Tzatziki – Kolokithokeftedes! This is another one of the tastiest Greek recipes you need to try. These are favorites enjoyed during summers paired with feta cheese and Tzatziki sauce.
3.4. Other Meats
Other than chicken, Tzatziki pairs very well with lamb, pork, and beef. The sauce adds more to the overall taste of these meats and is nothing less than a meal you will keep preparing!
3.5. Fish
Fish and chips pair well with tartar sauce. The soft fish fillet and crunchy chips dipped into Tzatziki's creamy, rich texture are like a truffle to your taste buds. But there's no harm in trying – and admitting – that Tzatziki sauce is no less.
3.6. Mashed Potatoes
Although it may sound teeny, a tiny bit of a surprise, Tzatziki sauce tastes great when mixed with mashed potatoes. Hard to believe? Try it for yourself! When mashing hot boiled potatoes, add a tablespoon (or more) of Tzatziki into the mixture.
3.7. Burgers and Sandwiches
Slather some of the Tzatziki sauce into burger buns – not just the meat burgers but also the veggies burgers. Veggie burgers gather a top-notch taste when savored with Tzatziki sauce. Besides the buns, you can also have them on the side to enjoy with fries and dip in your burgers.
On the other hand, Sandwiches can have (or rather, should have) Tzatziki sauce – also a great substitute for mayonnaise.
3.8. Falafel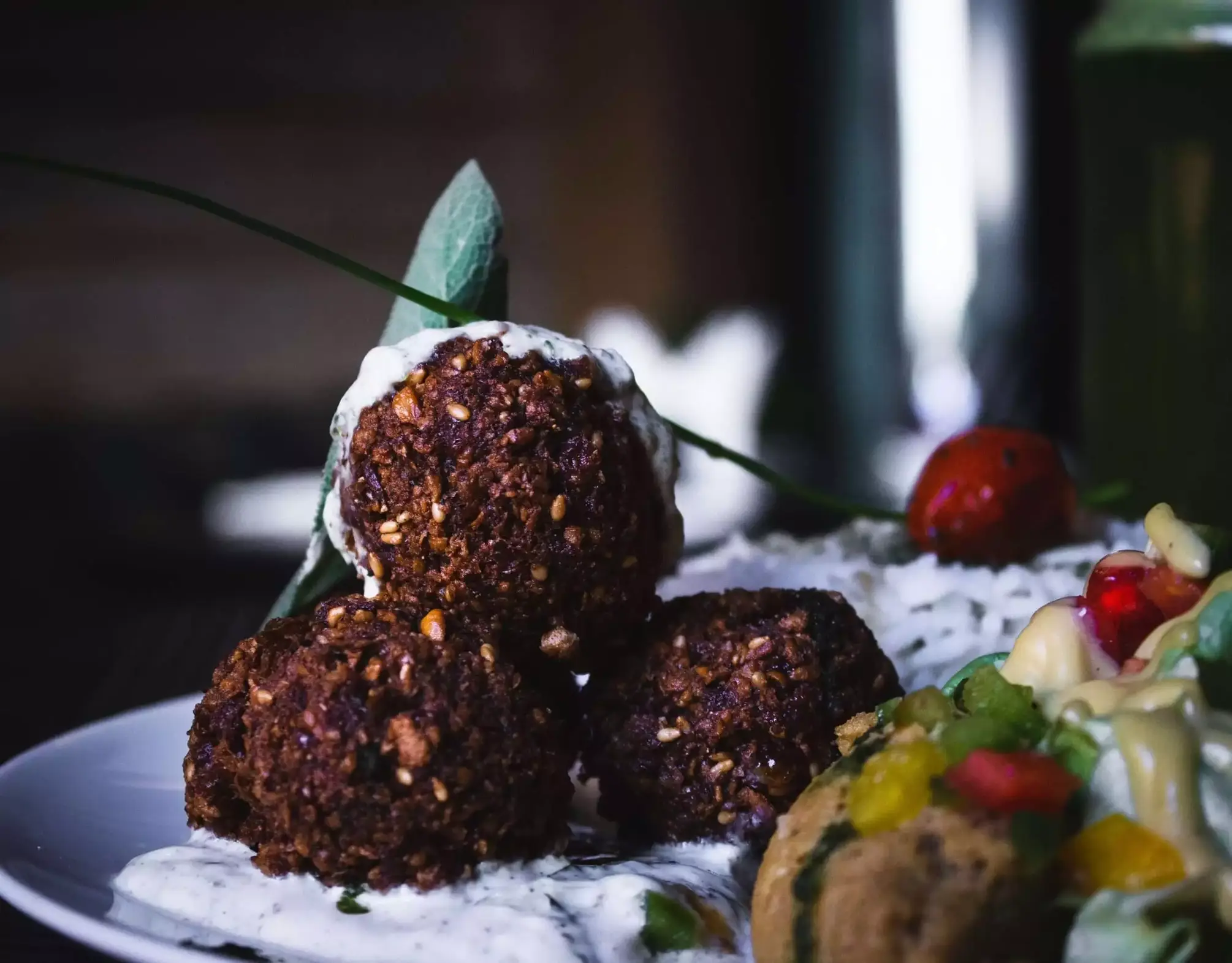 Is this a match made in heaven – no, kitchen? Tzatziki and Falafel are hands down one of the best combos. Dip your Falafel into the Tzatziki sauce and enjoy the burst of flavors.
Other than these iconic combos, try the easy Tzatziki sauce recipe with various other fast foods, traditional dishes, and almost anything you want – this recipe will not fail to impress your taste buds.
3.9. Curries
One way to add Tzatziki to your special dishes is by adding a generous dip serving to your homemade curries.
4. Variations of the Tzatziki recipe
While the authentic Greek Tzatziki can never be replaced, a few variations of the same have come.
It all depends on who makes it and in what part of the world. The authentic Greek recipe includes, as mentioned – fresh mint, olive oil, creamy Greek yogurt, garlic, and lemon juice. The Turkish people eat Tzatziki as a soup with shredded carrots.
Tzatziki sauce that is sold commercially at stores is something that needs to be thoroughly looked over at. Many of these use full-fat Greek yogurt, while the authentic recipe uses fat-free Greek yogurt in homemade recipes.
5. Storing Instructions
Once the Tzatziki sauce has been made, it is advisable to store it covered, preferably in an air-tight bowl. Keep it inside the fridge and only take out the desired quantity when eating.
Tzatziki sauce will stay fine and edible for at least four days when stored in the refrigerator. Although, keeping it in the fridge may modify its texture and consistency.
6. How Do I Find out If My Tzatziki Has Gone Bad?
The main texture of the dip's base is given by cucumber and curd, which is further accentuated by mint, garlic, and lemon. These are the ingredients that add freshness to your dip.
Take a whiff of the dip and if it smells odd – in the sense that it's sour or smells somewhere around like the odor of ammonia, then its time to dispose of off the dip – always make sure to smell the dip after it has been rested in the fridge for more than three days.
Closing Thoughts
Once you try this gracious good recipe, you are bound to order it from every menu you find at restaurants. The versatility of this recipe cannot be focused enough – mingle it generously with meaty meals, and dip raw, cooked, or grilled vegetables in it.
The tzatziki sauce is one of the best pairings for fast to simple comfort foods.
Tzatziki stands with hummus on the list of the few healthiest dips, as long as the authentic recipes are followed and no cheaper alternative is used.
The sauce effortlessly makes its way into every cuisine and type of food – non-vegetarian recipes, vegetarian recipes, and vegan alternatives.
Tzatziki is one of the simplest recipes, with the ingredients lying next drawer. The preparation time is barely five minutes, resulting in a refreshing flavor you can enjoy with everything.
The recipe is worth introducing a burst of flavor, ranging from tanginess, the depth of garlicky kick, and refreshing cucumber bits with minty leaves based on a dense, thick, and smooth Greek yogurt.
Gather the ingredients and whip this mouth-watering and delicious dip to side with all your dishes – whether the succulent grilled chicken, flavorsome gravy or curries, hefty burgers, typical deli sandwiches, or crunchy veggies and crispy pita.
Click here to read more.

Verified Content by Experts
USA Tales has content written by niche experts, travelers, students, and those with real-life experience. Our content is also periodically reviewed by subject matter experts to ensure content accuracy and relevancy. Have a question? Email us at team@usatales.com