Welcome to America's finest city – San Diego county of southern California. Harboring infinite stretches of immaculate shorelines and platters of scrumptious and authentic Mexican delicacies, San Diego promises the finest experiences to all. It is, in fact, the second largest city in California and the eighth largest city in the country.
From the finest, thrilling amusement parks of the nation to the extravagant nightlife that evades the streets of downtown San Diego once the sun nestles into the horizon, there are a ton of fun things to do in San Diego.
The city has its own website which provides further details on planning the stay, ample information on hotels and other accommodations, as well as guidance on all the fun things to do in San Diego.
Here's a list of some handpicked, fun things to do in San Diego that will assist you in creating a flawless itinerary while you're visiting San Diego. You can also enjoy free family nights in San Diego.
1. Balboa Park
Balboa Park is a utopia of entertainment just a walk away from downtown San Diego with the perfect blend of science, heritage, art, and beauty-blessed nature. This is one of the main fun things to do in San Diego and will take up at least one day. You can also explore hotels near balboa park.
Balboa Park in San Diego is a 1,200-acre urban green space that is larger than Central Park in New York and Millennium Park in Chicago combined. It has 16 museums, 65 miles of walkways, and, of course, the world-famous San Diego Zoo. Balboa is one of the nation's oldest public parks and dates to the early 19th century.
1.1. Stroll Through the Gardens
Reconnect with nature by relishing in the tranquil gardens of the park. The twisting pathways snake through the aesthetic scenery, which is quite apt for a relaxing stroll.
Palm Canyon is a popular walking trail leading to a secluded tropical palm tree paradise, giving jungle-adventure feels to those venturing through these palm thickets.
Balboa Park is a horticultural marvel with a variety of native flora and meticulously tended gardens. There are more than 130 different rose kinds in the Inez Grant Parker Memorial Rose Garden alone.
A beautiful koi pond and stark beauty can be found in the Japanese Friendship Garden, and more than 450 trees in Palm Canyon provide shade for visitors.
1.2. Admire the Architecture and Learn Something New
Revel in the baroque Spanish Colonial architecture of Balboa Park that oozes historical tales, creating a learning opportunity for curious minds.
The renowned California Tower is among the early buildings that have fortunately been meticulously preserved for visitors. In 2016, this elaborate building that was built to commemorate the completion of the Panama Canal reopened, allowing anybody to ascend its 125 stairs and take in one of the best views in town.
This particular architectural style is an ode to the Spanish Empire that established missions throughout the California coast, including the San Diego region, and the Spanish culture deeply rooted in this area's lands.
Balboa Park played an important role in several historical events too. The significant Panama-California Exposition was held on the park's ground.
1.3. Visit the Attractions and Museums
The fun doesn't end there! Balboa park is also home to several world-famous attractions, such as the San Diego Zoo, which provides shelter to various exotic creatures, and museums that unravel mysteries of history and science and showcase cultural artworks.
The Fleet Science Center is a favored attraction amongst children for its numerous interactive exhibits. San Diego Air & Space Museum and San Diego Museum of Art are well-reputed, must-visit museums. You may also take a tour of the California Tower, a San Diego landmark that overlooks the town and is inspired by Spanish culture.
The San Diego Museum of Man, San Diego Museum of Art, San Diego Natural History Museum, Fleet Science Center, and the San Diego Air & Space Museum are a few of the city's favourite museums.
Culture also rules supremely, with the Old Globe Theatre annually hosting the renowned Shakespeare Festival. The park hosts plays, concerts, and outdoor movie screenings all year round.
1.4. Treat Yourself to Some Refreshments
Are you exhausted from all the exploring? There are still too many pending fun things to do in San Diego. No worries!
Refreshments are available within the area at the many cafes, pubs, and restaurants scattered throughout Balboa Park, where you can take a break and recharge.
1.5. Check Out the Cultural Events
There are also various festivals and other cultural events scheduled year-round at Balboa Park, so stay tuned to their page to avoid missing out!
Starlight Winter Marketplace, December Nights
The emerald gem of San Diego is known for its seasonal festivals. December Nights, which takes place on the first weekend of the month, offers unique shopping at the Starlight Winter Marketplace as well as free entry to all museums.
Balboa Park also celebrates Halloween in a major way: The Haunted Trail tests walkers' bravery with a mile of horrifying views, while kid-friendly Halloween activities are also available.
On Family Day, the San Diego Air & Space Museum will drop a pumpkin from the roof and have carnival games and craft activities available.  Representatives from close to 40 nations set up shop at the International Cottages for the event, which featured song and dance performances on the main stage as well as local cuisine.
Chinese New Year Festival festivities take place in February and include a lion dance, calligraphy classes, steamed dumplings, and milk tea.
The Cherry Blossom Festival, which takes place every March at the Japanese Friendship Garden to usher in spring, draws large crowds of people to the gardens to admire the pink blooms in all their splendour while taking in cultural events and sake tastings.
The two-day extravaganza in Balboa Park serves as the centrepiece of San Diego's LGBTQ Pride weekend in June. More than 200,000 people take part in what is sometimes referred to as the city's biggest civic event, where they enjoy excellent music, delectable food, and a welcoming environment.
In May, Balboa's annual Ethnic Food Fair puts San Diego's long tradition of promoting multiculturalism on full display.
2. La Jolla
Motel 6 La Jolla San Diego (translates to 'The Jewel') is a small, friendly neighborhood located along the San Diego coastline, which is well known for its beaches.
The La Jolla coastline features a wide range of terrain, including 300-foot sea cliffs, jagged reefs, isolated coves, and expansive golden sand beaches.
Although parts of La Jolla's beach are inaccessible due to the area's stunning coastline terrain, the sights are absolutely breathtaking as rapids and crashing waves crash against rocky outcroppings and seals and sea lions deftly manoeuvre safe landings onto their protected coves.
2.1. Have fun on the La Jolla Shores
Active beachgoers of various interests prefer the mile-long crescent-shaped excellent sand beach at La Jolla Shores. This crowded swimming area, which is anchored by the Scripps Institute of Oceanography pier, is well-liked by both families and surfers.
It serves as a kayaking and scuba diving launch area and is protected by La Jolla Bay. It comes to life at night with the light of beach fires.
Torrey Pines State Beach is located at La Jolla's most northern point. A nature walk along the bluffs through native vegetation, including the distinctive Torrey Pine, leads to infinite views of the Pacific.
The bluffs are fortified by 300-foot sea cliffs. Long expanses of beach here are perfect for family outings and sunbathing, and they're close to a sizable parking lot.
2.2 Have a tour of La Jolla cove
La Jolla Cove of La Jolla is just a place for aquatic adventures and majestic views. It is the most popular one on San Diego beaches. Spot sea lions and seals basking under the warm rays of sunlight close up at the sea caves along the La Jolla Shores (this is also a great opportunity for pictures!).
La Jolla Cove is a tiny deep-water harbour with sea caves on either side that, depending on the tides, adventurers in kayaks and on foot can access.
The beach is modest, but swimmers and snorkelers enjoy the generally calm waters in search of the brilliant orange Garibaldi fish and other local marine life.
The Cove, which is close to a sizable grass park with restrooms, showers, picnic tables, a paved pedestrian promenade, and numerous open gazebos, is easily accessible through well-maintained steps and walkways.
Several tour companies in the San Diego area offer kayak tours of the Seven Caves of La Jolla. While snorkeling on the beach, you may also discover and swim with sea turtles, seals, and sea lions.
For visitors La Jolla cave kayak tours are amazing tourist attractions. Scuba diving in the La Jolla kelp forests is another fun activity available here. Snorkeling and scuba diving may be one of the most adventurous and fun things to do in San Diego.
2.4. Enjoy the Views from Ellen Browning Scripps Park
The Ellen Browning Scripps Park is one of the most loved parks of La Jolla, which is a short stroll away from La Jolla Cove.
Wide open green fields offer breathtaking scenic views of a fraction of the California coast and scattered sea lions along the La Jolla shores. The setting is just perfect for a pleasant afternoon picnic and a few Insta-worthy photos.
This location was formerly referred to as La Jolla Park before being given the Ellen Browning Scripps name. It was created under the direction of renowned landscape architect Samuel Parsons, who is thought to have been instrumental in pushing the cypress groves that the area is famous for.
Making a day out of exploring Ellen Browning Scripps Park is simple. This relaxing location encourages relaxation with its wonderful views and welcoming ambiance.
Belvederes that are protected from the elements can be found along Coast Boulevard in La Jolla. These buildings are said to have come to La Jolla in part because they were widespread in Ellen Browning Scripps' native England, according to historians.
2.5. Visit San Diego's Landmark – Mount Soledad
Like the Ellen Browning Scripps Park, Mount Soledad of La Jolla also provides mesmerizing panoramic views and is another San Diego landmark.
While you're here, take a moment to stop by and read the stories engraved into the Mount Soledad National Veterans Memorial, a tribute to the country's fallen soldiers.
The La Jolla Natural Park is also located on Mount Soledad and makes a great hiking destination with several clear views of La Jolla Cove and La Jolla Shores.
2.6. Admire Natural Rock Formations at Mushroom Beach
La Jolla is also home to Mushroom Beach, for the mushroom-shaped rock formations strewn across the shoreline. This area's sea life and tide pools make it a must-visit in San Diego.
The beach sands and silt from that sea, which were present between 144 and 66 million years ago, are what made up the mushroom rocks. Calcium carbonate, a type of naturally occurring cement, holds the sandstone and sedimentary rock together. The Dakota Formation includes the sandstone.
Over ages, the mushroom-shaped rocks have developed. In some areas of the formation, running water deposited the limy cement between the sand grains, forming the harder core that is still there today. Concretions, or harder rock bodies, were produced as a result. As the softer sandstone eroded over time, these cemented rocks became visible.
2.7 Have fun with your children at the Children's pool
The Children's Pool is a tiny lagoon surrounded by a concrete breakwater wall, near to the centre of La Jolla and accessible by foot from La Jolla Cove.
It was first constructed as a kid-friendly swimming place, but seals and sea lions that beached themselves on the sand with their young long since appropriated it. The Children's Pool provides a crowd-pleasing and frequently humorous glimpse of these adorable marine creatures even if swimming is no longer permitted there.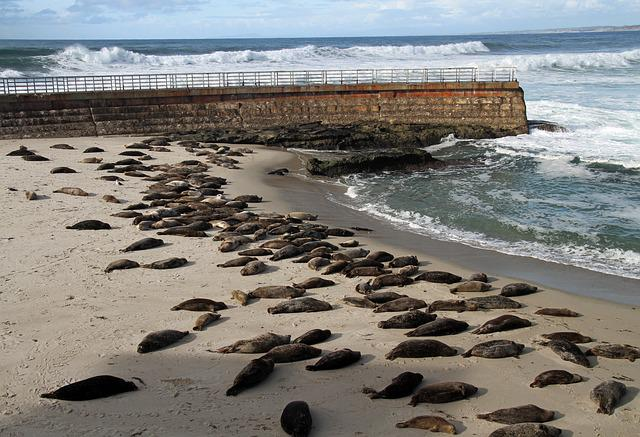 3. Torrey Pines State Beach
The Torrey Pines state beach, located north of La Jolla, is an attractive stretch of the California coast and its skyscraping cliffs are the finishing touch to this jaw-dropping beach of the San Diego region.
3.1. Play in the Waters of Torrey Pines State Beach
The tides of the beach are ideal for surfing and swimming, with safe areas for kids to play. It's also a great place to sit back and watch the sunset.
3.2. Hike in the Torrey Pines State Natural Reserve Park
The Torrey Pines State Natural Reserve Park is right by the beach, providing several interconnected trails through the pine trees forest overlooking the Pacific Ocean. Popular trails include the Guy Fleming Trail, which has two scenic viewpoints of the Pacific Ocean, and the Razor Point Trail.
3.3. Play Golf at Torrey Pines State Golf Course
Golfers can enjoy the scenic Torrey Pines Golf Course on the peaks looming over the Pacific Ocean.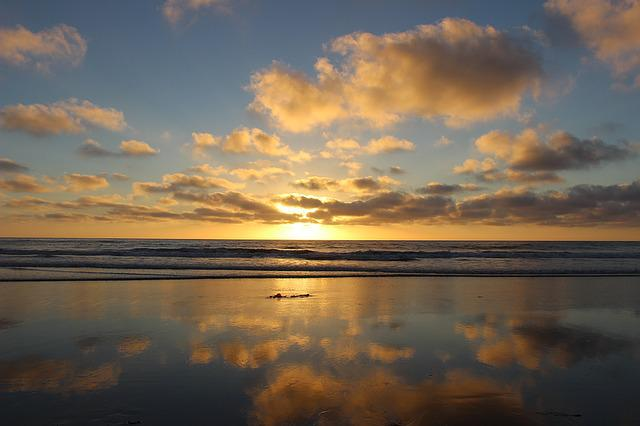 4. San Diego Bay
Visiting San Diego Bay unlocks the opportunity for endless adventure. There's something to keep you busy all day long, and it is loaded with fun things to do in San Diego.
4.1. Sail the Waters on San Diego Harbor Cruise
The San Diego Harbor Cruise gives passengers a smooth tour of the whole margin of San Diego Bay. You may catch sight of popular attractions like Seaport Village and Coronado Island while aboard.
4.2. Tour the USS Midway Museum
Calling all aircraft enthusiasts! Head to San Diego Bay to get a glimpse of the Cold War. The USS Midway museum is a tribute to the USS Midway, a veteran aircraft carrier of the 20th century.
Explore the interactive exhibits of the USS Midway Museum and enjoy a unique onboard tour of the Midway's island and other private control rooms led by an expert guide.
4.3. Become Enlightened at the Maritime Museum of San Diego Bay
The Maritime Museum of San Diego Bay possesses a collection of various marine vessels, like ships and submarines, which are open to the public for exploring. Some prominent marine vessels featured at the museum are the Star of India and HMS Surprise.
4.4. Explore the Old Point Loma Lighthouse
Climb into the Old Point Loma Lighthouse and explore the different rooms. There is also a visitor center not too far from Old Point Loma Lighthouse, which unveils the history of the Point Loma area for those interested.
4.5. Discover Spectacular Views at Embarcadero
Embarcadero is a busy dock for cruise ships and provides clear views of downtown San Diego and the iconic San Diego Coronado Bridge. While visiting San Diego, you may stay at one of the seven opulent hotels on Embarcadero.
4.6. Shop and Eat at the Seaport Village
Seaport Village is about a 30-minute drive from Old Point Loma Lighthouse and is a haven for shopping, food, and entertainment. Listen to live music while taking a bite into a scrumptious taco at the famous Crack Tacos restaurant or shop at the plenty of souvenir stores scattered through Seaport Village.
4.7. Take a Small Trip to Coronado Island
Coronado Island is accessible by the San Diego Coronado Bridge. Once you arrive here, you have many activities to choose from, making it one of the fun things to do in San Diego. With the help of the Coronado shores building map, you can easily explore this place.
Paddleboard in the Pacific waters while marveling at the view of San Diego Bay, and stop by the Coronado Museum of History and Art to dive into the culture and explore the history of Coronado Island. Coronado Beach is accessible from the island and is loved by all for its immense shoreline.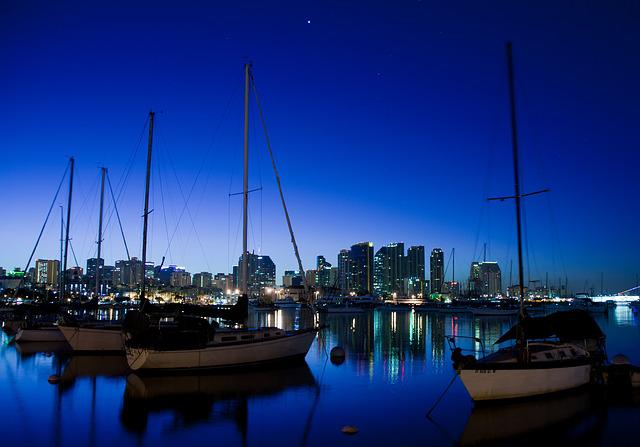 5. Belmont Park
Your visit is incomplete without experiencing one of the most fun things to do in San Diego. The beachfront amusement park of Belmont Park is located by the bustling Mission Beach.
In San Diego, California, beside the Mission Beach Boardwalk, is Belmont Park. We are south of Ventura Place and west along Mission Boulevard at the westernmost point of W Mission Bay Drive.
Generations of visitors have enjoyed year-round entertainment at San Diego's famous oceanfront promenade, Belmont Park, since it first opened in 1925. Visitors of all ages can enjoy seaside dining, shopping, and entertainment options here.
It is home to the historical, wooden Giant Dipper Roller Coaster and other thrilling amusement rides, as well as the Escapology escape room, a challenge for detective minds.
Public access to Belmont Park is free of charge. Explore and pay as you go, or use the Ride & Play pass for an endless adventure. Parking is available and cost-free in nearby lots.
You may also enjoy a swim at Plunge, San Diego, one of the largest, luxurious indoor swimming pools, or play some beach volleyball on the sandy shoreline of Mission Beach.
5.1 Enjoy at the Plunge Pool
The Natatorium, later known as The Plunge swimming pool, was built as the park's focal point along with the coaster. Together with the park, both attractions debuted in 1925.
The 60 by 175-foot pool, which could hold 400,000 gallons of water, was the biggest salt-water pool in the world at the time. The structure that houses The Natatorium was designed to resemble the Spanish Renaissance-style structures that were built in Balboa Park in San Diego between 1915 and 1916.
6. Gaslamp Quarter
Welcome to downtown San Diego's heart and soul, the Gaslamp District. It's time to party at the party center of downtown San Diego! Gaslamp District is known for its party scene and Victorian-style buildings.
It is also an ideal location for a romantic date night, birthday celebration, bachelor or bachelorette party, bar hopping, or even just eating out with the family because it offers activities for every occasion.
San Diego may be better known for its much more recent attractions, but its Gaslamp Quarter, located in the heart of Downtown San Diego, offers some of the city's most diverse food and entertainment choices.
The Quarter's buildings, some of which date back to the 1850s, have kept their historic character despite substantial renovations in the late 20th century. Overall, it's one of the most beautifully maintained areas of Victorian-era architecture in the country.
6.1 Experience the Gaslamp Artisan Market
On weekends, get brunch at one of the eateries in the Quarter before exploring the Gaslamp Artisan Market. The artisan market, which spans more than two blocks of outdoor shopping, focuses on crafts, snacks, and handmade goods from regional enterprises.
Many of the restaurants have kept up with the COVID-era outside eating extensions, and portions of the street have been partially permanently blocked to make them more pedestrian-friendly.
6.2 Enjoy at the top-notch dining options
No matter what you're craving, there are a tonne of restaurants to choose from, serving everything from quick snacks to exquisite dining.
Local eateries abound in the Quarter. At Sevilla, tuck into hot and cold tapas and a variety of paellas; at The Smoking Gun, tuck into Frito Pie and other snack-size or big meals and inventive cocktails before playing in the on-site arcade.
Try Barleymash for brunch and lunch (the brisket eggs benedict is a favourite) or treat yourself to classic Italian dishes in a classic setting at Operacaffe.
Also, don't miss out on Taco Tuesdays and Thirsty Thursdays for great deals on tasty tacos and delectable drinks. Cramming your stomach with authentic Mexican tacos is probably one of the most fun things to do in San Diego.
6.3 Be amazed at the well preserved victorian architecture
The commander of the survey ship that dug the San Diego River into what is now Mission Bay finished the Yuma Building in 1888.
The structure, which was previously a hotel and was among the first to be demolished when the Gaslamp Quarter was transformed in the late 20th century from a squalid neighbourhood into an entertainment centre, is named in honour of certain business links from Arizona.
6.4 Delve into the past with some historical buildings
The William Heath Davis House is one of the Gaslamp Quarter's older buildings. It is a "salt box" prefabricated house that was constructed in 1850 and brought from the American East Coast around Cape Horn.
During that time, San Diego (then known as "New Town") was home to real estate mogul William Heath Davis, whose house is now a museum. Davis was born in Hawaii.
P.S.
Following dinner, you have a wide range of entertainment options to select from, such as bars, clubs, cigar lounges, comedy shows, live music performances, and even rooftop getaways to avoid the packed and hectic streets.
Several nightclubs (with the best DJs), restaurants, bars, art galleries, and shops line the blocks of Gaslamp. Head to downtown once the sun goes down to experience the infamous nightlife of San Diego.
And don't forget to access free parking at Gaslamp San Diego facilities.
This one-stop shop has everything you need within five minutes of strolling and will undoubtedly make your night special. Visit the Gaslamp Quarter right away to feel San Diego's heart and soul.
7. Little Italy
Not too far off from the bumbling party corner of downtown San Diego get a taste of Italian culture in San Diego's own Little Italy neighborhood. This heart of San Diego Italian culture provides world-class Italian cuisine served in restaurants owned by reputed chefs, entertaining festivals, and a zestful Farmer's market on Saturday mornings.
8. Petco Park
One of the fun things to do in San Diego for baseball fans is to visit Petco Park, the home baseball park of the San Diego Padres. Petco Park's phenomenal views of the San Diego skyline and San Diego Bay. Guided tours of the ballpark are available here. Apart from baseball games, the stadium has been used for several other sports and concert events.
9. Old Town San Diego
Old Town San Diego is one of the most visited attractions of San Diego and is often referred to as the "birthplace" of California. It is a busy shopping and Mexican food hub with plenty of hotels to make your stay delightful. There are many historical sites and museums to explore within the area, like the Whaley House Museum and the Mormon Battalion site. You may find a map of this vast area and a list of current happenings at their official site.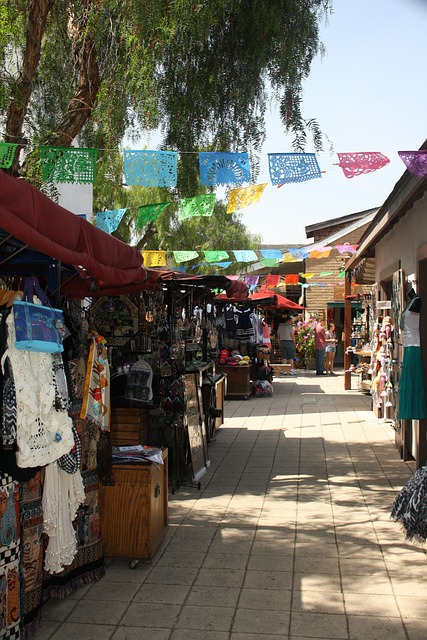 10. Chicano Park
Chicano Park is dedicated to the Chicano community and is located beneath the San Diego-Coronado Bridge. The area is adorned with several visually-pleasing Chicano murals which depict their stories in art form. During daylight, the vibrant colors of the murals make the stories come to life. For more information on upcoming events, Chicano Park's history, and a detailed map of all the murals, visit their website.
So, what are you waiting for? Hop on a plane, bus, car, or train and visit San Diego, California, to complete all the fun things to do in San Diego featured in this personalized bucket list for a memorable vacation. Enjoy everything, including the theme parks of this vast country. You can also do free registration for hotels near downtown San Diego. So, just plan to visit it.
Suggested Read:
Top 10 Astonishing Farmers Market San Diego to Visit
Wonderful and Exotic Places in California