You will definitely find a Maine vacation on every travel enthusiast's bucket list. After all, from Mount Desert Island and the Acadia National Park to the entertainment hub Boothbay Harbor, Maine has got it all.
The northeastern-most state of the US, Maine is packed with natural beauty and loads of fun experiences. It is also the largest of the six New England States area-wise. The capital of Maine is Augusta and the locals call their region-"Land of the Frozen Ground."
If you're planning a vacation to this beautiful place anytime soon, we have got you covered. Here is a list of all the finest Maine attractions that will help you figure out the best things to do in Maine.
1. Acadia National Park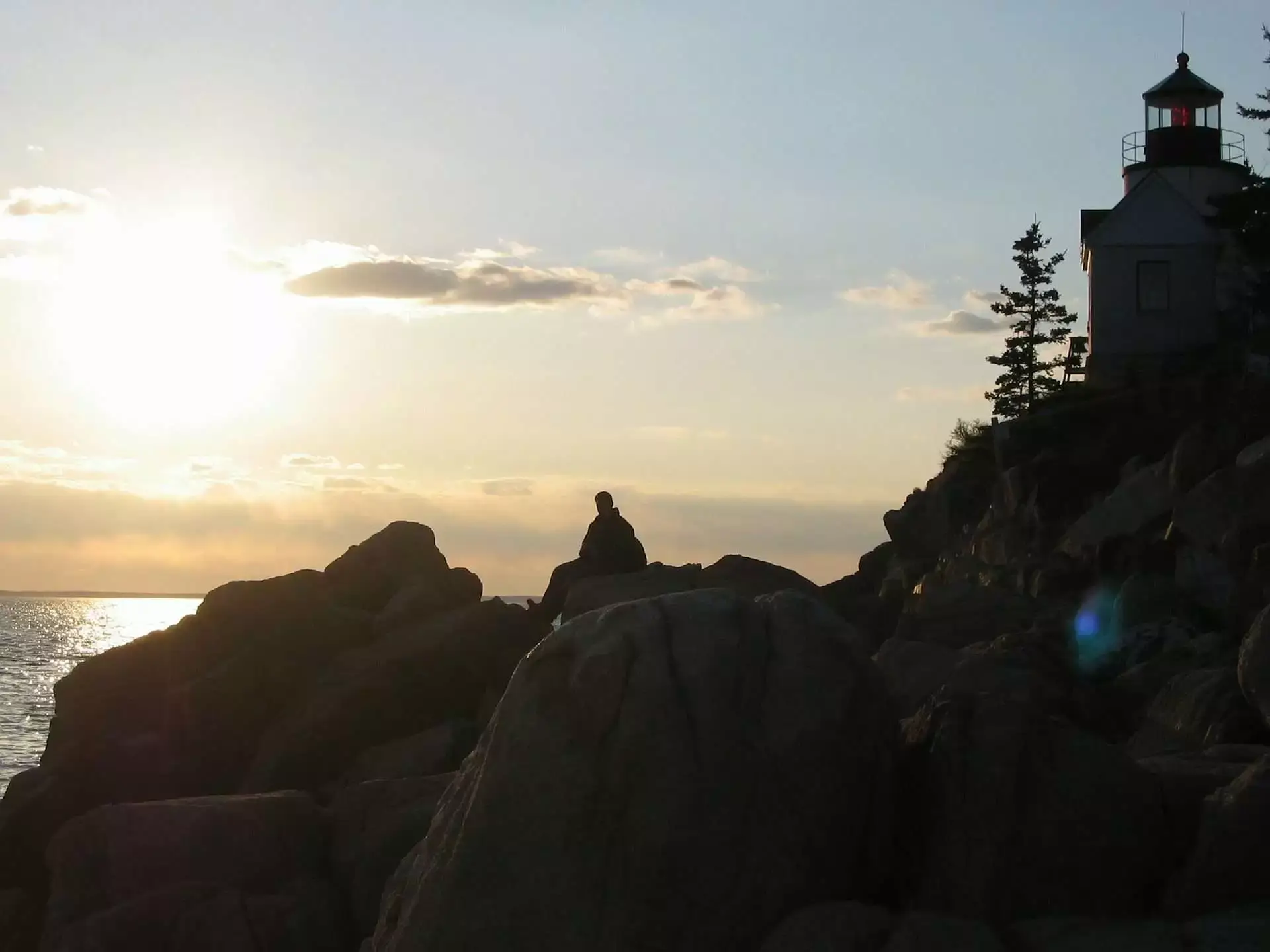 Acadia National Park is the most popular destination in Maine making it number 1 on our list of things to do in Maine. It is located on Mount Desert Island which is a widely popular island in Maine. It is the perfect spot for hiking, mountain biking, and a lot of other outdoor activities.
From hiking at the Cadillac Mountain to riding along the park loop road, Acadia National Park will ensure you a memorable experience. It is thus one of the most visited national parks and is also a UNESCO World Heritage Site!
Some other must-visit spots are the Jordan Pond House, the Schoodic Point, the Bass Harbor Head Lighthouse, and the Sand Beach.
You can also go to the Precipice Trail, the beehive trail, and the bubble rock for some more hiking and sightseeing.
The Thunder Hole, Otter Cliff, and the Wild Gardens of Acadia are also unmissable. All these breathtakingly beautiful places make visiting Acadia one of the best things to do in Maine.
2. Mount Desert Island
Mount Desert Island is the largest isle in Maine and its stunning views and numerous opportunities for fun activities attract tourists from all around the world. It is popularly known as the most beautiful island of New England. There are various beaches and lakes, where you can enjoy water sports like deep-sea fishing, canoeing, and kayaking, making it number 2 on our list of best things to do in Maine.
The most popular destinations on the island are Bar Harbor, Northeast Harbor, Southwest Harbour, and Bass Harbor.
There are several walking tours and cultural theme tours that you can explore along with the wonderful nature and wildlife areas here. It is also a great spot for all the foodies and shopaholics as there are plenty of authentic restaurants and shopping areas that you'll love! The Seafood here is a must-try and is pretty much available in all the restaurants here. You must also try their homemade icecreams too!
3. Bar Harbor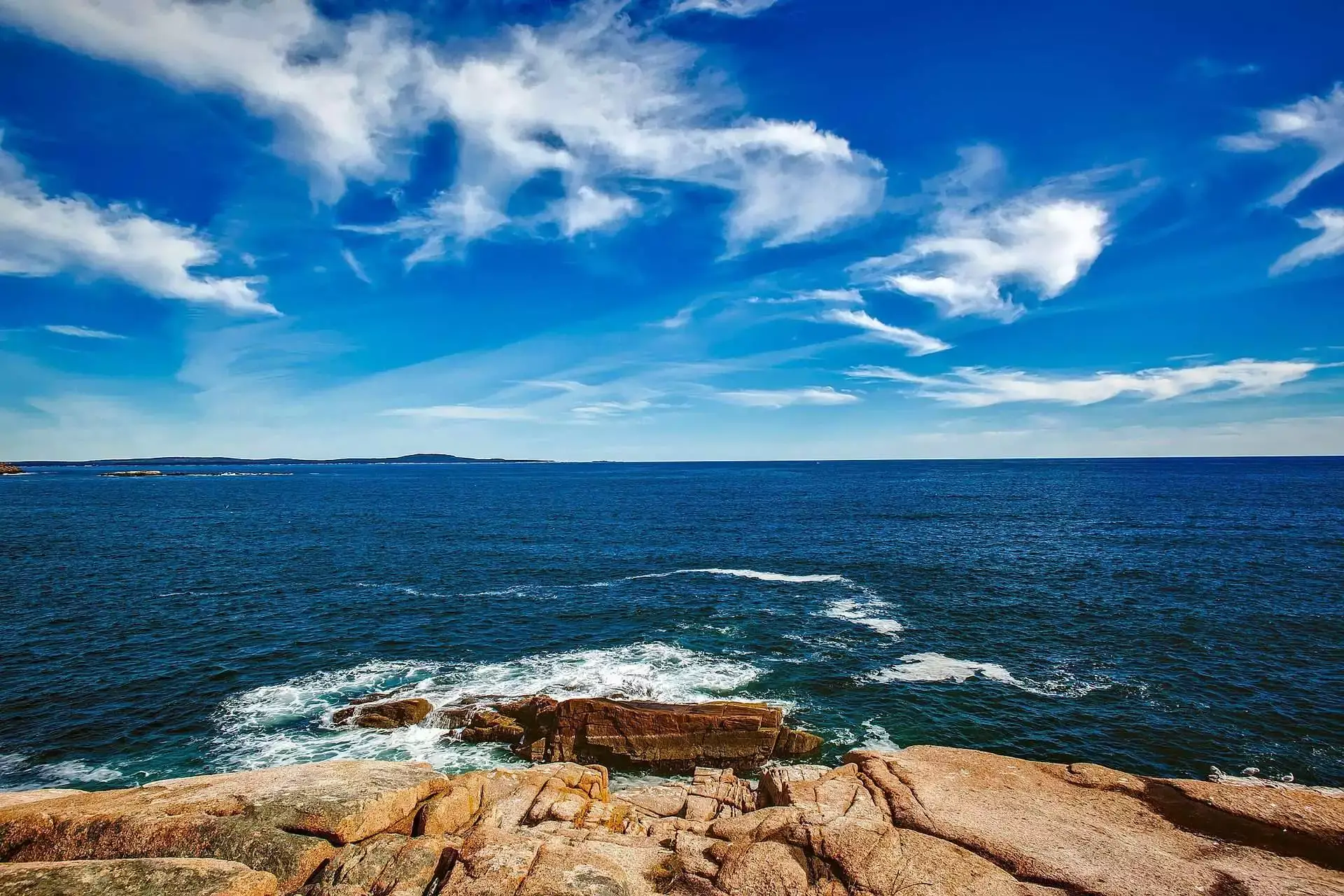 Bar Harbor is known to be the best town on Mount Desert Island and one of the best things to do in Maine! It is the town of the famous Maine Lobster roll and is an important town for the seashore community. The restaurants here are known to be the best in all of New England!
It includes the villages of Hulls Cove, Salisbury Cove and Town Hill, and a large portion of the Acadia National Park. The most popular spots here are Frenchman Bay and Bar Harbour Town Pier.
This historic tourist town is also filled with stunning beaches and good vibes. You'll also find the famous homegrown craft beer and roasted coffee here as well! There are many handicrafts stores where you'll find many charming Maine treasures!
Outdoor enthusiasts can also pick from several sports activities like swimming, hiking, canoeing, kayaking, climbing mountains, bird watching, biking, and horse riding!
4. Coastal Maine Botanical Gardens, Boothbay Harbor
The Coastal Maine Botanical Gardens are a must-visit in both Boothbay Harbor and Maine. This 295 Acres area has several gardens and many informational garden tours are available to guide you through them. It is the largest botanical garden in New England making it number 4 on our list of things to do in Maine!
You will also find a variety of art exhibits including sculptures by regional artists at the Coastal Maine Botanical Gardens. There's also a special garden for children known as the Bibby and Harold Alfond Children's Garden which holds many fascinating sites and events for the kids.
The Caterpillar Lab here is a facility dedicated to caterpillar research and more. You can also enjoy peaceful and scenic boat tours during your time here!
The Garden Gift shop, the market, and the cafe food here will also ensure you have a great time at the Coastal Maine Botanical Gardens.
5. Carousel Music Theater
The Carousel Music Theater is a lovely little dinner theatre in Boothbay Harbor, Maine. They have an amazing lineup of performances including musicals and comedians that promise an unforgettable night. The Carousel Music Theater was built in 1982 and is known to be keeping the Maine traditions alive making it number 5 on our list of the best things to do in Maine.
They perform songs of the Grear American Songbook from the 1940s-70s during their shows which is always a delight to watch. Authentic three-course Maine-fair dinner is also offered! They also offer desserts to everyone even if they have joined just for the show! This place is thus suitable for people of all ages and is a must-visit. With affordable rates and delicious authentic Maine food options, this place should certainly be given a place in your list of things to do in Maine.
6. Boothbay Railway Village
Did you know, the Railway Village Museum of Boothbay is the only place you can ride a steam engine train in all of New England?
The key attraction here is the steam train, but there are other options as well like the Town Hall, the Farm Equipment Shed, the General Store, and the equally exciting Car barn.
You'll also get to learn about the history of these engines along with getting to see vintage cars. You'll get to see the evolution of technology in trains and cars that also affected lifestyle changes in Maine through time. They also have a duck pond and goats that the kids might love to feed!
Overall this place would be perfect for a fun day out with your family.
7. Maine State Aquarium
The Maine State Aquarium is located in West Boothbay Harbor and is a must-visit here for a fun and informative day! Some of the staff here are real marine biologists and would answer all your questions. The tickets are affordable and this place would be exciting for people of all ages!
There is an enlightening lobster lecture among other elements. The Lobster Den is where you can learn all about lobsters! The most popular attractions here are 23-pound lobster and fascinating color morphs of lobsters in blue, calico, albino, and half and half. They also have a fascinating shark touch tan and tide pool touch tank. You can also take part in different events, including a fishing trip!
These intriguing features are thus too awesome to miss making this place a must on our list of things to do in Maine!
8. Seashore Trolley Museum
Seashore Trolley Museum is located in Kennebunkport, Maine. It is the first electric railway museum in the world with an intriguing collection of transit vehicles! They have everything from omnibus, electric streetcars, trackless trolleys to buses, rapid transit cars, rail vehicles, and much more!
The most popular activity here to look forward to is the trolley ride! You get to ride an antique streetcar on a heritage railroad! It's a fascinating journey where you also learn about the history and evolution of public transportation in New England and the United States along with great views.
They also have a Restoration shop where you can watch cars in the process of maintenance. The Museum also has a gift shop and cafes for the tourists to unwind at. The museum offers unique experiences and should therefore be on your list of things to do in Maine.
9. Farnsworth Art Museum
The Farnsworth Art Museum is the key attraction of Rockland, Maine. You can discover a lot about the artists of Maine and their significant artworks in this beautiful 20,000 square feet of gallery space. It features works from artists like Gilbert Stuart, Frank Benson, Thomas Eakins ad Fitz Henry Lane.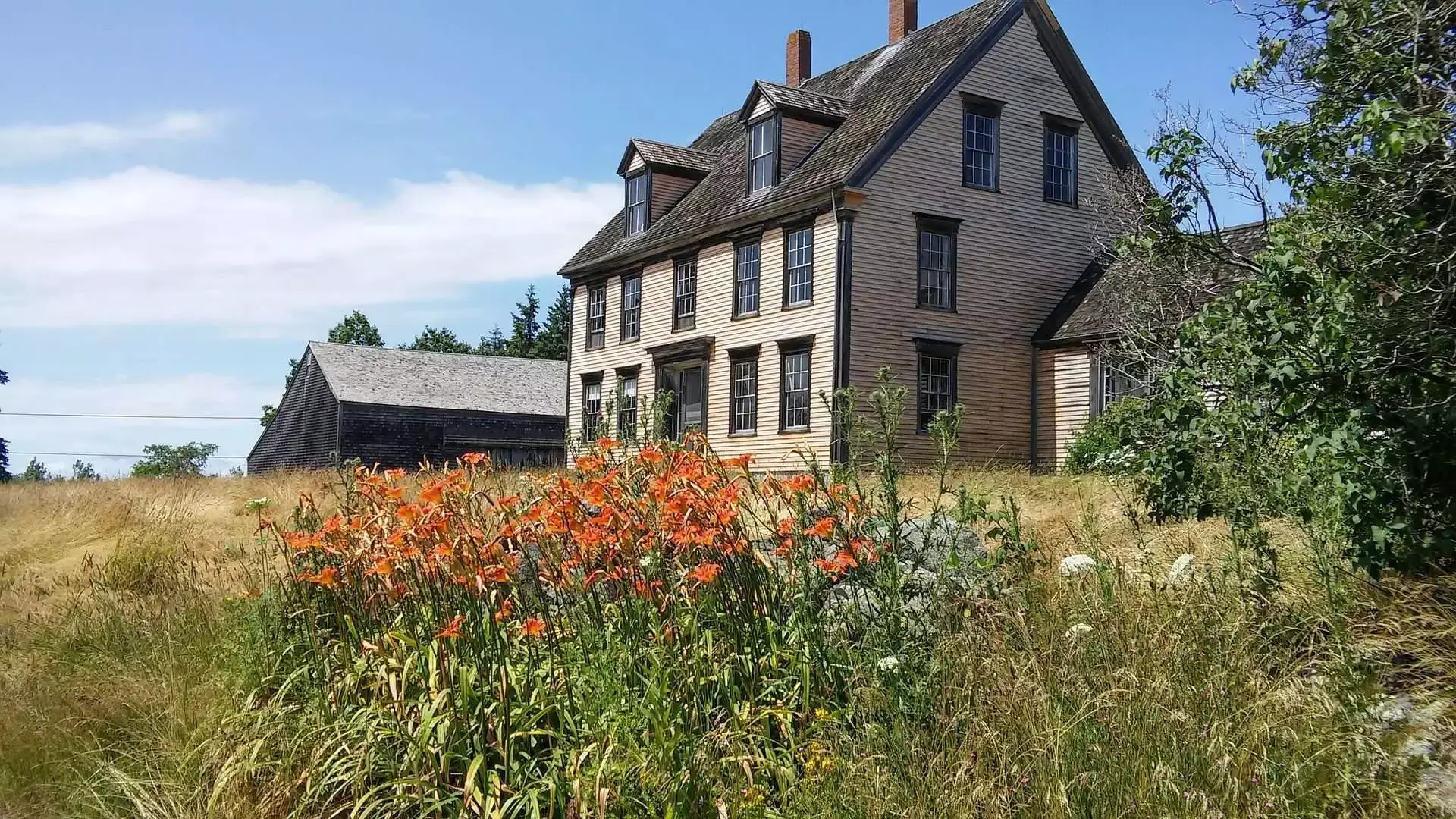 The museum building was once home to Lucy Farnsworth and the Olson House is also well preserved and is open for visitors.
They hold a variety of exhibitions around the year. You can consider this place a haven if you are a lover of fine and decorative art. Some of the works here are by the sculptor Louise Nevelson, Andrew, N.C., and Jamie Wyeth. The Wyeth Center celebrates America's first family of art and holds a prominent space here.
There is also a library at the campus for all the readers! Do visit the museum if you want to learn all about the Maine artists and the Wyeth Family.
So if you love art, add this museum to your list of things to do in Maine now!
10. Maine Maritime Museum
The Maine Maritime Museum is located on the banks of the Kennebec River in Bath. If you're a maritime enthusiast, this is just the place for you! Making a spot on our list of best things to do in Maine, here you'll find a variety of lighthouse tours and story tours about modern-day shipbuilding.
You can also explore the numerous galleries and exhibits along with other fun activities here at the Maine Maritime Museum! Many interactive areas are available for both adults and children! There's also a tour of the famous Percy and Small Shipyard. You'll also find New England's biggest sculpture of Wyoming, the largest sailing vessel ever.
Watching wooden boats being made, a blacksmith at work, and learning about lobstering are some of the distinct things you'll get to enjoy here! You may also go on a boat tour on the popular Kennebec river.
All these delightful activities make the Maine Maritime Museum the best museum in Maine and it should thus surely be on your list of things to do in Maine!
11. Portland Downtown Arts District
This is one of the best things to do in Maine for lovers of art and culture. It consists of many museums galleries and performance spaces for a fascinating introduction to Maine's art and culture. This area is completely dedicated to art with various art galleries, theaters, and museums to explore.
The most interesting places to visit here are the Portland Museum of Art, the Children's Museum and Theatre of Maine, the International Cryptozoology Museum, and The Maine Historical Society. You can also visit the gorgeous Wadsworth-Longfellow House, the 80s mansion of the famous Scribe and Philosopher Henry Wadsworth Longfellow.
There are also many popular eateries that you can stop by like Local Sprouts Cafe, Lobby Cafe, and Five Fifty-Five. Music lovers can visit the Port City Music Hall, Empire Dine, Dance, and American Revival Theater Company for some delightful time!
12. Portland Museum of Art
The Portland Museum of Art, also known as PMA has an extensive collection of American, European, and contemporary art. It was founded in 1882 as the Portland Society of Art.
You'll find pieces from Andy Warhol, Claude Monet, and many paintings by Wyeth, Edward Hopper, and Homer. There are many free group tours and lectures available that'll ensure a fun and informative day with your loved ones!
PMA also offers diverse kinds of movies and other fascinating events and exhibitions for all art lovers. You can also check out the sculpture park and hang out there with your friends and family as this place would be exciting for people of all ages!
The gift shop here has many unique treasures in the form of posters, magnets, books, and much more! You can also unwind at the cafe here and enjoy some delicious delicacies.
This incredibly popular art museum is, therefore, a must-visit and of the best things to do in Maine!
13. Cape Elizabeth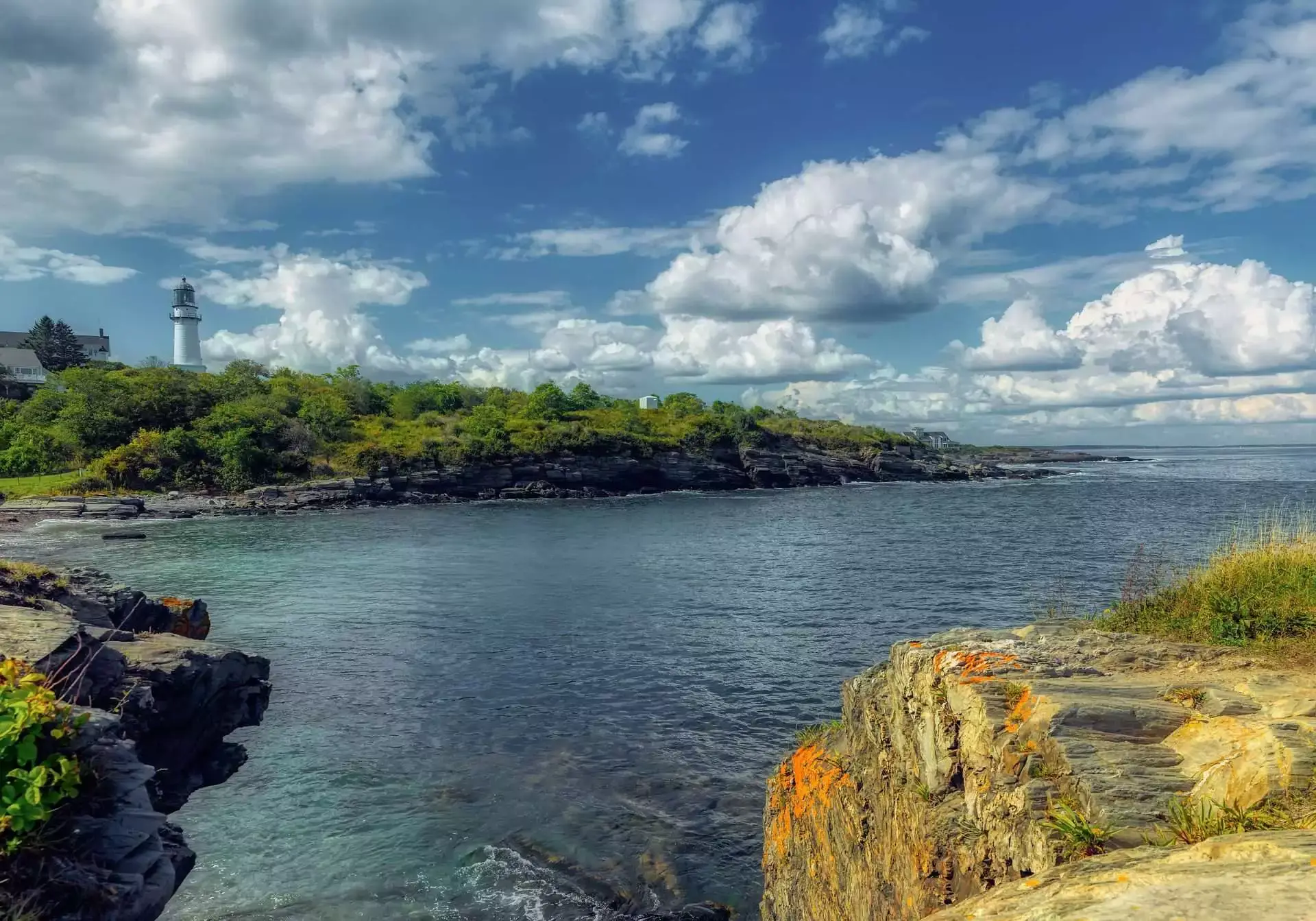 Cape Elizabeth is located in Cumberland County, Maine, and is one of the best tourist destinations in Maine. It has several incredible spots and of the best things to do in Maine that you and your loved ones would thoroughly enjoy!
The most popular spots are Fort Williams Park, the Portland Headlight, the Cresent Beach State Park, Richmond Island, and Peak's Island. The Goddard Mansion is also a popular spot open for visitors to marvel at!
Food and drinks lovers should check out Alewives Brook Farm And the C Salt Gourmet Market. You can also try sea fishing both from the beaches or on a boat in Casco Bay. Some other tourist spots here are the Great Pond Trail, The Spurwink Church, and the Two Lights State Park.
14. Portland Head Light and Fort Williams Park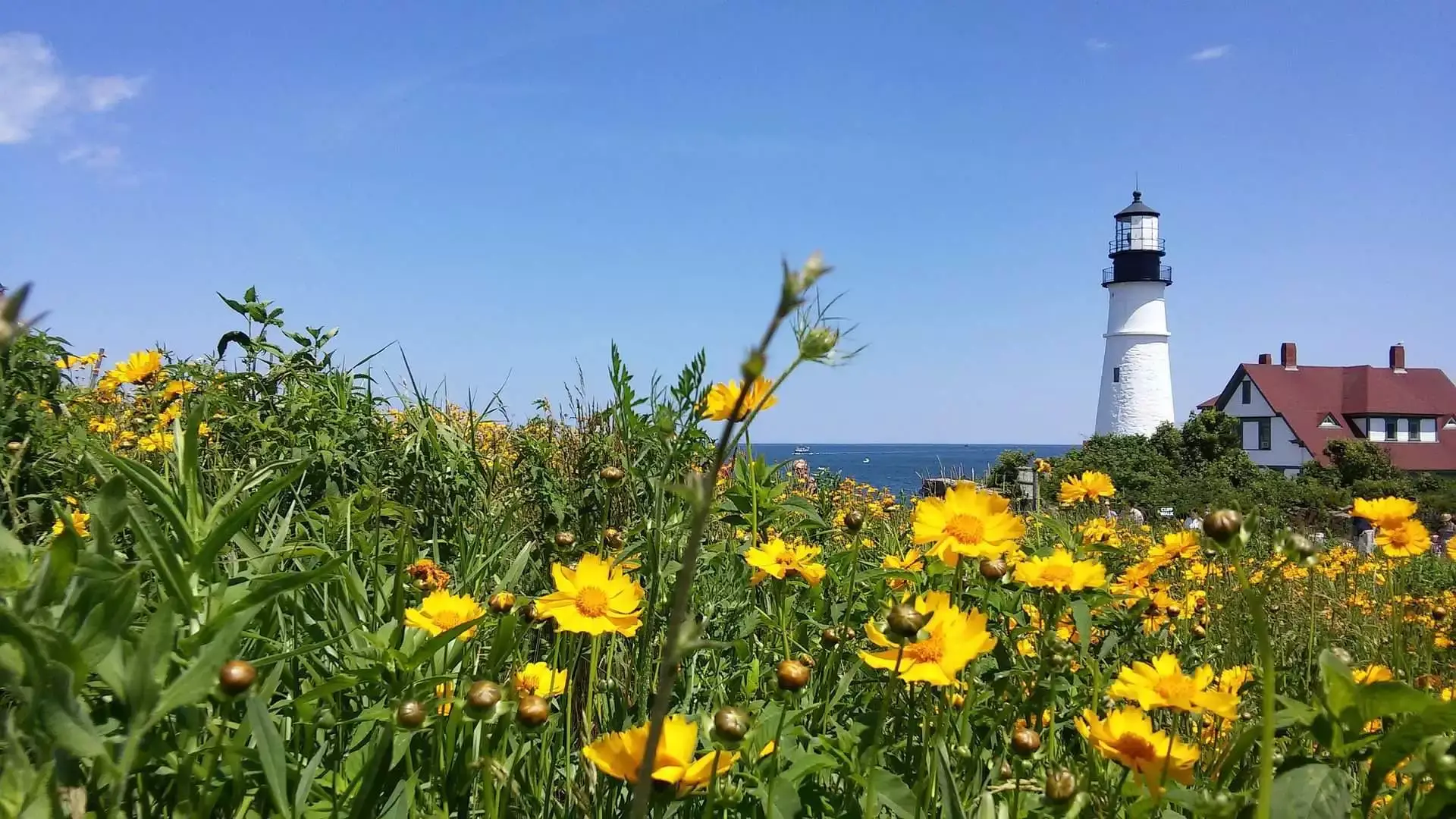 The Portland Head Light is located in Cape Elizabeth and is the oldest and most popular lighthouse in all of the US. This destination is thus widely popular amongst the tourists and is amongst the best things to do in Maine. The Lighthouse is denied public access but it is still worth the visit.
The Lighthouse was commissioned by George Washington following the War of Independence. The Portland head lighthouse is next to Fort Williams Park, a picturesque recreational place for picnics, hiking, and much more!
There is also a Museum at Portland Head Light where you'll find several lighthouse lenses and other exhibits. There's also a gift shop for buying some souvenirs! You can also visit the other key spots here like the Battery Keyes, the Goddard mansion, the beach area, and the children's garden.
15. Old Orchard Beach
If you're a beach person, this beach town is a must-visit for you. You can have an exciting beach day with games or just a nice relaxing swim.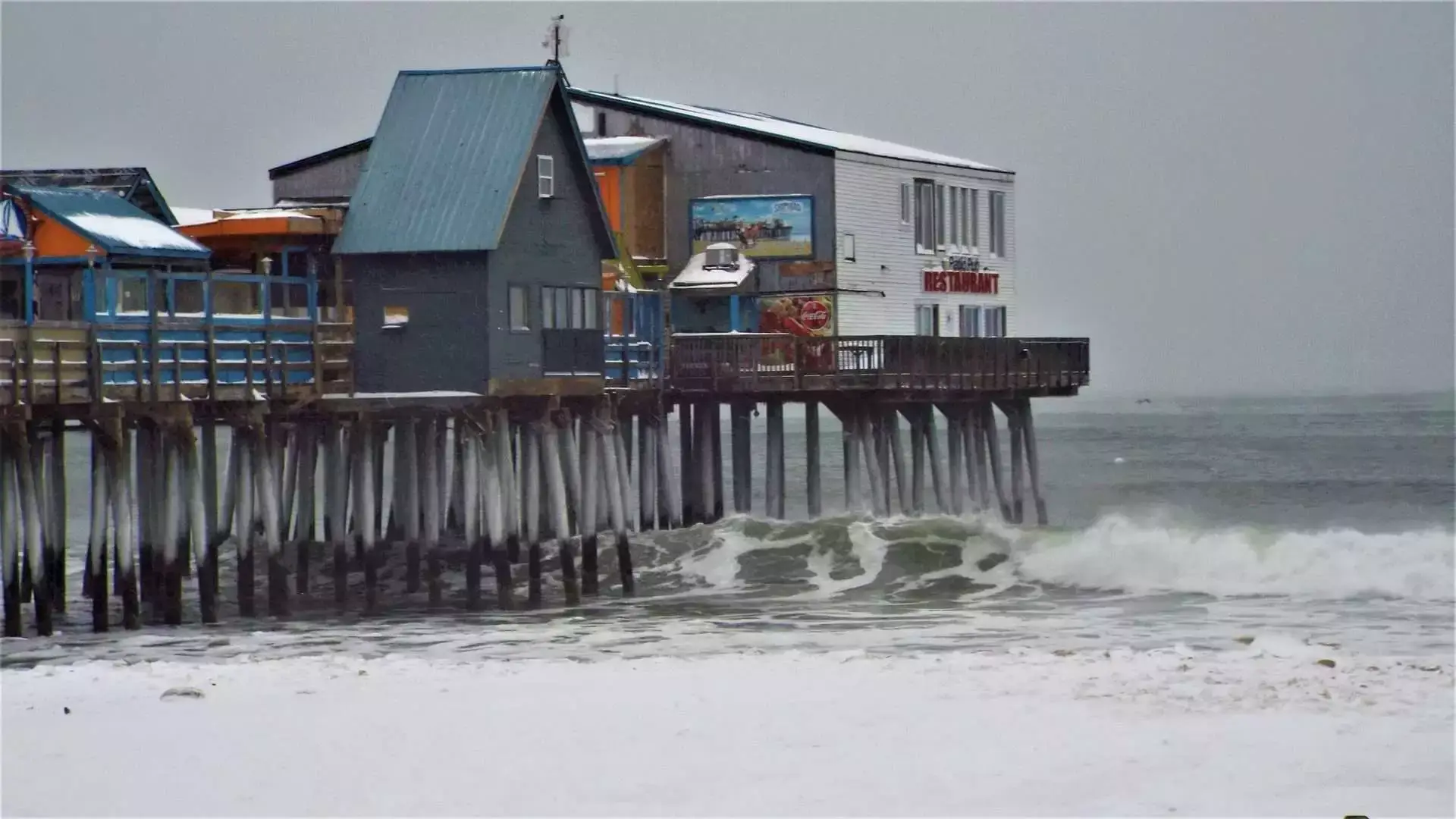 There's also the Old Orchard Beach Pier, a popular spot near the beach, where you can go for food, drinks, and some shopping! The Palace Playland is an amusement park packed with thrilling rides and wheels all near the waves. You can also go biking along the Eastern Trail. The Libby Memorial Library, Harmon Museum, and multiple retail outlets are available here as well.
You can also visit Ocean Park for some peaceful time. Restaurants here serve authentic foods that you should check out! Rocco's, Pier Fries, and Dickinson's Candy are some of the prominent eateries here. This beach town is thus also one of the best things to do in Maine.
16. Owls Head Transportation Museum
The Owls Head Transportation Museum is in a small town called Owls Head located close to Rockland. It features hundreds of vintage automobiles, aircraft, motorcycles, and bicycles. They also have World war 2 warbirds and numerous different classic cars!
The Museum also offers live demonstrations and aviation shows for the visitors. All the automobiles enthusiasts will truly enjoy this place! There is also The Hungry Pilot Cafe that is worth a visit!
This should therefore definitely make your list of the best things to do in Maine.
17. Machias Seal Island
The Machias Seal Island is located in the Maine waters and is maintained by the Canadian government. This golden experience is absolutely unmissable and makes it one of the best things to do in Maine. The sovereignty of the island is disputed between the US and Canada.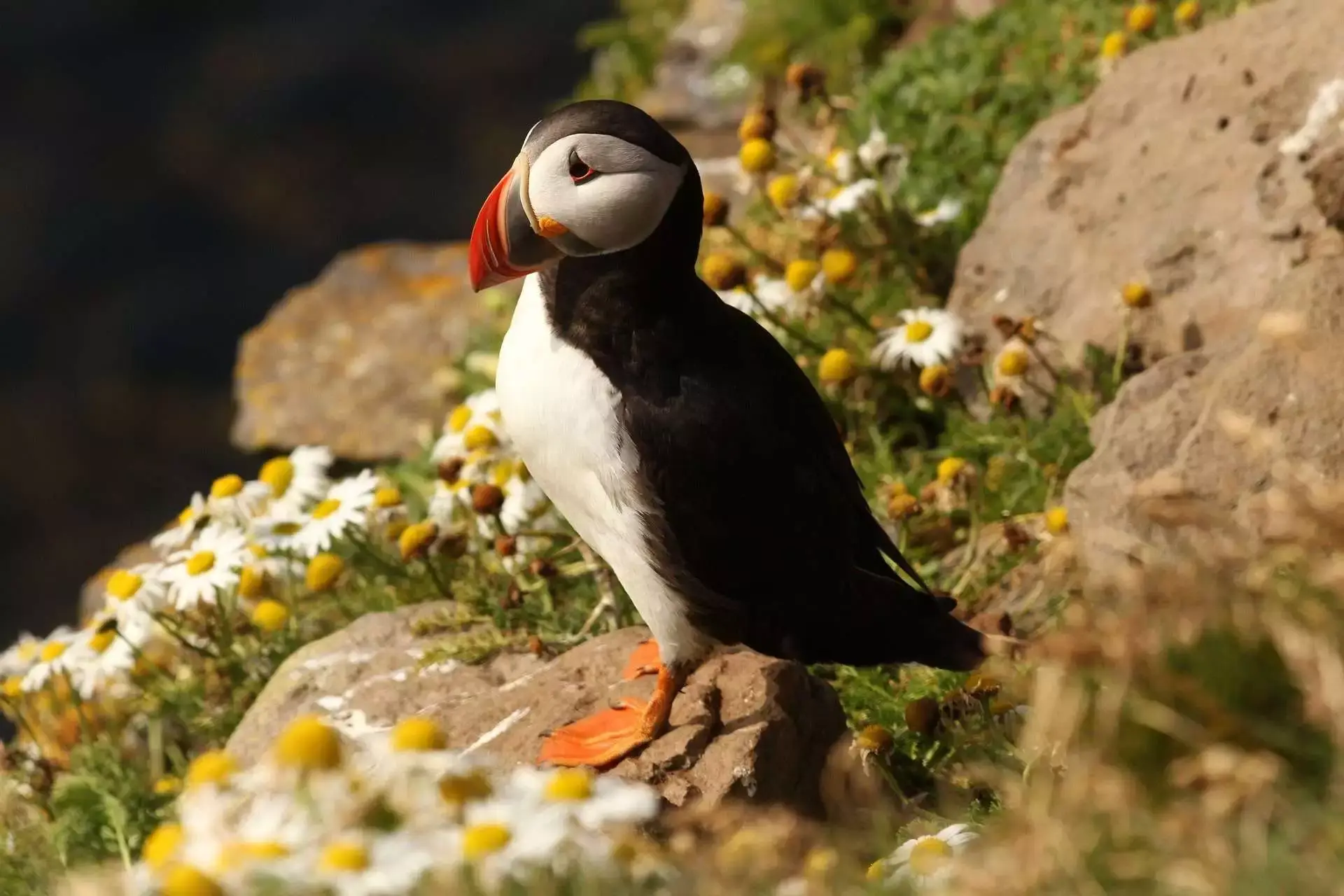 It is a protected place for multiple kinds of bird species. You can book one of the many tours available here and have a fun day with some of the rarest and endangered species. The Atlantic Puffins are the most popular amongst tourists here. The tour ensures picturesque views along with the opportunity to see various rare birds up close!
So book a tour here asap and don't forget to bring your camera!
18. Hamilton House
This stunning 1785 Georgian Mansion was built by a shipping merchant called Jonathan Hamilton. The house is believed to be the area's quintessential Colonial Revival Style country estate. The Hamilton House and the Vaughan Woods are now properly known as the hidden gems of South Berwick.
The picturesque views and relaxing gardens of this place are worth visiting once. They are open all day and tickets are also affordable. The gardens here are also available for hosting functions! The Salmon Falls river nearby and a tour of the well-maintained house are some of the best things to do in Maine.
19. Maine State Museum
The Maine museum is the best place to learn about Maine history and should be on your list of the best things to do in Maine!
The Museum's tagline is – 'Meet Maine here' which accurately explains the fact that you'll get to know everything about Maine here.
It is a wonderful tourist spot for both children and adults and is also known to be inexpensive. You can stop by here for a fun informational day on history! They are also conducting online workshops at the moment which you can check out.
20. Ogunquit Beach
The Ogunquit beach is one of the most gorgeous beaches in Maine. The word Ogunquit means a beautiful place by the sea in Algonquin and we couldn't agree more! It's a 3.5-mile coastline where you can enjoy a variety of sports like deep-sea fishing, sailing, whale watching, sea kayaking, hiking, and golfing.
There are many art galleries along with many shopping and dining spots! They also have a trolley system which makes getting around much easier.
Ogunquit also has an active nightlife and many live shows are available here! From musicals to comedy, you will find a diverse range of shows here.
It's perfect for a fun beach day with your family as you can also visit the Ogunquit Museum of American Art, or catch a show at the local theatre, Ogunquit Playhouse. The great vibes and scenic views this place offers certainly place it amongst the best things to do in Maine.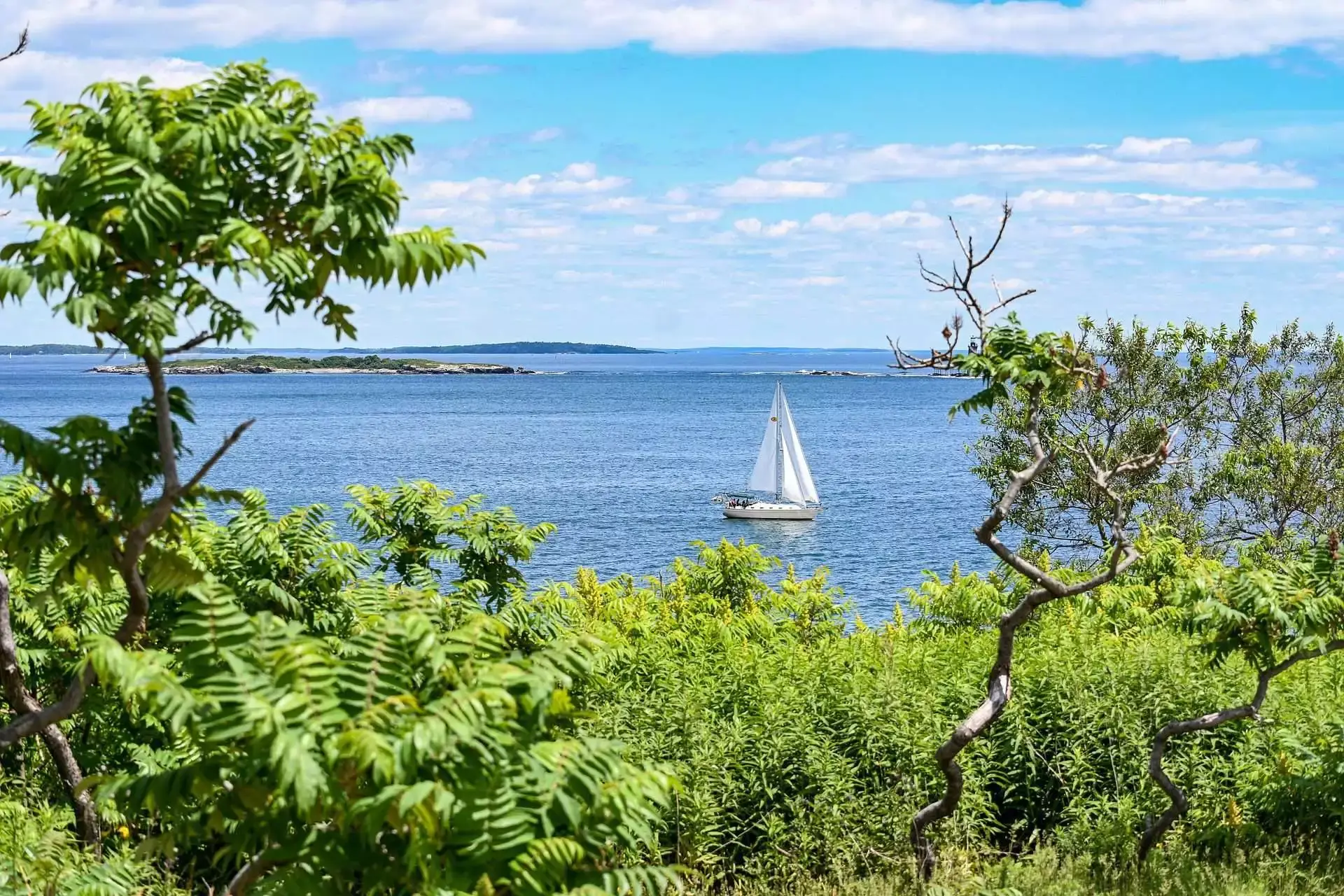 Apart from these places, some other best things to do in Maine are to stop by other awesome places like the very famous Maine lobster festival, the Victoria Mansion, the Cobley College Museum, and the Sabbathday Lake Shaker Village.
So pack your bags and get going! Happy vacationing!
Also check out Best Columbus Indiana Restaurants.
Read more wiith us, click here.
Verified Content by Experts
USA Tales has content written by niche experts, travelers, students, and those with real-life experience. Our content is also periodically reviewed by subject matter experts to ensure content accuracy and relevancy. Have a question? Email us at team@usatales.com