We may earn money or products from the companies mentioned in this post.
Pagosa Springs, Colorado, is a small town in the beautiful San Juan Mountains. It is about an hour away west of Durango and above the Northern New Mexico border.
Pagosa Springs has amazing laid-back vibes, mesmerizing mountain views, and four-season outdoor recreation. It offers everything you can imagine, from snow adventures in the winter to fun on the river while camping and fishing during the summer.
When you need to distress, you can relax in the world's deepest geothermal hot springs. This mountain town has everything, from hiking-skiing to exploring ancient cultural ruins, shopping, and various fine dining outlets.
Pagosa Springs, Colorado, also boasts mouth-watery culinary scenes, making it a one-way destination for foodie-fueled gateways.
Things to Do in Pagosa Springs, Colorado
If you have a few hours in Pagosa Springs and seek fun-filled activities, here are some ideas in and around the town.
1. Chimney Rock National Monument
This hidden treasure is an archaeological site situated at the southern edge of the San Juan Mountains in Southwestern Colorado. Chinmay rock is 7,000 feet above sea level, the highest among all Chacoan sites.
It'll follow the footsteps of the spectacular ancestral Puebloans of the Chaco Canyon, the primitive pathways that haven't changed for 1,000 years.
Chimney Rock stretches over seven square miles and conserves about 200 old homes and ceremonial buildings. Many of these are excavated for viewing and exploration.
The breathtaking archaeological structures, artifacts, rich wildlife, and San Juan National Forest around it reward this place. You can also experience the dramatic 360-degree quaint views of Colorado and New Mexico, making this place a must-see.
This National monument is open from May 15 to October 15th only. There is no entrance or access Fee. But you must pay for interpretive tours of the archeological sites accessed using the two upper-mesa trails.
The tour begins at the visitor cabin, where fees are collected. You can then drive to the high mesa in your vehicle, but you may drive up to the mesa top if you are on an interpretive tour.
1.1 How Much Does It Cost to Get Into Chimney Rock National Monument?
Everyone is charged $12 for a "self-guided tour." The cost of admittance.
1.2 Does Chimney Rock have waterfalls?
One of the tallest waterfalls east of the Mississippi is Chimney Rock State Park's 404-foot-tall Hickory Nut Falls. Take a stroll through lovely woodland on a simple 3/4-mile walk to take in a close-up look from a platform at its foot.
2. Relax in the Hot Springs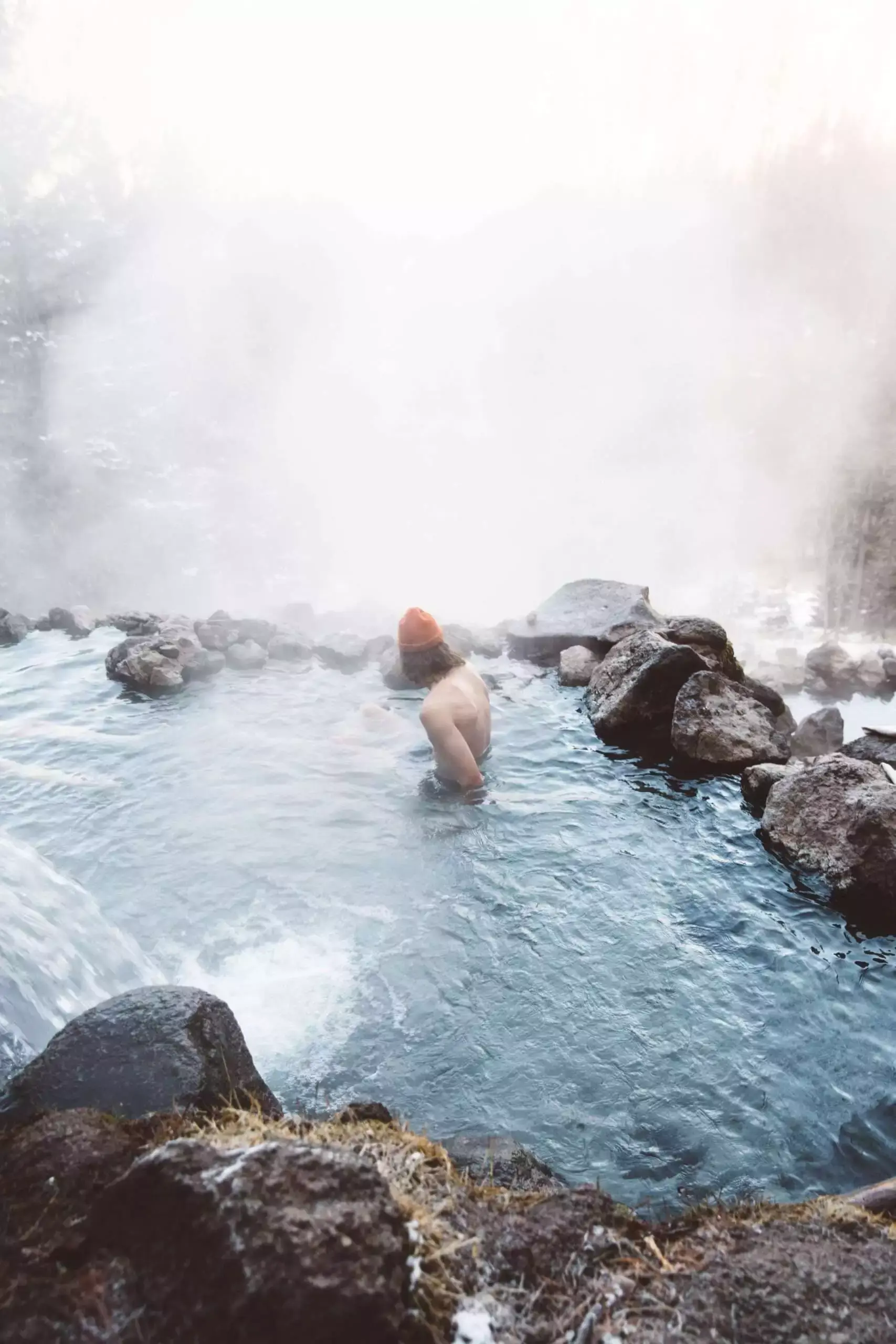 Natural hot springs are the major source of attraction here in Pagosa Springs, Colorado. As with hot springs, warm mineral water's medicinal benefits have drawn visitors to the area for many years.
At about 1002 feet deep, the mystifying Mother Spring aquifer has been certified by the Guinness World record as "the World's deepest geothermal hot spring." This spring is a wonderful natural resource for the town of Pagosa Springs.
The mineral-rich waters from that very spring fill the baths at three hot springs pools, resort, and spa facilities in downtown Pagosa Springs Colorado- The Overlook Hot Springs, the Springs Resort & Hot Springs Spa, and the Healing Waters Resort & Spa.
There are many places where you can indulge in the hot springs; let us look at one among them, the Springs Resort and Spa- Situated at 323 Hot Springs Boulevard, this is an ideal place for those looking for a family-friendly, fun day.
They have 24 soaking pools with sign boards on each that say how hot the water is and whether it is kid-friendly. You can also have access to the river, so you can perfectly play in mud and water simultaneously.
Swimming attire is mandatory here. Shower, towel, and robe rentals are available here at reasonable charges. It is open daily and all year round. Long-term passes are available for both traveling and local guests.
3. Whitewater Raft the San Juan River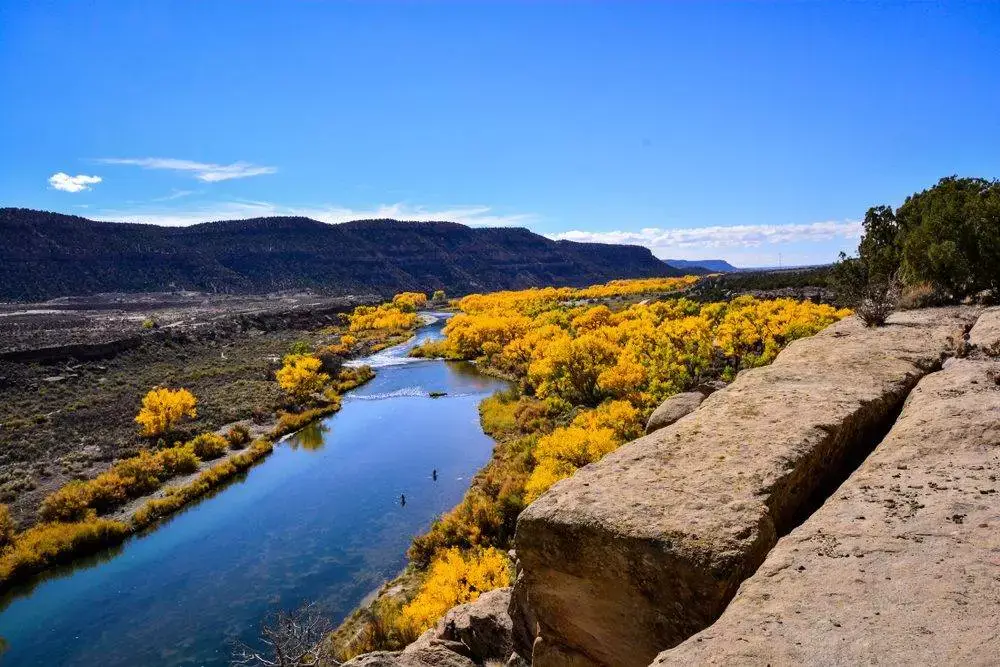 Playing on the San Juan Riverwalk is counted as the number 1 fun activity in Pagosa Springs, Colorado. The river has been a place of surreal beauty and vibrancy for hundreds of years.
Here, you can rent a single tube, raft, kayak, or stand-up paddleboard for the river adventure. You can also get your tube along. Tubes that fit a group of people are also available.
For most of its journey, the river follows Class II-III rapids. Guided trips are available for one-third, half, and full-day trips. Full guided tours are also available, making it the perfect place for all age groups.
The prime months for whitewater rafting in Pagosa Springs, Colorado, are normally May and June. The river typically flows at a peak in mid to late May. This is when you can find the biggest whitewater thrills. By early June, the weather gets warmer, and the river level drops, which makes this time perfect for a family-friendly trip.
3.1 Can you float the San Juan River?
Any segment of the San Juan River between Montezuma Creek and Clay Hills in southeast Utah requires a permission to be floated. Only anyone 18 and older who have made reservations in advance and through a preseason lottery are granted permits.
3.2 How long does it take to float the San Juan River?
The San Juan River can be accessed from three main locations. Most trips set out from Clay Hills or Mexican Hat and launch from Sand Island or Mexican Hat. Most boaters take two to three days to float the 27 miles from Sand Island to Mexican Hat.
4. Ski at Wolf Creek Ski Area
Wolf Creek Ski Resort is home to some of the deepest snow in the West of Pagosa Springs, only 30 minutes from downtown. The challenging snow terrain here makes it one of the favorite places for winter sports enthusiasts.
It is spread over 1,600 acres of skiable land; this place receives almost 430′ of natural snow during winters, making it ideal for skiing.
There are about nine different lifts at the base of the resort. These lifts will take you to more than 78 runs spread equally from beginning to intermediate to expert bowl skiing levels, and the longest trail (Navajo Trail) on the mountain is two miles in length.
It is incredibly laid back and super modest. Lift tickets, ski lessons, and equipment rentals at the resort are inexpensive. Lodging and dining in the nearby town are also cheap as chips.
Yet, while visiting the incomparable trails at Wolf Creek would be a trip of a lifetime on its own, the picturesque village offers more than just winter experiences. All-year-round, Pagosa Springs, Colorado, creates a world ideal for any sportsman.
5. Horseback Ride in Pagosa Springs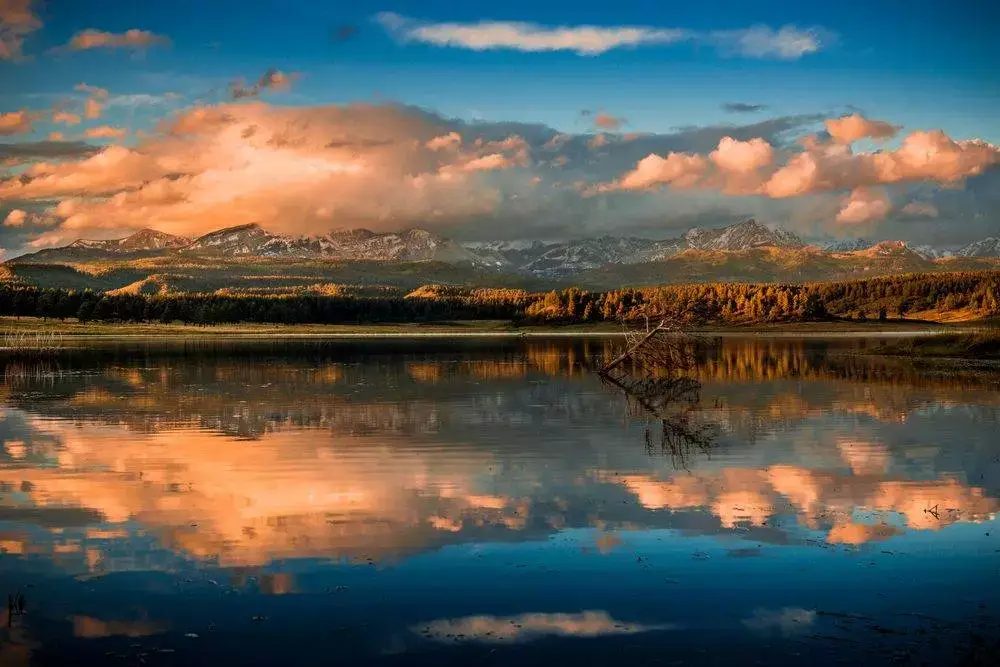 No place better to experience the San Juan National Forest of Pagosa Springs, Colorado, than in the saddle. Riding horses would be an excellent outdoor activity to share with your family.
Here you can amicably ride through the forest and see picturesque views of the mountains. The general stores are located in the midway of the National Forest, and the views on the drive add more fun to your adventure.
You can also see animals like Elk, deer, and sometimes bear, giving you a perfect shot for your wildlife photography.
Horseback ride is most popular during summer. Many outfitters in the area, like Crazy Horse Outfitters and Fish Creek Outfitters, offer a good opportunity for horseback riding at reasonable prices.
6. A Tour of The Rocky Mountain Wildlife Park
This wildlife park is located along Highway 84, about 5 miles south of Pagosa Springs, Colorado, tucked away in the San Juan Mountain Range. Opened in 1986, this park is an abode to animals like elk, bear, cougar, wolf, grizzly, and bobcat native to this area.
The park offers a zoo-like experience where all the animals are non-releasable. You can see and learn about these amazing animals through informational signs along the trail.
You can also enjoy an hour-long feeding tour or even go on rocky mountain balloon adventures, where you can follow along and learn from one of their animal caretakers about each animal they have at their facility.
The park opens all year round, and there is no reservation required for the feeding tour.
The timings are as follows:
Summer (May 1-Oct 31) 9 am-6 pm
Winter (Nov 1 – April 30) 10 am-4 pm
Live Feeding Tour is at 4 pm each day in Summer and at 2 pm in Winter.
Outdoor sports, adventure, cultural attractions, and historic remains make Pagosa Springs one of the best places for all types of travelers.
6.1 How Much Does It Cost to Get Into the Rocky Mountain Arsenal?
The Rocky Mountain Arsenal National Wildlife Refuge is free to visit. Refuge Entrance – In Commerce City, Colorado 80022, at 6550 Gateway Road, the refuge entrance is located. There are a few routes to get to the Refuge through side streets if you are a local. Take the Quebec Street Exit off of I-70, then head north.
6.2 What Animals Are in The Rocky Mountains National Park?
You can find moose, bears, elk, bighorn sheep, bobcats, mountain lions, deer, coyotes, marmots, pikas, and a wide variety of birds all over Rocky Mountain National Park (RMNP) and Estes Park.
Closing Thought
Along with this, Pagosa Springs, Williams creek reservoir, wolf creek pass, and Colorado offer unparalleled access to great dining, shopping, and accommodations for those looking for a relaxing gateway.
If you are a water sports fan, this springs town offers kayaking, stand-up paddleboarding, hot spring pools, cross-country skiing, and jet skiing at the many lakes found throughout the majestic Navajo state park. But before going there, make sure you check their official websites also; you can let visit Pagosa springs Colorado to be your guide. Get more pagosa springs visitor information here.
Suggested Reads
Best Time to Go to Puerto Rico

As an affilate-driven website, USA Tales earns from qualifying purchases.
Auto Amazon Links: No products found.
We may earn money or products from the companies mentioned in this post.
Verified Content by Experts
USA Tales has content written by niche experts, travelers, students, and those with real-life experience. Our content is also periodically reviewed by subject matter experts to ensure content accuracy and relevancy. Have a question? Email us at team@usatales.com
As an affilate-driven website, USA Tales earns from qualifying purchases.