A coastal community in Orange County called Newport Beach is well-known for its gorgeous beach and surf.
With a port that is 21 square miles in size and eight miles of ocean coastline, it is a favored tourist destination in the state.
The area is well known for its crystal-clear waters, which promise fantastic opportunities for paddlers, surfers, divers, and swimmers alike.
This fantastic location has successfully balanced the appeal of the past with contemporary conveniences.
This does not imply that the city has lost its history because its heritage and culture are evident everywhere, like its surroundings and enterprises.
Aside from industry, Newport Beach is best known for its exceptional standards and experiences.
Newport Beach has luxury neighborhoods for residences, up-to-date shopping centers, and a thriving business community.
You come here anticipating a more opulent vacation. Everywhere you look, upscale eateries and tranquil artificial islands scream paradise.
You'll find it challenging to choose a small number of activities to devote yourself to throughout your vacation because many possibilities are available.
Here are the 15 best and most fun things in Newport Beach, California.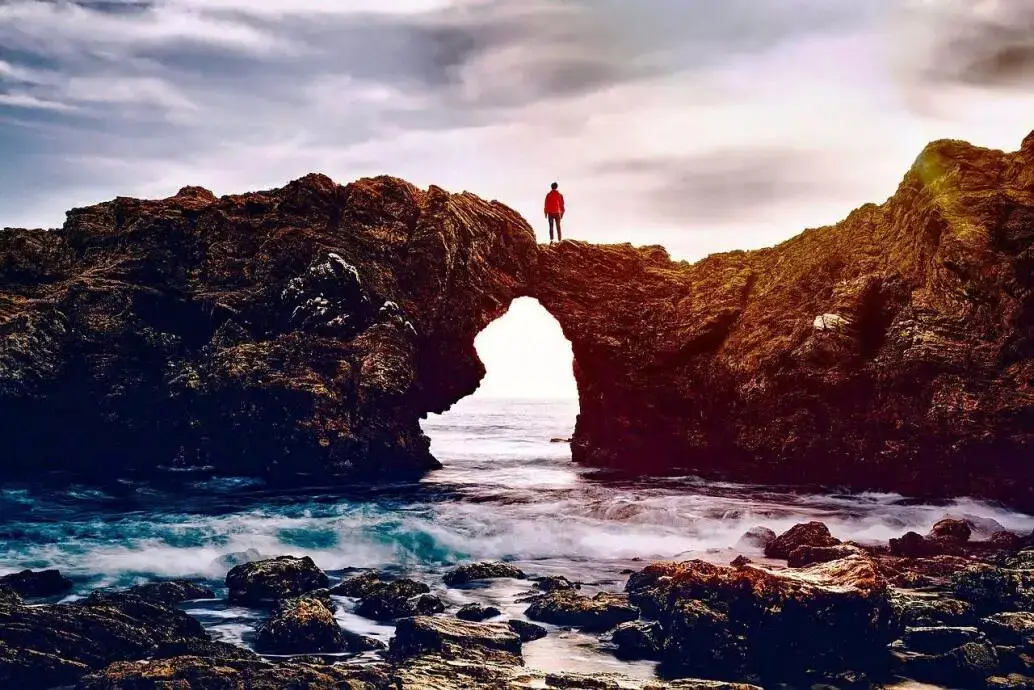 1. Things to do in Newport Beach
1.1. Newport Beach Pier
The breathtaking Newport Beach Pier is located in the center of the Balboa Peninsula and measures 1032 feet in length.
The municipal pier offers stunning sunset vistas and excellent oceanside leisure, making the Newport pier iconic. McFadden Wharf was the original name of Newport Beach Pier.
Newport pier was completed in 1888, given the terms of the local landowners, and used for various shipping needs.
The Newport Beach Pier was sold in 1902 when residential and recreational use renovations started.
After being destroyed by a hurricane in 1940, it was restored, and today it is one of the most popular attractions in Newport Beach, California. Newport Pier offers a variety of enjoyable activities.
Explore it along its length on foot, eat at one of the many restaurants, or go fishing. Even the Dory Fishing Fleet, which was established in 1891 and is still active, is located at the base of the pier.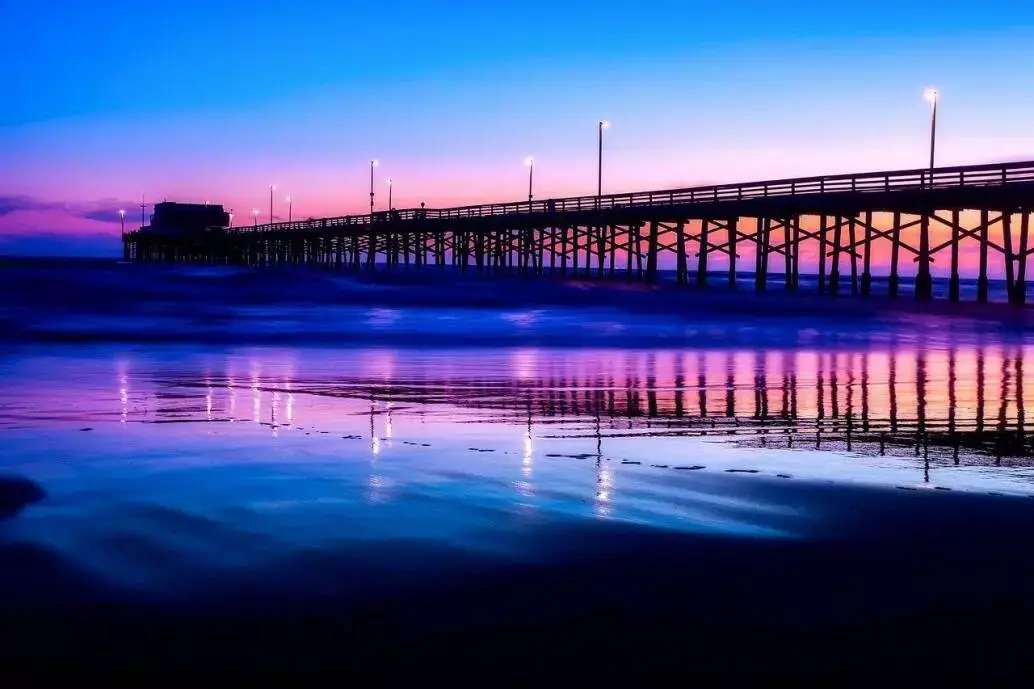 1.2. Balboa Fun Zone
The Balboa Fun Zone has entertained many generations and families since it first opened in 1936 with its alluring selection of attractions.
Located on the Balboa Peninsula, Balboa Fun Zone offers visitors a variety of arcades and amusement attractions, as well as a lively boardwalk lined with stores, eateries, and saloons.
Balboa Fun Zone was formerly a boatyard with stunning views of both the harbor and the Pacific.
In addition to a rock-climbing wall and bungee jump, the sizable amusement park has carnival-style rides and a famous Ferris wheel, and the well-known Balboa Pavilion is close by.
You can take a ferry from the Fun Zone to the nearby Balboa Island, take a scenic harbor tour, or arrange a fishing or whale-watching excursion. It is one of the best things to do in Newport beach.
1.3. Crystal Cove State Park
One of the best natural attractions in Newport Beach, California, is Crystal Cove, State Park.
One of Orange County's most extensive natural seashore and open space combos, it offers a tranquil haven with 3.2 miles of shoreline and 2,400 acres of lush vegetation.
Even overnight stays are possible in this sizable, protected area, thanks to a designated camping area. From the nearby city, Crystal Cove State Park offers a fantastic getaway.
It enjoys a tranquil Mediterranean atmosphere with foggy mornings, chilly evenings, and plenty of warmth during the day. It is situated between Laguna Beach and Corona del Mar.
Its terrain features tide pools, tall cliffs, sloping hills, rolling surf, wooded slopes, canyons, and much more for those who choose to explore it.
Crystal Cove State Park is perfect for hikers, riders, and bikers because of its backcountry nature.
The park's staff offers geology talks, tidepool explorations, and guided treks. Divers and swimmers alike enjoy the calm, beautiful waters in the meantime!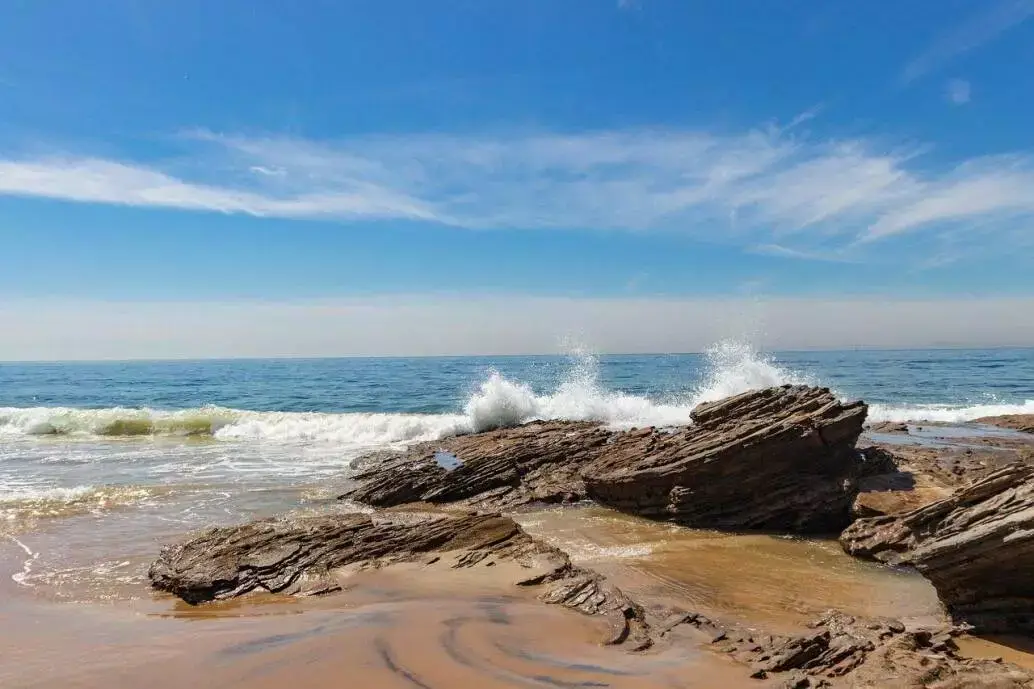 1.4. Balboa Island
Visit Balboa Island, a lovely harborside village, for an entirely other kind of island.
The artificial island, located amid Newport Harbor, has a charming mix of modern stores and eateries among charming small cottages from the 1920s and 1930s.
Balbo Island, easily accessible through a short drive or a scenic ferry trip, was developed in the early 1900s when the water was frequently wet.
In the decades that followed, Balboa Island became a popular summer vacation destination for tourists seeking to escape the severe heat of Los Angeles.
Visitors can rent kayaks, paddleboards, and sailboats to explore the island's waters and stroll along its strip or the charming pedestrian path around it.
Try the delicious Balboa Bar and the frozen banana topped with various toppings before leaving Balboa Island.
The Balboa Island Ferry will not disappoint those looking for activities to do in Newport Beach, California.
Since 1919, the service has provided motorists traveling from Balboa Island to Newport Beach and vice versa with a traditional nonstop trip. The boat voyage is enjoyable even if you don't intend to alight at Balboa Island.
You can take in the breathtaking, spectacular vistas of the ocean all around you along the route, particularly at sunset. It is one of the best things to do in Newport beach.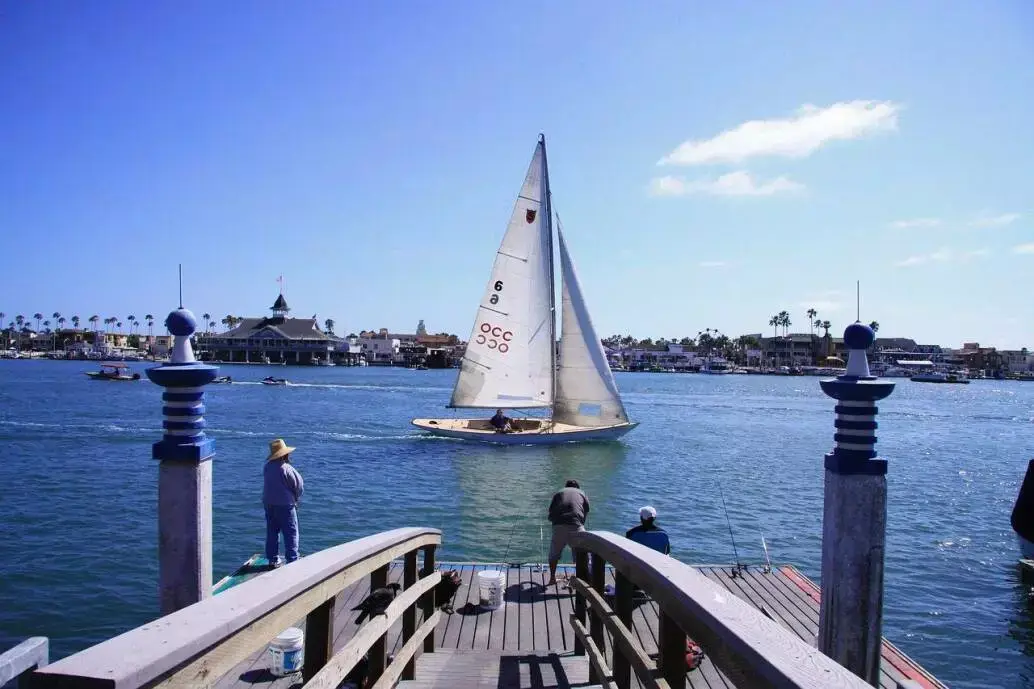 1.5. Sherman Library & Gardens
The Sherman Library & Gardens are a collection of beautiful flowers, plants, and trees in the city's Corona del Mar area.
A wide array of plants from throughout the world may be found on its colorful and aromatic grounds, which are a sensory joy.
Succulents and orchids are currently on show alongside a fern grotto, a desert area, and a rose garden at the lovely gardens, which were established in 1955 by businessman Arnold D. Haskell.
There are waterfalls, koi ponds, and fountains in addition to all this magnificent vegetation.
Sherman Library & Gardens are among the best things to do in Newport beach.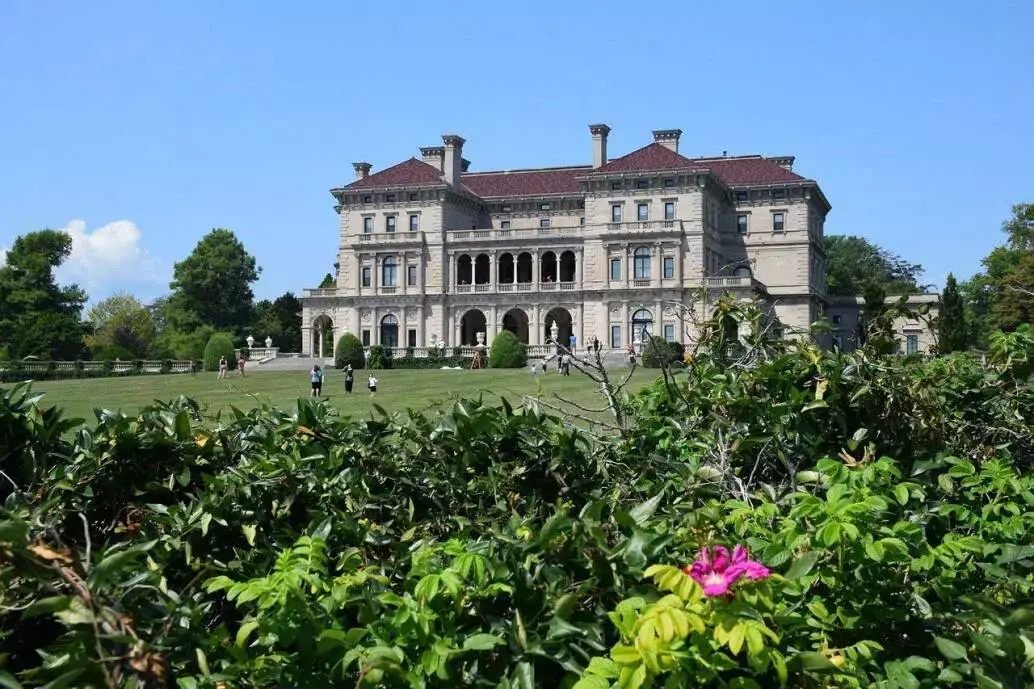 1.6. Balboa Pier
The very picturesque Balboa Pier is a little further down the coast from the city's main pier, right next to the Balboa Fun Zone.
It has fantastic restaurants, fishing, and beautiful views. You can also go on nearby whale-watching expeditions from the restaurant.
Both initiatives, constructed in 1906 at the same time as the Balboa Pavilion, were vital in luring investors and homebuyers to the area.
Since then, the historic pier and pavilion have grown to become by locals and tourists.
Balboa Pier is a great place for a stroll in the evening because of its relaxed, unpretentious vibe.
This region used to be much busier and played a significant influence in drawing entrepreneurs and real estate investors to the area.
Balboa Pier is one of the most beautiful things to do in Newport beach.
1.7. Fashion Island
Shoppers from Newport Beach love Fashion Island.
It has approximately 150 different boutiques, retail stores, and a wide variety of restaurants, from fast food joints to fine dining establishments.
There are many chains to choose from, including Lilly Pulitzer, Macy's Bloomingdales, Neiman Marcus, and Nordstrom.
There are a variety of food alternatives, including quick-serve restaurants and Japanese cuisine.
Fashion Island's large open-air mall is hard to beat if you're looking for luxurious shopping and delicious dining.
Located in the eastern part of Newport, the expansive property offers approximately 200 stores, dining options, and a sizable multiplex theatre.
In addition, Fashion Island features a Whole Foods Market for individuals who require groceries and fresh produce. You can watch a movie at the theatre if you have a few more hours.
Even better, if you happen to be around an event, that is!
1.8. Newport Beach
Visitors and beachgoers have been drawn to Newport Beach since the Pacific Electric Railway first began operating in 1905 because of its enormous expanses of golden sand.
In addition to its magnificent surroundings and radiant sunshine, the main municipal beach offers a wide range of water sports and activities, a boardwalk, and piers.
The city's beaches, which are 7 miles long, include Corona Del Mar and Crystal Cove State Park, extending from the Santa Ana River to the Balboa Peninsula's tip.
While the city's expansive boardwalk is always a pleasure to stroll down and is incredibly gorgeous, it is worthwhile to venture out along its two noteworthy piers.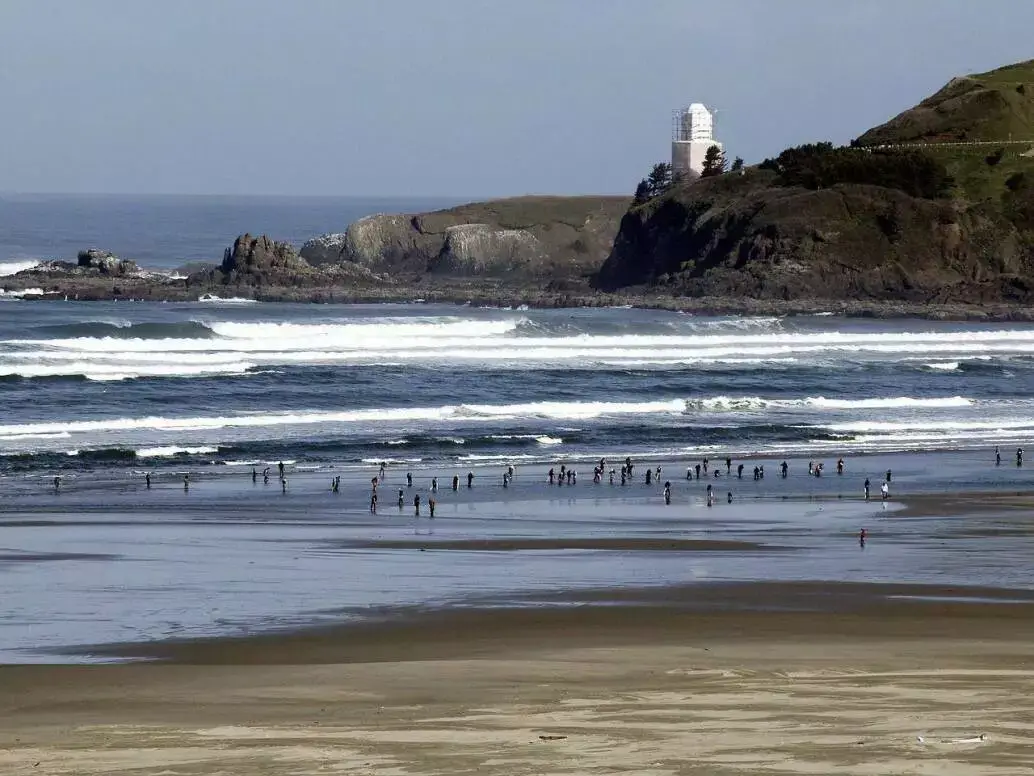 1.9. Orange County Museum of Art
Near Newport Beach in Santa Ana, California, is where you'll find the Orange County Museum of Art.
If you're considering driving outside the city, you should put this place on your list.
The museum is home to some 4,500 works of art, including sculptures, paintings, photography, and more. Thirteen women started the Orange County Museum of Art in 1962.
It contains local artwork from the early 1900s. The history of its exhibitions spans to the present.
Through a range of programs and changing exhibitions, the museum manages to hold onto its allure and novelty throughout time.
1.1o. Lido Marina Village
Lido Marina Village is a chic outdoor destination with a hip atmosphere, eye-catching shops, and delightful eateries.
With so many exciting things to see, it's a beautiful way to kill time when shopping in Newport Beach, California.
The Lido Marina Village on the Balboa Peninsula is home to many brands and tiny vintage stores that provide a wide range of products and subjects.
Views of the ocean perfectly frame this serene business district.
1.11. The Wedge
The Wedge is a must-visit beach destination for dedicated surfers because it has some of Southern California's largest waves.
It's close to the Balboa Peninsula's eastern edge and attracts those who enjoy a variety of water activities and those who want to watch the action and take pictures of the enormous waves.
For almost a century, surfers have traveled to the Wedge to test out its challenging and unpredictable swells, with waves occasionally reaching over nine meters.
Newport Harbor was altered in the 1930s, which caused these exceptional circumstances. Swimming here is not advisable, but you can bodyboard, skimboard, or go surfing.
Another option for visitors is to unwind on the beach while photographing the waves and watching professional surfers ride them.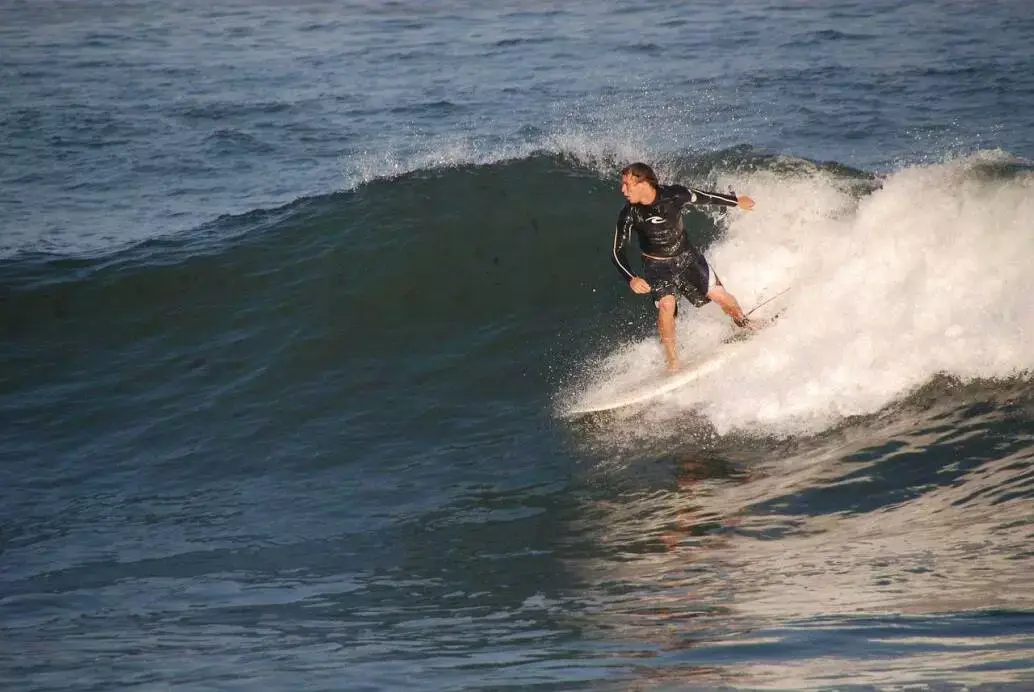 1.12. Environmental Nature Center
In 1972, the Environmental Nature Center was founded. It covers 3.5 acres and is one of the most entertaining outdoor activities Newport Beach offers.
The facility offers 15 different habitats with native California plants for sensory and interactive learning experiences.
The Environmental Nature Center can accommodate a wide variety of flora directly from Newport Beach, thanks to its diverse plant environments.
Redwood forests, deserts, oak woodlands, and freshwater marshes are also redwood forests. Each one is accessible by hiking routes, which also take you to a magnificent butterfly habitat and a nature museum.
With its camps, attractions, and programs offering data and resources to people of all ages, the Environmental Nature Center strongly emphasizes education.
One of the reasons it is so wildly popular is because of its interactive, hands-on nature! And also one of the best things to do in Newport beach.
1.13. Pelican Hill Golf Club
The Spa at Pelican Hill has already been discussed.
However, Pelican Hill has another location that is certain to be entertaining for golf enthusiasts seeking things to do in Newport Beach, California.
The Pelican Hill Golf Club is a fantastic choice for entertainment while enjoying a top-notch round of golf. Tom Fazio, a highly regarded architect in the sport, created the golf course.
Two distinct 18-hole courses are offered at Pelican Hill Golf Club. One is appropriately referred to as Ocean North, and the other as Ocean South.
Both are built to look out over the stunning ocean and use the surrounding natural scenery for a more upscale, appealing appearance.
There seem to be three holes on the actual shoreline of Ocean South's course, including its beautiful 13th hole with two greens. Lessons can be purchased from a PGA professional at the Pelican Hill Golf Club's on-site Golf Academy.
When you're finished with the adventure, go to Pelican Grill to savor regional food in a chic, relaxing setting. Golf equipment and souvenirs are available at the club's shop.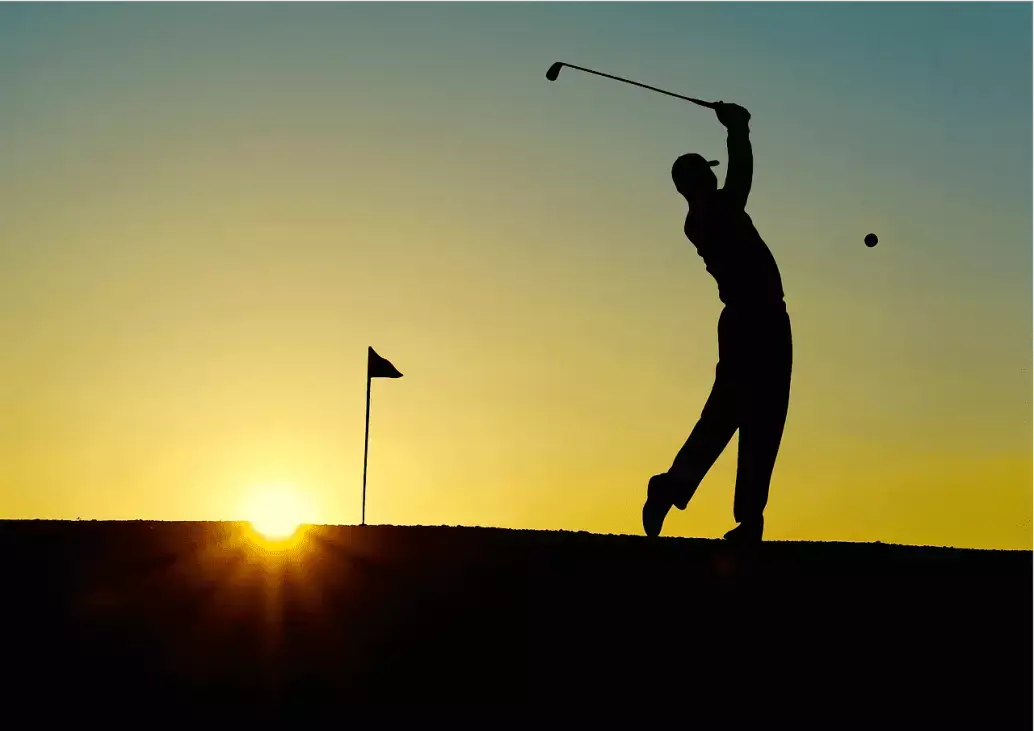 1.14. Upper Newport Bay Nature Preserve
The 1,000-acre Upper Newport Bay Nature Preserve is the largest coastal wetland in southern California. It is an estuary or wetland. Residents of Newport Beach frequently refer to it as The Back Bay.
It's one of the most popular Newport Beach attractions for outdoor enthusiasts and an excellent place for biking, horseback riding, hiking, and family outings.
In addition to offering great sightseeing opportunities, birdwatchers love Upper Newport Bay Nature Preserve.
This is due to its location along the Pacific Flyway, a significant route used by birds to migrate from north to south.
Over 35,000 birds pause here on their trip from Patagonia to Alaska along the central flyway.
1.15. Newport Landing Whale Watching Trip
Grey whales travel south even during winter and early spring before making a complete 180-degree flip. Several blue whales swim close, much like summer and fall.
In southern California's gorgeous, warm waters, you can observe dolphins and a few humpback whales, finback whales, seals, killer whales, sharks, and even dolphins.
In addition to dolphins, a few humpback whales, finback whales, seals, killer whales, sharks, and even dolphins can be seen in southern California's stunning, warm waters.
Newport Landing Whale Watching is one of the locations to go to for a whale watching experience.
The company offers daily excursions for the whole family, taking you to the best spots to see these amazing marine creatures.
You spend many hours paddling through the waves while keeping an eye out for any dorsal fins, waterspouts, or other signs they are preparing to breach.
Dolphins, seals, and sharks can sometimes be observed, in addition to blue and grey whales, humpback whales, and minke whales.
Whales constantly swim up and down the coast, so you have a good chance of seeing at least one up close and personal at almost any time of year.
Suggested Reading- 10 Best Places to Live in Oregon
2. Summary
Because of its sun-kissed sands, stylish appearance, and aquatic activities, Newport Beach, a coastal city in Orange County, California, has long been a popular vacation destination.
It is a beautiful place to visit and is renowned for its affluent yet carefree lifestyle. A short journey southeast of Los Angeles will take you there.
Since just over a century ago, tourists have been drawn to the city's magnificent beaches, breathtaking scenery, and sunsets.
In some regions of the city, there are high-end shops, restaurants, and yacht clubs, but in others, there are quaint cottages and attractive old historic tourist attractions.
The city's most enticing features, though, are, without a doubt, its beautiful stretches of golden sand and an astounding array of watersports. Newport Beach offers swimming, surfing, sailing, and whale viewing, among other water sports.
Any vacation would be unforgettable in Newport Beach, California.
When it comes to water activities and excursions, the coastal environment offers various options. You're never too distant from calm, thanks to a combination of natural and artificial verdancy.
Everyone who visits will be satisfied thanks to the availability of dining, shopping, and beach activities. Of course, occasional bits of history and art keep the lovely city grounded and approachable.
Newport Beach emanates sophistication and style. Yachters, sailors, fishermen, surfers, and anyone seeking a laid-back vacation in the sun love this coastal city.
Newport Beach is one of the country's best spots for whale viewing. Therefore, no trip there is complete without a whale-watching excursion. If staying on land appeals to you, visit Newport Harbor to gaze at the several exquisite vessels berthed there.
Of course, the city also provides access to well-known beaches, including The Wedge, a surfing hotspot, and the family-friendly Corona del Mar State Park.
Naturalists can enjoy Newport Beach's scenic hiking trails and other natural wonders, such as Crystal Cove State Park. There are numerous shops, galleries, and restaurants as well.
This city creates an inviting atmosphere for you and your traveling companions by striking the ideal balance between elegant refinement and carefree beach living.
Suggested readings: Things to Do in Rehoboth Beach.
Best Columbus Indiana Restaurants
Things to Do in Turks and Caicos.
Verified Content by Experts
USA Tales has content written by niche experts, travelers, students, and those with real-life experience. Our content is also periodically reviewed by subject matter experts to ensure content accuracy and relevancy. Have a question? Email us at team@usatales.com