New York's Long Island is a small wine region and has a short history of wine-producing, but its volume and quality of wine-producing have increased over the decades because of its maritime climate.
One of the "Top 10 Wine Regions" in the world as rated by Wine Enthusiasts, Long Island's wine production is heavily concentrated in the eastern part. The North Fork has most of the vineyards and 38 wineries.
Most of these Long Island wineries comprise modern, rustic and, elegant tasting rooms, which are popular attractions for visitors from across the New York metropolitan area, and wine connoisseurs worldwide.
If you asked which is the best among all the Long Island wineries, you wouldn't get an exact answer ever.
Every person has their taste and smell palate. Some prefer red wine as it tends to be fuller-bodied, richer, and, has a more complex flavor due to various ranges of fruity and spicy, while white wine tends to be less complex, lighter, more floral, and crispier.
So here are some of the award-winning and world-class wine producers in Long Island wineries:
Best Long Island Wineries
1. Baiting Hollow Vineyard
Baiting Hollow is the first among the Long Island wineries you will see when you enter the wine country. Just 1.24 hrs from New York City, the vineyard hosts wine tasting in its beautifully restored tasting house from the 1800s.
Its convenient location, award-winning wines, wonderful food & beverage selections, cool vibes, top live music entertainment, and other fun activities attract visitors all year round.
Their signature summer drink – the frozen Wine-A-Rita made from White Merlot and their other award-winning wine selections, including different reds, whites, roses, and dessert wines, have garnered them dedicated loyal club members.
Enjoy a weekend or a daytime trip in their warm, friendly & cool environment with the wine of your choice and delicious food all year round.
2. Castello di Borghese Vineyard
The oldest vineyard on Long Island is well known for producing elegant & nuanced Bordeaux-style wine, the winner of the "Winery of the Year Award" in 2018, and numerous international awards.
Castello di Borghese Vineyard has earned widespread respect among the wine-making community.
Every bottle they produce is pruned, picked, bottled, corked, labeled, and distributed by hand, which proves the unparalleled quality of the wine.
Borghese's award-winning 2015 Reserve Pinot  Noir and Afterglow- a port-style dessert wine, had been served at the James Beard Foundation in December 2018.
Its elegant cafe-style indoor and outdoors sitting areas are perfect for savoring the wine of your choice in the spectacular surrounding.
3. Bedell Cellar
Many regard the Bedell cellar as the paradigm in Long Island. With Kip Beddel- the founder earning the moniker of "Mr. Merlot" and proudly serving their prestigious 2009 Merlot at the 2016 Presidential Inaguration, their wines have achieved critical acclaim.
With their sustainably self-grown fruits, they continue to produce quality hand-crafted and elegantly balanced wines, which hold on their own in the Long Island wineries region.
Savor their wine on their expansive curated grounds in the charming Pavillion or their rustic barn-style tasting room all-around the year.
4. The Lenz Winery
Lenz Winery is one of the original Long Island wineries on the North Fork, famous for its Merlots and fan-favorite Old Vine's Cabernet Sauvignon and 2013 Merlot.
The current owner – Peter and Deborah Carrol-successfully carries on the tradition of Peter & Patricia Lenz of producing rich, complex, and, food-friendly premium wines. Last year their Pinot Noir Cuvée RD made the "Top 100 Wines Discoveries" by Wine Advocate.
Join their barrel tastings with the winemaker and the vertical & Library tastings for a memorable learning experience, or enjoy the wine of your choice in the historic and rustic setting of their farm.
5. Channing Daughters Winery
Channing Daughters' sustainably certified winery produces seemingly endless varieties of wine from more than two dozen grapes, which is way more than compared to any other Long Island wineries on the Long Island.
Every delicious bottle is hand prepared and of premium quality which is evident by their award-winning bottles. Even though Molti Rosati (Many Rosés) is their specific varietal, they deliver much more and produce 14,000 cases of wine per year.
They offer a sampling of at least six different wines in their rustic, charming tasting room. Also, don't forget to admire their sculpted garden vineyard.
6. Macari Vineyards
Macari vineyards have something to offer for every palate. From Sauvignon Blanc Lifeforce to Chardonnay, Merlot to Sparkling, Cabernet Franc to Cabernet Franc Rose, and Bordeaux.
Recognition and high score earned by the winery are from Wine Advocate, Food & Wine and Time Out New York, The Daily Meal, and medals at the New York Wine & Food Classic.
Enjoy their top-end blend in their modern and elegant tasting room by admiring the sprawling view of the vineyards. They have recently added a luxurious glamping tasting room for the winter season.
7. Mccall Wines
Rather than producing several varieties of wine like other Long Island wineries, Mccall Winery has focused on two types – Merlot and Pinot Noir and created a distinguished, premium, and award-winning selection of wines.
People have acknowledged them for producing some of the best wine in the Long Island wineries region by Wine Enthusiast, Wine Spectator, Wine Advocate, and the New York Wine & Grapes Foundation.
Savor their bests in their rustic and charming redecorated storage barn cum tasting room or by strolling the ground with the pastoral view.
8. Palmer Vineyards
One of the original vineyards of Long Island, Palmer Vineyard, is known for its award-winning Sauvignon Blanc blend and for planting 1st Albarino vines in the New York state. Many top-end restaurants serve this wine as a private label, such as The View Restaurant, Fulton Crabhouse, Gallaghers Steak House, and many more.
They produce 20,000 wine cases annually with 110-acre planted  Merlot, Chardonnay, Pinot Blanc, Sauvignon Blanc, Gewurztraminer, Cabernet Sauvignon, and Cabernet Franc.
Enjoy a glass or five of their finest in their decking area with a brilliant view of the rolling, lush green vineyard.
9. Sparkling Pointe Vinyard
Sparkling Pointe is North Fork's only winery to produce Sparkling Wines exclusively. 40 acres of their ground encompassing classic Champagne varietals – Chardonnay, Pinot Noir, and, Pinot Meunier.
Their prestige award-winning selection includes Brut, Blanc de Noir, Brut Seduction, Cuvee Carnaval Blancs, Cuvee Carnaval Rose, and Topaz Imperial.
Enjoy the bubbly of your choice in their soaring double-height tasting room or lawn tasting area.
10. Pindar Vineyard
Pindar vineyard is the largest vineyard (500 acres) on Long Island. They craft some 23 varietals of blends from their 17 varieties of grapes, producing staggering 70,000 cases of wine per year.
They are well known for their proprietary wines – Winter White, Spring Splendor, Summer Blush, and, Autumn Gold. Their signature collection, Dr. Dan's Gewürztraminer 2020, has been served during the Governor's Cup and has won 'Best White Wine,' 'Best Gewürztraminer' and Platinum Medal at the 2021 New York Wine Classic.
Dry or Sparkling or Sweet or Desert, choose a wine of your choice and enjoy at their outside deck area, Pavillion, and lawn, admiring the spectacular view.
Closing Thoughts
Next time when you prepare for a trip to visit Long Island wineries, choose any winery from the above-mentioned list of best Long Island Wineries for a memorable experience. They won't disappoint you.
In conclusion, Long Island's wineries are a must-visit for any beer lover in the USA. With a wide variety of delicious brews, stunning views, and a laid-back atmosphere, these wineries offer the perfect escape from the hustle and bustle of everyday life.
Whether you're a seasoned wine connoisseur or simply looking for a fun day out with friends, Long Island's wineries have something for everyone to enjoy. So, pack your picnic basket, grab your friends, and set out to discover the best of Long Island's wine country.
Frequently Asked Questions
1. What should I keep in mind when visiting Long Island's wineries?
It's important to keep in mind that many of these wineries are small family-owned businesses and they may have limited hours or require reservations. It's best to check their website or call ahead to plan your visit.
2. Is it okay to bring my own food to the wineries?
Most wineries allow you to bring your own food, but it's best to check with them beforehand. Some wineries also have on-site food options available for purchase.
3. Are there any tours available at the wineries?
Many wineries offer tours of their facilities, tastings, and wine education classes, so be sure to inquire about those when planning your visit.
4. Can I bring my kids or pets to the wineries?
Each winery has its own policies, so it's best to check with them directly, but some wineries may not allow children and pets.
5. What are the best months to visit Long Island's wineries?
The best months to visit the wineries are from May to October, as the weather is pleasant and the vines are in full bloom.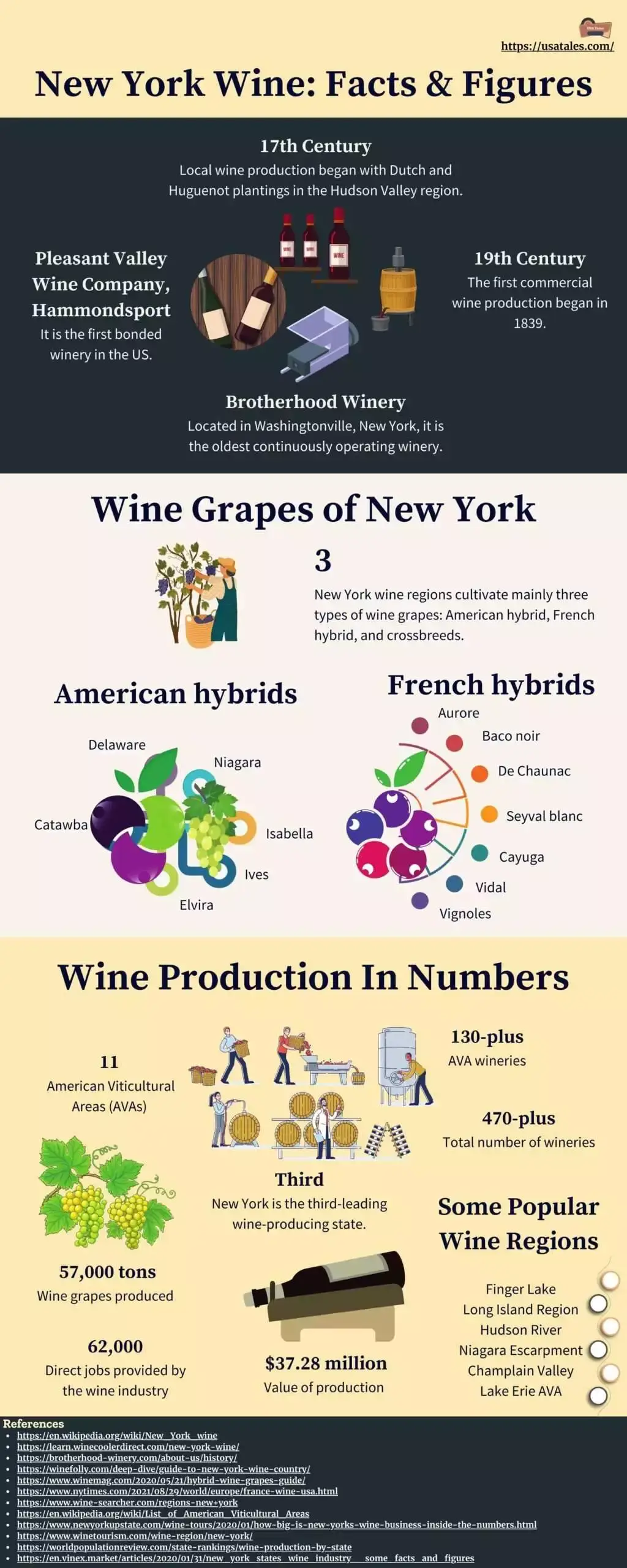 Verified Content by Experts
USA Tales has content written by niche experts, travelers, students, and those with real-life experience. Our content is also periodically reviewed by subject matter experts to ensure content accuracy and relevancy. Have a question? Email us at team@usatales.com