Portland is the port city in the Pacific Northwest and the biggest city in U. S Oregon, with a population of. It is located at the conflux of the Willamette and Columbia Rivers.
It has the honor to be known as the top culinary destination in the country. As the country has an amazing geographical location in comparison to other cities, Portland doesn't have to pay large amounts of cash for shipping costs, and the meals can be enjoyed at affordable prices.
The city enjoys the Fertile land of the Willamette River, and the close presence of the Pacific Ocean provides fresh ingredients. The top chefs of the countries use these fresh ingredients to present their customers with amazing quality cuisines. Portland has many amazing places to enjoy the food. Among them, there is an excellent to visit, which is Laurelhurst Market.
The Laurelhurst market is situated on East Burnside Street in Portland, Oregon's Ken neighborhood, USA. This place is a combination of both the steakhouse and the butcher shop.
This place was established in 2009 by three amazing chefs named Chef Ben Dyer, David Kreifels, and Jason Owens. The Laurelhurst market kitchen is taken by chef Benjamin Bettinger and co-ed chef John Anderson, who use a creative way to create high-quality dishes.
Executive Chef of Laurelhurst Market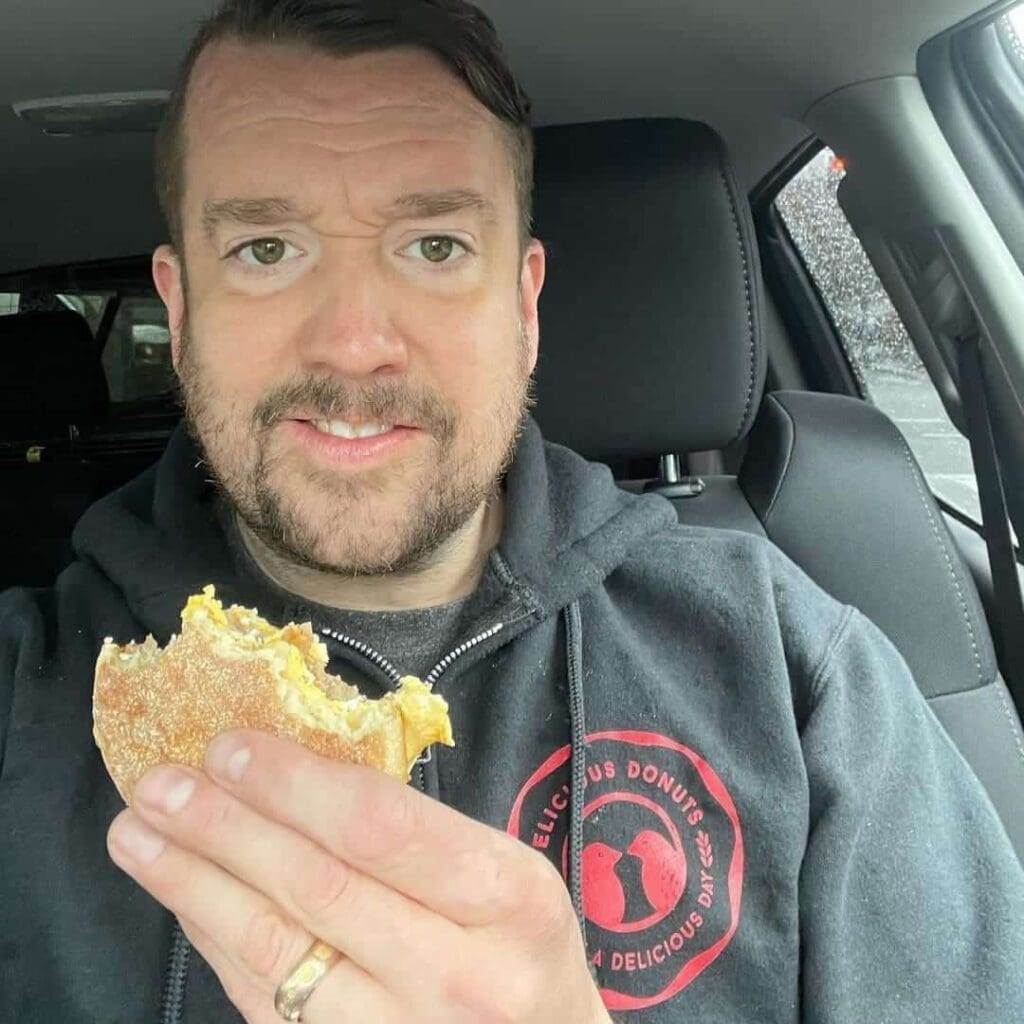 The head chef of Laurelhurst Market, Benjamin Bettinger, came to Portland in 2001 to pursue his learning at a culinary school. As the chef was extraordinary in terms of his performance, dedication, and leadership skills in his school, this helped him achieve an internship at Vitaly Paley.
Bettinger's handwork and dedication resulted in getting him the position of Sou chef and chef at Paley's place, and the restaurant achieved loads of success under his cooking.
In 2009, he was appointed as the executive chef at Barker and Flask. In 2011, he worked as a sou chef after winning the food network Iron Chef America, and then in 2012, he again worked with Paley, this time starting Imperial Restaurant, where he worked as an executive chef. Then, in 2015, he took his position at the Laurelhurst market as an executive chef.
1. Butcher shop
The Laurelhurst market is a Butcher shop during the daytime. People purchase premium quality meat to take home. The shop entrance is located at the side of the building where the customers can check out and purchase all kinds of cuts of pork, lamb, beef, and different types of sausages and pate in the shop only.
The meat is fresh, tender, and flavorful here, which is why people frequently visit. The quantity is also limited as they sell premium quality meat in the shop. They have expert butchers who are also trained chefs, which gives a plus point to them.
Some Items Available at the Butcher Shop
1.1 Dry-Aged Beef and Holiday Special
28-day day aged bone-in Rib Roast -$34.95/lb.

Fresh Bone-In Ribeye- $34.95/lb

Ham- Bone IN- $13.95/lb

Ham- boneless- $14.95/lb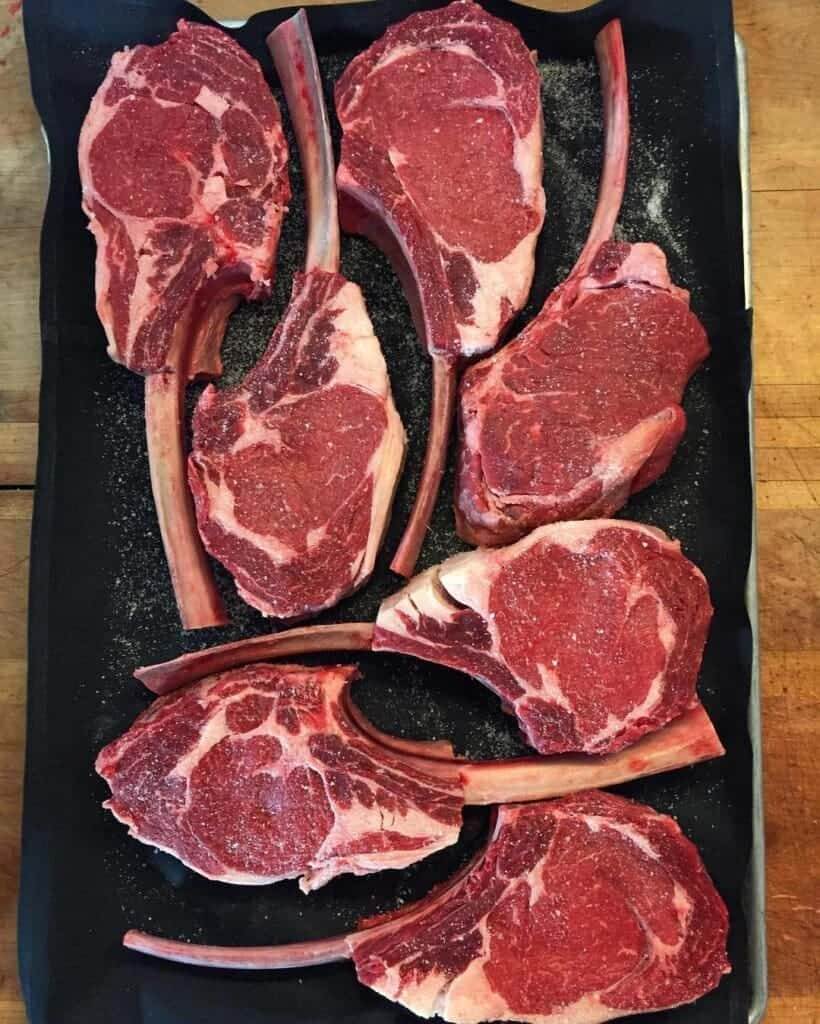 1.2 Beef/Lamb
Bavette–$34.95 / lb

Ribeye-$38.95 / lb

Wagyu New York Strip-$19.95 / lb

Short Ribs (with a day's notice)-$20.95 / lb

3/8″ Cut Short Ribs (with a day's notice)-$32.95 / lb

Wagyu Flank Steak-$23.95 / lb

Chuck Roll-$11.95 / lb

Stew Beef-$23.95 / lb

Hanger Steak-$48.95 / lb

Tenderloin-$8.95 / lb

Ground Beef-$13.95 / lb
2. The Steakhouse
A Steakhouse is a place that specializes in serving steak. The Laurelhurst market is among the best steakhouse places in Portland. Whenever a steakhouse comes to our mind, what we imagine is people having their meal wearing formal attire, as people usually go to steakhouses for corporate meetings or something like that.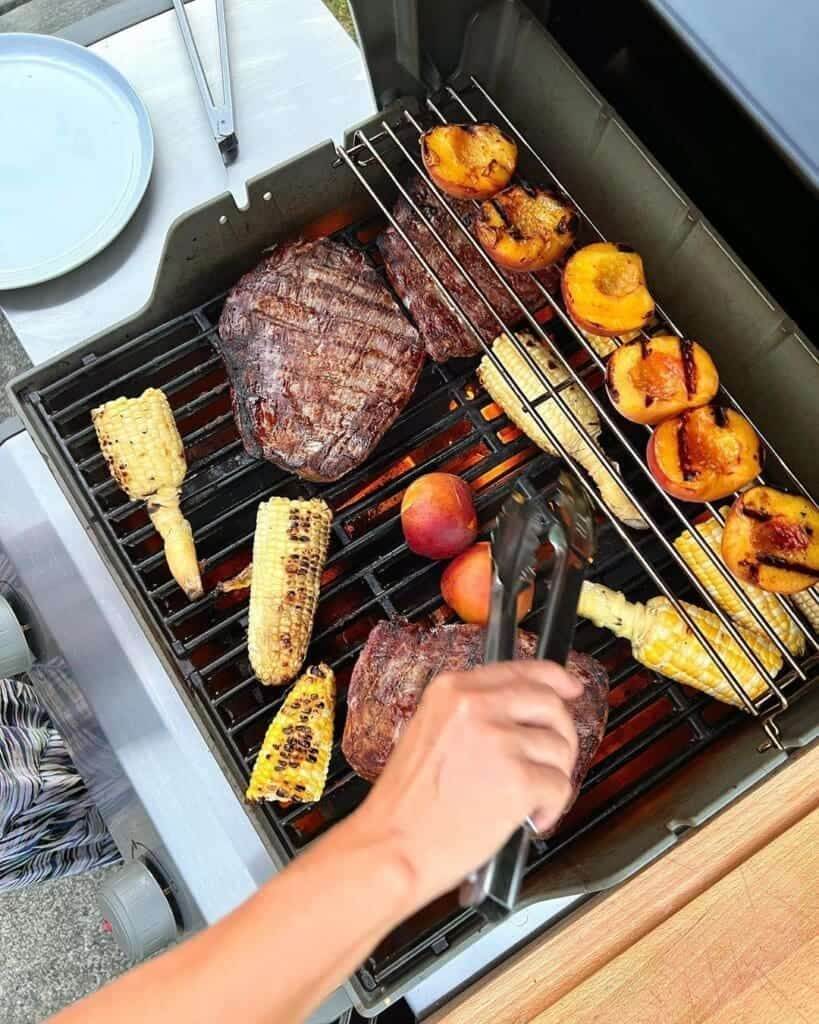 Some people find steakhouses very dull, but in Portland, this stereotype doesn't work; these tuxedo-wearing men and the theatric scenes we imagine go away. In this steakhouse, they serve lunch and dinner to their customers along with excellent quality beverages. They use fresh and tender meat from their in-house butcher shop.
Their menu includes some fresh and exotic dishes like
2.1 In Starters
Charcuterie Board
Steamed Mussels
LM Deviled Eggs
Beef Tartare
Griddled Corn Bread
Confit Spanish Octopus
Grapefruit Vinaigrette.
2.2 Lunch Menu
The time for lunch in Laurelhurst market starts from 11 am to 3 pm. All the service, from online ordering for pick up or delivery, by phone, pick up to outside sitting, is available here. They have a wide variety of dishes for lunch, which consists of-
LM Reuben
LM Burgers
Deli Sliced Smoked Chicken
Butcher chop salad and a side salad.
Braised Brisket Sandwich 
Grilled Seasonal Vegetables 
Ham and Salami on Ken's Artisan Ciabatta 
Chicken Sandwich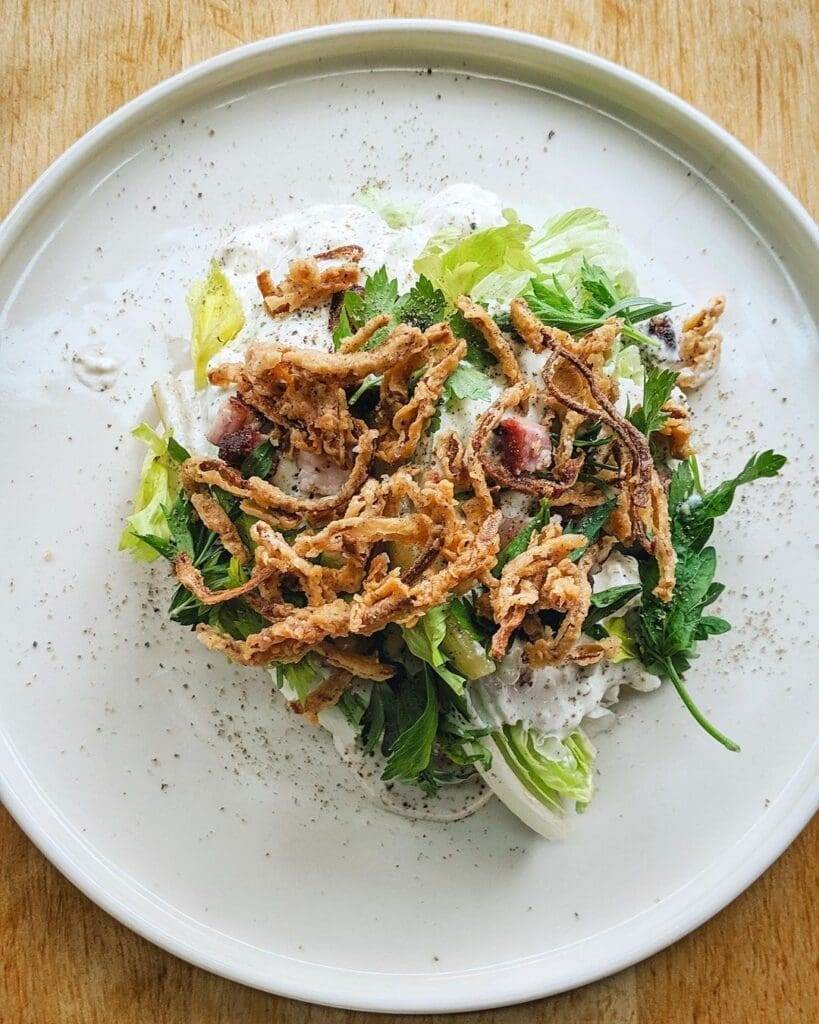 2.3 Main Course Menu
Brandt Ranch Ribeye– It is one of the most expensive dishes in the Laurelhurst market that includes Crispy Potato Pave, Bravas Sauce, and Charred Scallion Aioli

Steak Frites dish has ingredients such as Pan-Seared Brandt Ranch Flat Iron Steak, French Fries, Aioli, and Marchand de Vin Sauce.

Steak & Greens- It has a Pan-eared Brandt Ranch Flat Iron Steak, Garden Greens, Lemon Vinaigrette, and Romesco.

Cast iron Roasted Filet Mignon– This has Yukon Gold Potato Puree, Black Truffle Butter, and Green Peppercorn.

Grilled Double Cut Pork Chop-It includes ingredients such as Roasted Fall Apple, Pickled Mustard Seeds, and Smoked Cider Jus.

Snake River Farms Wagyu Flank Steak– It has Celery Root, Beech Mushroom Conserva, and Bone Marrow Butter as ingredients.

Cast Iron Roasted Salmon– It is cooked with ingredients that are Smokey Braised Winter Greens, Chorizo Verde, and Chickpeas.

Marinated and Grilled Hanger Steak– This includes Sunchoke, Grilled Treviso, and Black Garlic Bagna Cauda.
 2.4 Side Menu
French fries
Side Salad
potato Salad
Daily Soup
Tim's Potato chips
Beef Jerky
Chocolate Chip Hazelnut Cookie
Pickled Hot Mama Sausages.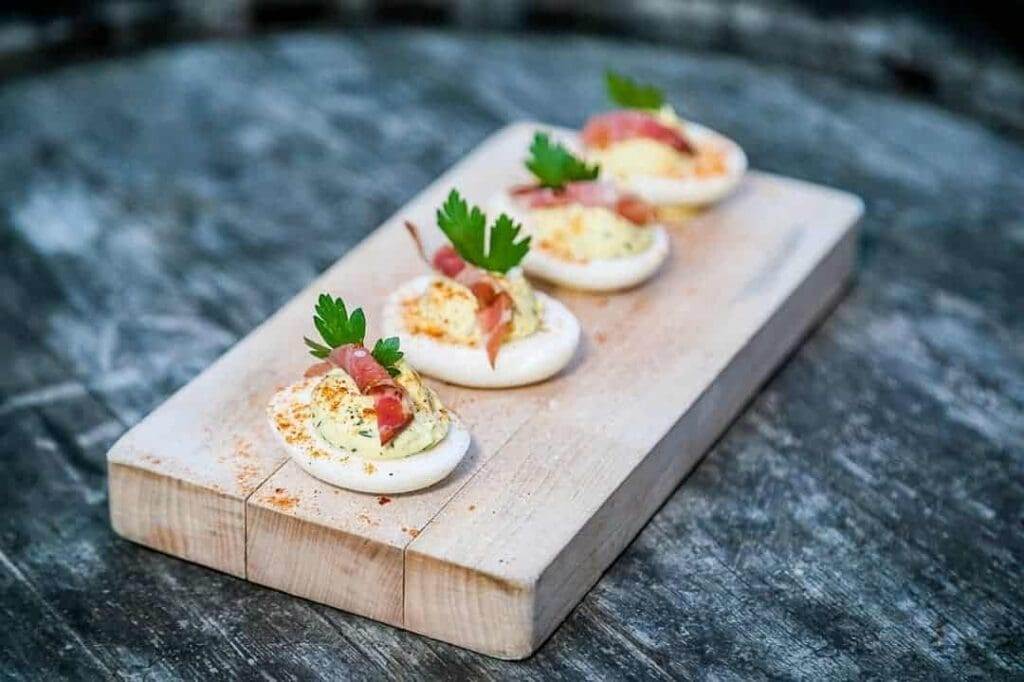 2.5 Salads
LM wedge– This salad has Iceberg, Blue Cheese Dressing, Celery, Bacon, and Crispy Fried Onions, served with Fresh Herbs.

Simple green salad- It's a simple salad with Shaved Carrot, Shaved Radish, Sunflower Seeds, and Lemon Vinaigrette.

Harvest– This salad is a combination of many varieties of vegetables and other ingredients are Raw, Grilled, and Pickled Vegetables, Roasted Pepper and hazelnut Romesco, Sunflower Seeds, Citrus Vinaigrette, and Preserved Lemon served with Soft Herbs

Roasted beets & winter citrus– This salad has Pistachio, Goat Cheese, and Shaved Fennel as its ingredients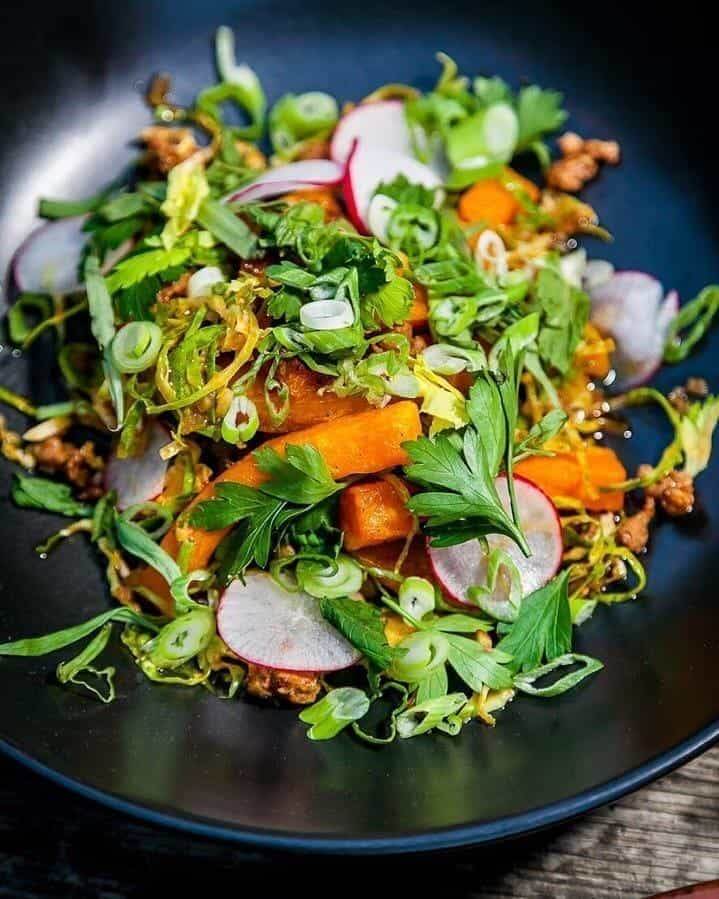 2.6 Side Menu
French fries– These French fries are served with Tossed Herbs and House Aioli.
Yukon Gold Potato Puree– This dish consists of Chives and Black Truffle Butter
Mac and cheese– In this, you have Caramelized Onions, Herbs, and Breadcrumbs to enhance the flavors.
Roasted carrots– These consist of Hazelnuts, Brown Butter Hollandaise, and Espelette.
Crispy Brussels sprouts- It is cooked with Garum Vinaigrette, Sesame, Medjool Dates, Soft, and Herbs.
Delicata Squash & King Trumpet Mushroom- This side dish has Wilted Spinach, Soy Maple Glaze, and Crispy Wild Rice as its ingredients.
Roasted cauliflower and broccoli– This has Tahini Vinaigrette, Golden Raisins, Spiced Chickpeas, and Herbed Yogurt as its ingredients.

From (Laurelhurst market)
2.7 Steak Additions
Cowboy candy,
Seared Hudson Valley Foie Gras
Horseradish Cream
Smoked Marrowbone
Chimichurri
Smoked Marrow Bone.
2.8 Desserts
VanilCocoaan- This has Passion Fruit Caramel, Winter Citrus, and Basil as its ingredients.
Apple miso butterscotch cake
Chocolate Caramel Mousse- This Mousse has Peanut Butter Sorbet, Cocoa Nib Caramel Corn, and Caramelized Banana.
Chocolate chip and hazelnut cookies.

From (Laurelhurst market)
From starters to desserts, you will find exquisite varieties of dishes with a range of flavors and ingredients in the Laurelhurst market.
2.9 Beverages
To experience the best flavors of steak, it should be paired up with an excellent glass of cocktail because a fine steak requires a fine glass of cocktail. In Laurelhurst market, they serve both modern classics like smoked signals created by smoked ice and pecan syrup and tropical touch fruit-based drinks. The bar manager in Laurelhurst Market is Eric Nelson. The menu includes drinks like –
Cocktails include cases, fat old friends, crooked rain, smoke signals, sometimes maybe, and pillow talks. All these have ingredients like Rum tequila, bourbon, vodka, lime, and many more different ingredients.
Beer
Wine by the glass
Wine by the bottle
Corkage
Achievements by Laurelhurst Market
Best Restaurants 2009
Portland Monthly magazine, in November 2009 edition, wrote that Laurelhurst market is the new Favorite restaurant of Portland to visit on weekends as it is an all-in-one-American brasserie, butcher counter, lunchtime sandwich shop, and neighborhood diner.

The Oregonian, October 2009, wrote that it's not a lavish place but a neighborhood-friendly place to visit. Starting from having a Butcher counter to the dining room. It also has a bar for people to enjoy.
Best New Restaurants 
2010 Rising Star of the Year– The Laurelhurst market Oregonian newspaper diner guide in 2010 wrote-"serious, butcher-driven, casual and sly enough to take the ranch and transport it to a sophisticated but informed urban setting. Laurelhurst Market is Portland at its best, and we are sanguinely bullish on this rising Market". Roger Porter, the writer of this newspaper, wrote these lines complimenting the restaurant.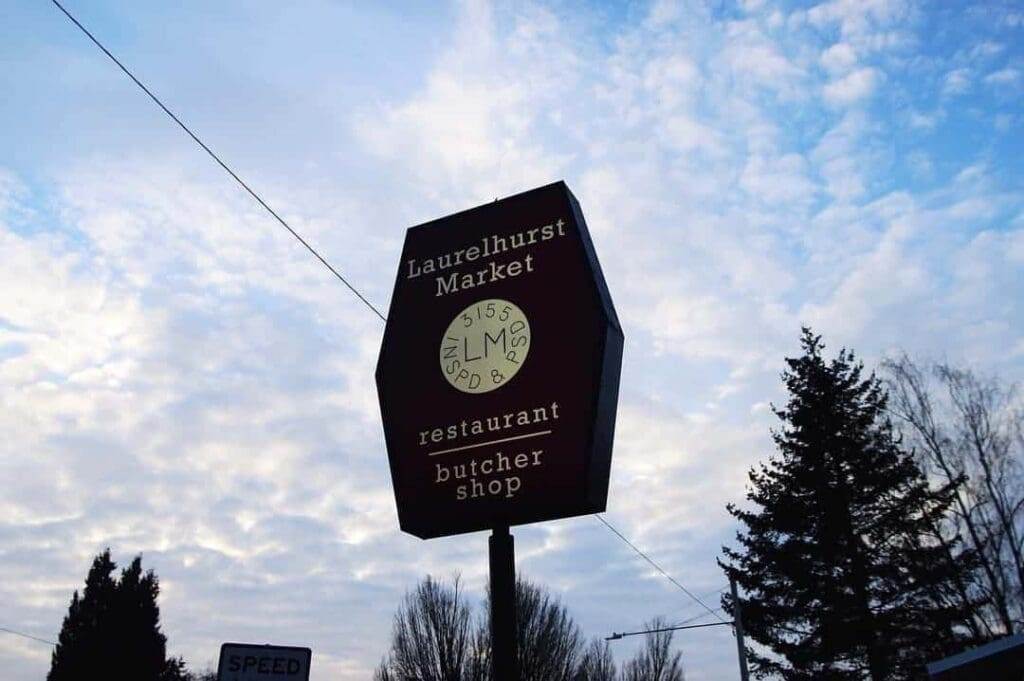 Bon Appetit magazine in September 2010 wrote, "Part steakhouse, part butcher shop, 100 percent ode to all thing's meat – this is "The Year In Food" distilled into a single restaurant. All the good steakhouse cliches (fun, raucous) without all the bad ones (super-expensive, boys' club).
The Year 2015
Willamette week, October 2015 -"Few experiences better sum up the unpretentious comfort of Portland's restaurant scene like Laurelhurst Market.
You can easily spend $65 for a cocktail and a cut of meat, but you can do so dressed like you just finished pouring well whiskey at one of the area's many dive bars. It's a beautiful thing, but even more beautiful is the array of grass-fed beef and the many forms it takes under the steady hand of newish chef Ben Bettinger."
Portland's Best Restaurant
The Oregonian, in May 2016, complimented the restaurant on its classic restaurant ambiance, excellent quality fresh ingredients, pocket-friendly price, talented staff like chef Ben presenting, extraordinary dishes to their customers, and how the restaurant is constantly growing. The menu is also getting stronger as the year passes, neighborhood-friendly and popular day by day.
Conclusion
In the above article, you can get all the relevant information a person is looking for before visiting the Laurelhurst market, starting from food to drinks. This is a neighborhood-friendly steakhouse.
So, do visit Laurelhurst Market in Portland.
Address: Parking, 3155 E Burnside St, Portland, OR 97214, United States.
Phone: +1 503-206-3097
Reservation: opentable.com 
Order: doordash.com, toasttab.com, trycaviar.com
Service options: Dine-in · Kerbside pickup · Delivery