The new green tea on the drinks aisle seems to dominate and make all go "green" with envy…
The latest obsession with matcha seems to stay. After all, this Japanese import has gotten us to go gaga over its umami taste and wide stopper of health benefits. So get your bamboo whisk to get matcha-ing right away!! Buying matcha green tea leaves into your daily routine is sure to unlock a plethora of health benefits.
What's up with Matcha?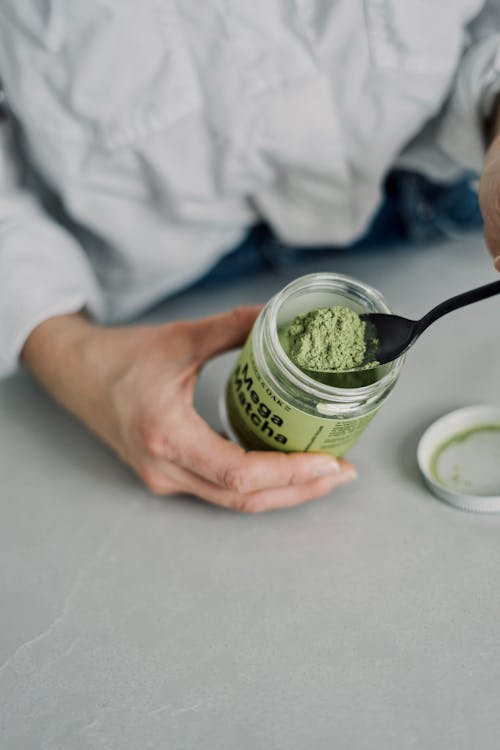 Amidst the wide range of teas in the market today, matcha is the current conversation starter at the table.
Matcha is the "millennial sister" of dear old green tea. The green tea leaves from tea plants are kept under shade for over 28 days. The veins and stems are picked a part of the green tea leaves and are then pulverized. Drinking matcha is tremendously beneficial.
The History of Matcha
Tea has always been synonymous with China. The Chinese Song Dynasty was known to have followed an elaborate process of processing tea leaves. However, it is said that the Japanese perfected the process of making matcha.
The history of making matcha in Japan can be traced back to the 8th or 9th centuries.
Know thy matcha
It is always good to know what our ingredients are like and how to use them best. There are different varieties of matcha available in the market, and it cannot be very clear to navigate your food store aisle. There are mostly two main categories of matcha general in the stores- ceremonial grade and culinary grade matcha.
For all baking purposes, you can go for the culinary grade Matcha. You also face different grades like the latte grade, café grade, and classic grade. For a good cup of just matcha tea, the ceremonial grade is your best bet. However, the culinary quality is best when you use matcha as an ingredient for a dish. High-quality matcha is a very fine powder.
Why go the Matcha way?
Matcha has health benefits that make it way more potent than just an Instagram prop. It combats high blood pressure, reduces the risk of heart ailments and cancer. Matcha bolsters your metabolism like none other and amps up your weight loss journey.
Having a matcha drink or incorporating organic matcha has also been found to reduce the LDL or bad cholesterol in the body. The slightly bitter powder is easily malleable to suit the taste buds.
A piping hot cup of Matcha tea
Frothy and warm, the best combo you could ask for
Sift the Matcha powder, preferably ceremonial grade matcha powder, to get rid of lumps and ensure you get rid of lumps. We highly recommend you lay your hands on a bamboo matcha whisk to get really fine powder, which you would mix in with a little bit of hot water to form a fine paste.
A milk frother could also be perfectly fine to jazz up your drink. Pour in hot milk – any one of your choices – be it almond milk or oat milk, even go bold with coconut milk.
Your matcha tea is all set, and all you need are your best pals to come over for a ceremonial matcha tea party.
Feel Good with Matcha
Unlike regular green tea bags, where the leaves are not incorporated, matcha powder or the green tea powder chooses to differ.
The high levels of chlorophyll impart the Instagram-worthy vibrant green color to it, and unlike other teas, you entirely ingest the entire antioxidant-rich tea leaf. Matcha is drenched in anti-oxidants thanks to the catechin called egcg.
Dollops of Health
The bright green matcha powder is rich in amino acids and a better caffeine dose than your old regular cup of coffee, a headway into a healthy lifestyle. Making matcha with the bamboo whisk called Chasen is convenient and relaxing after a long day at work.
One for the sweet tooth
Matcha Brownies
Not all matcha has to be bitter
Well, Halloween is right around the corner, and instead of making a beeline to the nearest coffee shops near your house for your caffeine fix courtesy of your yummy matcha latte, you can get in your daily dose of matcha with some sinful desserts!
Enjoy matcha the sweet way and treat yourself with some quality matcha flavor.
With their distinctive flavor, these green matcha brownies are sure to be piled up on the plates and become conversation kick-starters with just how vibrant green yet delicious they are!
With the added Sugar, the bitter taste of the matcha, which to many is an acquired taste, can sure be gotten rid of for desserts.
INGREDIENTS
High-quality culinary grade matcha 1 to 2 tbsp
( Note: High-grade ceremonial matcha is apt for drinking)
White chocolate bits – 113 g
Vanilla extract – 1 tsp
Flour – 96 g
Brown Sugar – 64 g
Granulated Sugar – 32 g
Baking powder – 1/4 tsp
Butter – 64 g
Two eggs and one yolk
Salt- 1/2 tsp
GET SET BAKING…
Melt in the butter and white chocolate together in the microwave.
In the mixer bowl, add in the eggs with the sugars and whisk them until well combined.
Add in the melted white chocolate and mix well.
Sift in the dry ingredients, including the matcha.
In the preheated oven ( up to 350F), bake the brownies for a good 20 minutes.
These Brownies are all yours to devour!
CHIA AND MATCHA – A Match made in Heaven
Take a bite to the paradise of Health for a great start…
The importance of a healthy and filling breakfast is indisputable. Making it healthy is always a challenge. The woe ends with this perfect combination of chia and green tea matcha. To drink matcha lattes is not the only way to add matcha magic to your breakfast, after all! You can combine the goodness of Chia seeds with the recreating and novel dash of matcha.
Ingredients
Green Tea Matcha Chia Seed Pudding
Fresh black or white chia seeds
Fresh matcha green tea powder
Milk – Almond Milk, Coconut Milk, all up to you!
Sweetener – Sugar, Honey, or Maple syrup to fight off the slightly bitter taste
Getting in your ingredients together
Whisk away the matcha powder to get rid of clumps like always.
Decide the chia seed and milk proportion according to your liking.
Vigorously stir the ingredients till the chia seeds plump like tapioca pearls.
Welcome the Fall with some Matcha
As we catapulted into the season of the fall, matcha can come to your rescue! With just the right amount of warmth and love, a good matcha drink can go a long way as you cozy up and catch up on the latest Netflix releases.
Spruce up your good old Matcha Latte with some spices
To the matcha powder, all you have to do is add some ground cinnamon, ground turmeric, and ground ginger to the green tea powder and mix well with the bamboo matcha whisk. This adds a great flavor profile to your regular matcha lattes and gives the traditional green tea an oomph.
The Green Mask for the Morning Ritual
Go the Kourtney Kardashian way!
Matcha masks are great solutions to combat inflammation, fight pollution problems, act as an anti-aging agent, and give your skin a new lease of life! Just one teaspoon of matcha coupled with half a teaspoon of raw honey can do wonders to your skin. Matcha also can be layered on the face as a mask to leave your skin re-energized and invigorated.
Hair Woes go away with matcha
For a healthy mane
Ingredients
Matcha Green Tea Hair Mask
Coconut Oil – 1 tbsp
One egg
Matcha green tea powder – 1 tbsp
comb
Mixing away
Take the organic matcha powder and add it to the wet ingredients. Mix well and apply it to clean hair, and massage the paste into your roots. Use the comb to ensure that you brush in the paste well and it seeps through well. The free radicals in matcha are bound to create magic.
Playing with Matcha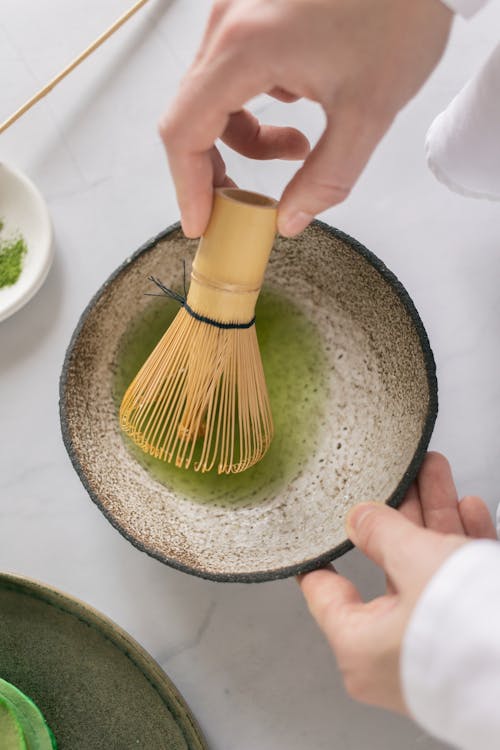 Matcha as an ingredient is really versatile, fun, and most importantly, really healthy. Matcha powders have been found to play a crucial role in helping improve heart health and aid in cancer prevention while helping prevent chronic disease and impede cell damage.
It has been revealed that while it is that good shot of caffeine we yearn for, a cup of pure matcha is way more beneficial. The L-Theanine in matcha boosts memory and undo side effects from caffeine, a natural component of green tea. Therefore armed with five times the amino acids in black tea or any other green tea is for sure a "superpower."
A word of caution
Matcha contains caffeine! Overconsumption of matcha can lead to caffeine-related side effects like rapid heartbeat and inability to sleep. So be judicious!! Drinking way too much of anything can make things go haywire, so is the case with matcha!
How do you "Matcha?"
With so many uses and recipes, we are pretty sure you might have tasted matcha or are excited to try it out! Let us know your favorite matcha recipes and hacks in the comments below!
Verified Content by Experts
USA Tales has content written by niche experts, travelers, students, and those with real-life experience. Our content is also periodically reviewed by subject matter experts to ensure content accuracy and relevancy. Have a question? Email us at team@usatales.com