Located in Atlantic County, New Jersey, in the United States of America, Brigantine Beach is a perfect destination for a vacation! It comes under the city of Brigantine, or simply, Brigantine Island.
There are undoubtedly a lot of stunning beaches in New Jersey. But Brigantine Beach serves as a pristine hideaway from the busy lives of families these days and saves them from the commotion on the other NJ beaches.
Basic Things You Must Know About Brigantine, NJ
Before we hop on to the facts about Brigantine Beach, let's go through some basic information about the beach, Atlantic City, and the city of Brigantine.
Geographical Details of Brigantine Beach
With its natural beauty and fresh ocean air, it is definitely one of the most beautiful tourist attractions in Atlantic City and New Jersey. It covers an area of 28.14 square kilometres, out of which 39.98% is water.
The waters of Brigantine Beach are a part of the Atlantic Ocean. On its internal borders lie the Atlantic County municipalities of Atlantic City and Galloway Township.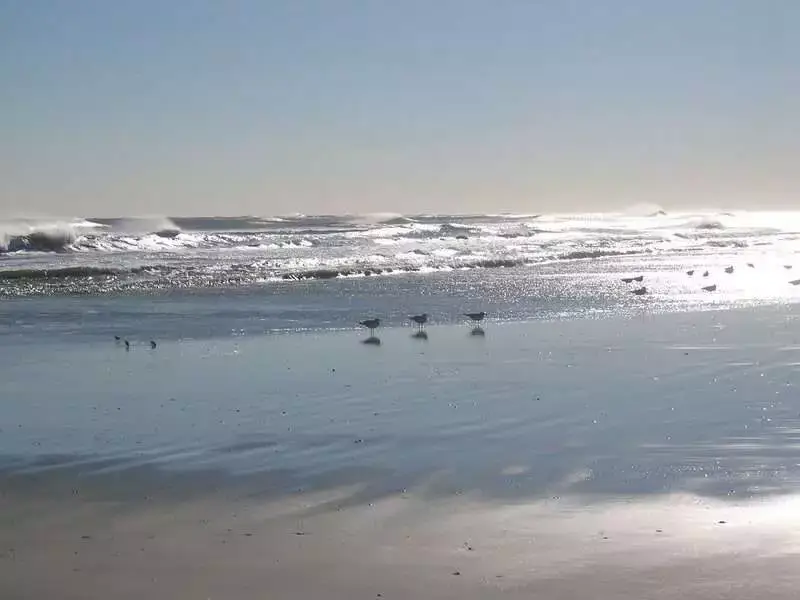 There exists just one road for commuting to and from Brigantine Beach, which is locally called Brigantine Boulevard. It crosses the Justice Vincent S. Haneman Memorial Bridge of Atlantic City and connects to New Jersey Route 87 (Brigantine Boulevard).
Visitors can enjoy the amazing amenities that the scenic town of Brigantine offers while also getting a chance to spend time in other famous locations. Brigantine Beach is just an hour away from Philadelphia, and it takes two hours to visit New York City from there. Transportation facilities like buses are available to help the visitors successfully carry out their travel plans to New York, Atlantic City, and Philadelphia.
Education in Brigantine, NJ
Brigantine has two public schools as of the 2018-19 data. These schools provide education for pre-kindergarten, pre-primary, primary, secondary, and higher classes. In case you decide to settle in Brigantine with your family, you may also look for schools in Margate City, Atlantic City, Longport, and Ventnor City, as they are close to the city.
Transportation in Brigantine, NJ
There are a total of 103.7km of roadways in the Brigantine, New Jersey. These are maintained by Atlantic County, the South Jersey Transportation Authority, and New Jersey Transportation Authority. There is only one road connecting the island to the main city, which is known as the Brigantine Bridge. NJ Transit renders bus services all around Brigantine and Atlantic City.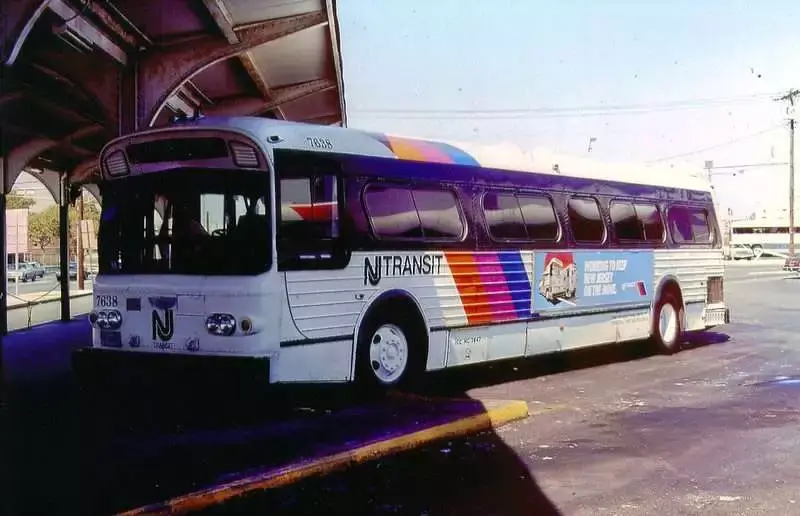 Government of Brigantine, NJ
The city of Brigantine was registered under the Faulkner Act in 1989. The current Mayor of Brigantine is Republican Andy Simpson, whose office term ends on 31st December 2022. Since its location is in New Jersey, the city of Brigantine is represented in the Second Congressional District of NJ.
The climate of Brigantine, NJ
Brigantine has cool and pleasant winters, hot and moderately humid summers, and little precipitation throughout the year. The climate of Brigantine, New Jersey, is classified as a humid subtropical climate, with the hottest months being July and August, while being the coldest in January and February.
Atlantic City
Atlantic City (A.C), situated in Atlantic County, New Jersey, is a coastal resort city. Located on Absecon Island, it shares borders with the Atlantic Ocean, Brigantine, Ventnor City, Pleasantville, Egg Harbor Township, and Absecon.
You must have heard a lot about Atlantic City, New Jersey, because of its casinos, resorts, boardwalk, restaurants, and beaches. One of the main attractions people find in this city is legalized casino gambling. The people of New Jersey voted for casino gambling to be legalized in 1976, and soon after, in 1978, the first casino in Atlantic City was opened.
Popular Tourist Attractions
The Atlantic City Boardwalk is one of the prettiest things you would see at night! A trip to this beautiful town would be enjoyable for all ages. You may also consider it a good family holiday destination due to the various tourist attractions that exist in Atlantic City.
You could visit the Atlantic City Aquarium with children, where swimming is allowed for professionals and certified people as well! Then comes the Absecon Lighthouse, which is a coastal lighthouse located in the South Inlet of Atlantic City, also known as Absecon Inlet.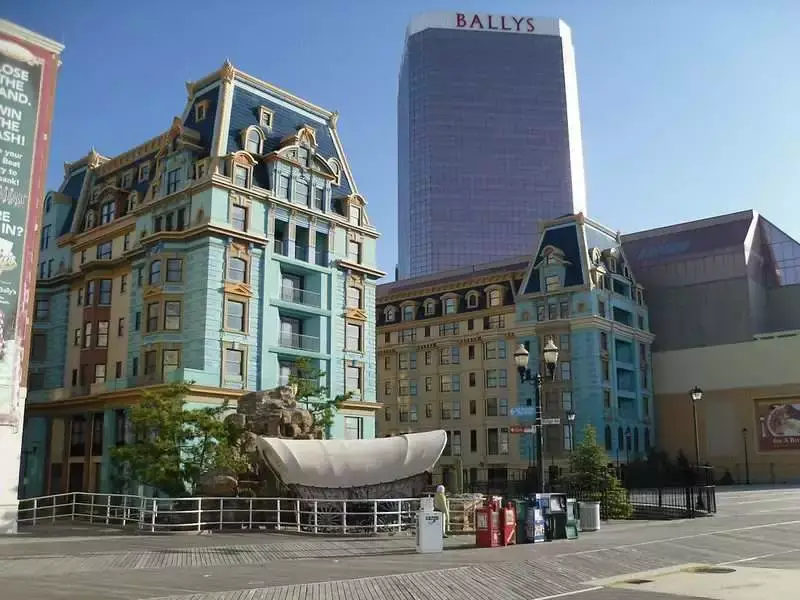 Even an American television series by the name Boardwalk Empire was shot in Atlantic City, New Jersey, in 2010. Recreational centers and parks are also situated in this city, with oceanfront beaches accessible to the general public and overseen by lifeguards.
At the south end comes Margate City, widely known for an elephant-shaped novelty architecture called Lucy the Elephant. It must be on your visit list if you've planned to go to Atlantic City with kids!
Atlantic Ocean
It is the second-largest water body on our planet, after the Pacific Ocean. It covers an area of 106.5mn square kilometres, which is around 20% of the Earth's surface area! It is divided into two parts – the Northern and Southern Atlantic Oceans. This 150 million years old water body goes as deep as 27,841 feet at the Puerto Rico Trench.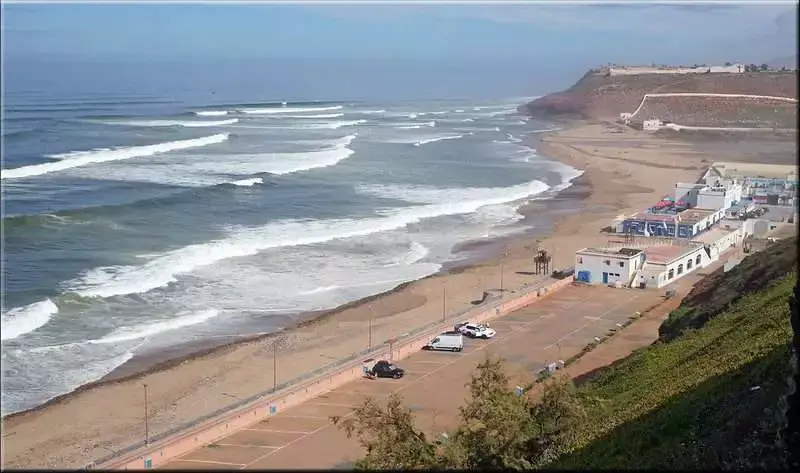 Surrounded by Puerto Rico, Miami, and Bermuda in North Atlantic, the Bermuda Triangle is also situated in this ocean. In case you were wondering, yes, this is the ocean that the Titanic sank in.
How is it related to Brigantine Beach?
The waters of Brigantine Beach originally belonged to this ocean. Usually, the temperature of the water at the beach keeps on fluctuating between 38 degrees Fahrenheit and 42 degrees Fahrenheit.
Harbor Beach Blvd, New Jersey
This Boulevard street is a residential area near Brigantine Beach. It comprises rentals, mansions, condominiums, resorts, and restaurants. If you're planning a family holiday to Brigantine Beach, you may consider Harbor Beach Blvd (Boulevard) as an option for your stay. It has golf courses, playgrounds, turfs, and sports grounds as well for recreational purposes of the residents.
9 Facts About Brigantine Beach
As good as a beach can be, Brigantine Beach also has the joys of the ocean, sand dunes, the perfect date night, surfing, fishing, and a lot more! But let's dig into some cool facts about Brigantine Beach that will make it your next trip location.
1) Brigantine Inn and World War II
During the 1944 to 1962 period, Brigantine Beach survived disastrous storms, which resulted in the conversion of Brigantine Inn into the site of the Coastal Warning Service of the US Army during the Second World War.
The US Army made a cove at the bay on this island and operated from Brigantine Beach itself. The local citizens of Brigantine Beach sacrificed a lot during this time. However, in the past few decades, Brigantine Beach has been maintaining a population of about thousands of people finely.
2) Captain Kidd and the Treasure
The year 1698 brought to Brigantine Beach a notorious Captain Kidd (a pirate from Scotland) and his brass-bound, heavy leathered sea chest. He buried the chest in the dunes of Brigantine Beach and sailed around Brigantine Inlet.
His romance started when he was charmed by a lady of the Ocean County the name Amanda, who persuaded Captain William Kidd to end his career of loots and robbery. He then decided to divide a part of his loots among his crew members and bury the rest in the sand on Brigantine Beach.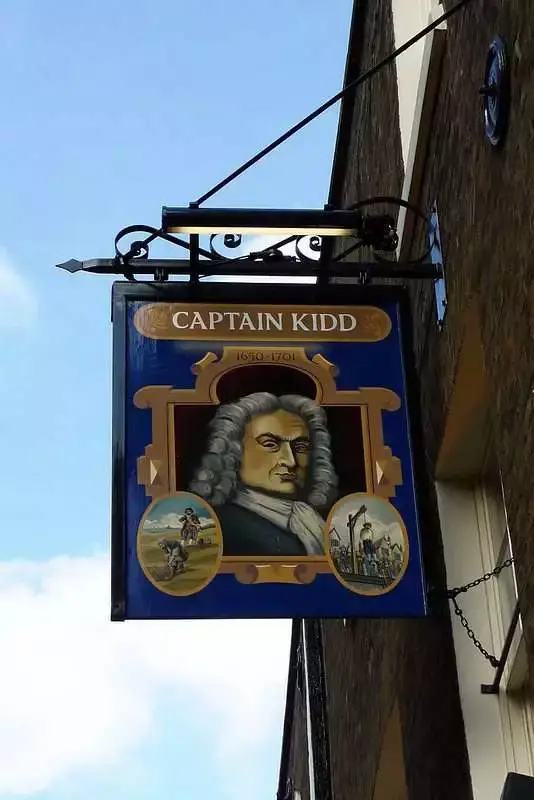 However, he was betrayed by an unfaithful crew member and was later caught in Boston in 1699. After several trials in England, he was found guilty and hanged in London in the year 1701. But the surprising element in this story is that the chest buried at Brigantine Beach has never been found, even after searching the entire island!
3) Headquarters of Blackbeard
The legendary pirate Blackbeard, otherwise known as Captain Teech, was another pirate who visited Brigantine Beach in his pirate days. After ascertaining the danger around the Caribbean, he started sailing around Brigantine Beach and turned a small island on its south end as his headquarters.
Soon after came the time when he was about to be caught by the Britishers. But he sank himself a few feet deep in the waters of Brigantine Beach, breathed through a thin reed, waited for the searchers to pass, and finally had a successful escape to the Spanish Main.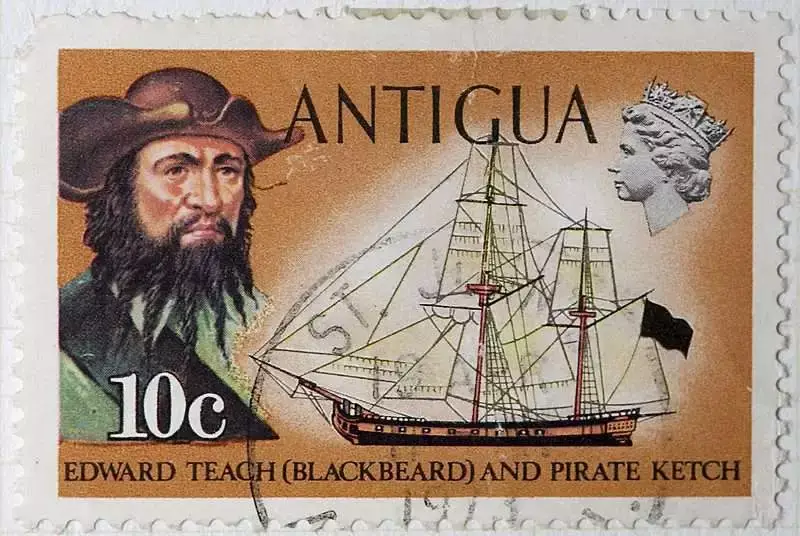 4) Marine Mammal Stranding Center
The story starts around the time of the American Revolution when various American pirates and patriots hid in the north end and south end of Brigantine. They used to execute sudden attacks on British ships that were disabled or unwary.
During the period of war, salt manufacturing and ship-building were two major industries that people worked in. So, whalers used to attack migrating whales that came from New England, from Brigantine Beach.
To curb such losses, Brigantine started Marine Mammal Stranding Center to assist injured or sick dolphins, whales, sea turtles, and seals. In the North End is the Brigantine Wildlife Refuge, which provides a safe haven for rabbits, foxes, and birds.
5) North Atlantic City
Is there an actual place by this name? No, but there once was! Brigantine, New Jersey, was named North Atlantic City for a certain period of time.
This was because, in the late nineteenth century, developers made several attempts to develop the city of Brigantine on a significant scale. Thereafter, the Brigantine Improvement Company briefly referred to the island as North Atlantic City in response to one of the developer's attempts.
6) Inexpensive Beach Tags
The passes that we use to visit a beach area are known as beach tags. The money generated from these tags is used for the maintenance of the beach, providing lifeguards, issuing a beach badge for each individual associated with the beach, etc.
At Brigantine Beach, the charges for beach tags are minimal and vary depending on the age of the visitor. People above the age of 65 are given a free tag per individual!

Additional costs
Restaurants and shops on the street would charge you for food and products. But these are the only additional costs associated with your visit to Brigantine Beach.
7) Kayaking is available at Brigantine Beach.
Once you acquire your beach tags, you are permitted to use the amenities of Brigantine Beach! Spend hours and hours kayaking, and no one would mind.
Since the crowd is lesser compared to the other beaches in New Jersey, you get a better chance to pass the day sailing on a kayak. Children are also allowed to sit in kayaks under professional guidance. Kayaking is an important center of attraction for Brigantine Beach.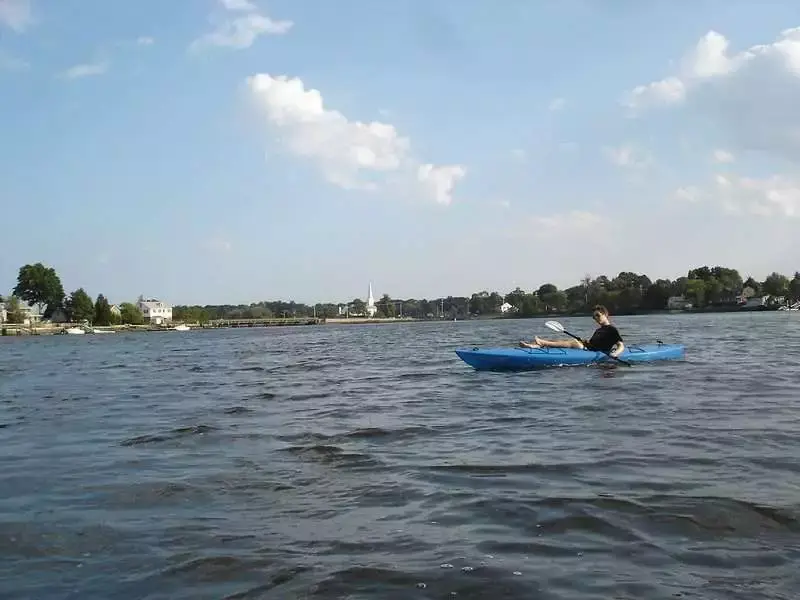 8) Dogs are allowed
Brigantine Beach has also allowed leashed dogs not more than the height of 6 feet at certain parts of the beach. This makes it a complete family destination, including that goofy dog of yours. However, any damage to the snow fences, sand dunes, or barriers along the beach would result in a penalty.
They also have strict non-smoking policies. So what are you waiting for? Don't just walk with your kids along Brigantine Beach. Bring your dogs and let them have a walk around the coastline too!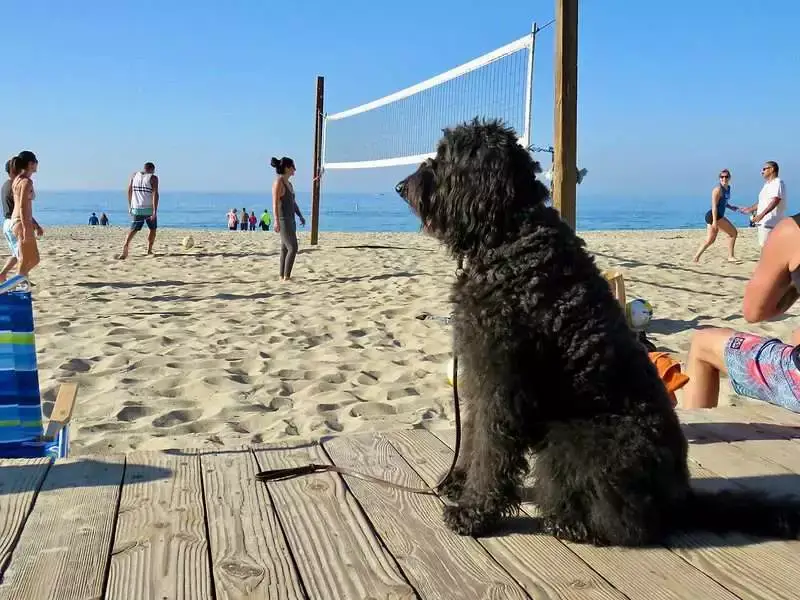 9) Jet-skiing, kite-flying, surfing, and a lot more
Brigantine Beach offers the visitors almost all the activities they'd wish to do at a beach. You can go jet-skiing all along the waters of the beach, fly kites at certain spots, and surf at the beach! No matter what your specialization is in surfing, you can still try your hand (your whole body, actually). The beach also provides trainers for beginners at surfing.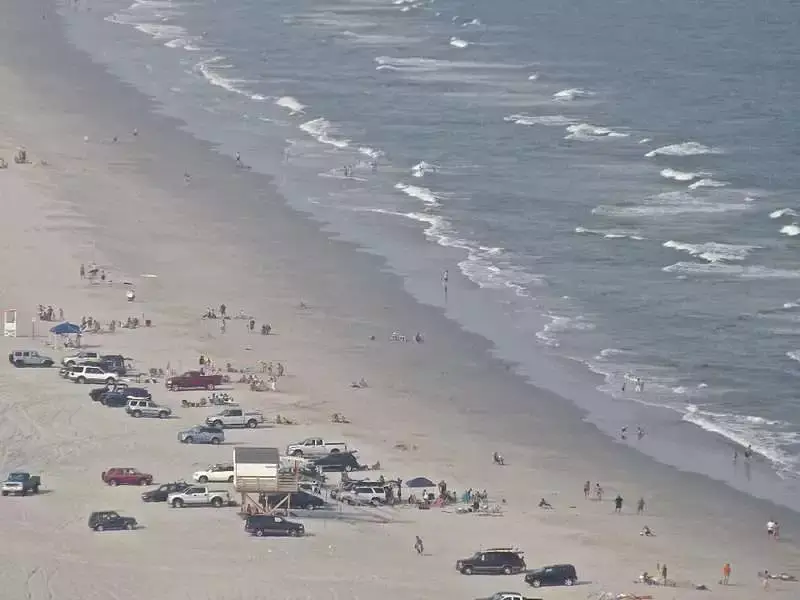 What do we mean by "a lot more"
Apart from these activities, you can also stroll around for street shopping, enjoy the delicacies of the many restaurants in and around Brigantine Beach, and have fun while paddle-boarding!
Another very obvious thing is swimming, which is one of the main things to do at a beach. But make sure you check out the dates and timings for the availability of spots for these activities since the beach follows schedules according to Labor day.
Conclusion
We hope that this article served as a good source of information about Brigantine Beach and topics related to it. Now that you know the basics of Brigantine and some usually unknown information about the city and Brigantine Beach, it wouldn't cause you much trouble if you're planning on visiting the area.
That's because you're somewhat familiarized with the location already with the help of this article! So go get a tan on Brigantine Beach as you swim, street-shop, walk and enjoy the various activities and amenities that the beach offers.
See Also: 5 amazing things to know about Marco Island Beach.
Best Boarding Schools in California.
Best Time to go to Puerto Rico.
Click here to read more with us.
Verified Content by Experts
USA Tales has content written by niche experts, travelers, students, and those with real-life experience. Our content is also periodically reviewed by subject matter experts to ensure content accuracy and relevancy. Have a question? Email us at team@usatales.com