Are you an adventurer, an outdoor enthusiast, or simply wanderlust looking for the perfect ski resort to make your ski trip memorable and fun? If yes, then stop your search right here as Colorado ski resorts will check all the boxes on your bucket list.
Colorado, meaning 'colored red' is one of the mountain states of the US. Colorado's majestic mountains, vivid landscape, exuberant lifestyle, unmatched outdoor recreational activities, and delicious food draw tourists from all over the world to this winter land.
Colorado ski resorts are widely regarded as the best skiing and snowboarding destination in the country. Colorado has 32 ski resorts and some of them are regarded as the best in the world.
Travelers, gear up, you are in for a ride!
A. Things to consider while choosing a ski resort
Before we jump into the different types of Colorado ski resorts, you need to make sure to consider a few factors while choosing the perfect ski resort for your winter trip. Nothing should go south in your perfect ski holiday, so planning ahead is your key to achieving that.
Finding the perfect resort can wind down to your personal preference, budget, convenience in location, and your as well as your group's skill level. You must be comfortable to make the most out of your ski trip.
Ask yourself these questions while choosing the perfect ski resort for yourself.
1. What kind of skill level do you have?
This question is of immense importance while selecting the resort that you are going to stay in. Whether you are a first-timer looking for beginner runs or an advanced skier looking for more expert terrain with deep bowls and forests, choose the ski resorts according to your skill sets.
2. How much distance are you ready to travel?
In Colorado, while some ski resorts are near the Denver International Airport, a few of them might take hours of traveling to reach. Take into consideration whether you are motion sick, and the distance between different resorts if you are planning to go to more than one.
3. What is your budget?
Another essential thing to keep in mind while planning is the budget for the trip. Colorado is quite an expensive state in terms of its tourist spots, especially during the peak season. While some Colorado ski resorts are feasible and family-friendly, the best resorts, like Vail, are expensive with their daily lift tickets as well as accommodation.
You can also look into season-summer passes like the Ikon pass or the Epic pass to save a few bucks.
4. Are you looking for activities other than skiing?
While Colorado ski resorts offer the best skiing experience of a lifetime but it offers so much more than that. You can engage in other activities like snow tubing, fat biking, hiking, ice skating, and a lot more, whatever tickles your adventurous spirit, you can try them here.
Aspen, Breckenridge, and Steamboat Springs have some of the best ski towns where you can shop, eat and even try Colorado's famous craft beers (something you would not want to miss).
5. What kind of group are you traveling with?
If you are traveling with your whole family and have children in your midst, then you have to make sure that the ski resort you choose offers ski schools and that the mountains have nursery slopes for beginner and intermediate runs.
6. What time of the year are you visiting?
It is important to consider the time of the year you are going. Whether you want to go during the off-season or not? Is a large crowd a deal-breaker? Is the snow reliable during this time of the year or during which months will you find the most snow? Are you eyeing any specific festival you want to attend?
You should answer all these questions while looking for the resort. Make sure you do your homework and look through your options, keeping these questions in mind while choosing your perfect ski resort.
[For more tips and information click here to plan your upcoming family skiing holiday.]
B. Colorado ski resorts
The ski season in Colorado begins in October and November and the first three months of the year are when you will find the most snow. Colorado offers a ton of options in terms of ski resorts. From luxurious and world-class resorts with easy access to ski towns and endless terrain to smaller resorts with groomed runs and affordable accommodation options, Colorado ski resorts have got you covered. If you have an Ikon pass or Epic pass, use it in the Summer County region of Colorado.
Finding the right resort for your ski trip could be a daunting task. Before finalizing the details, make sure to check the timings and dates of the resort. Also, don't forget to carry enough warm clothes and basic amenities. The high altitude of the mountains is something that first-timers may not be prepared for so try skiing in lower elevations first. Make sure you have everything you may need from warm clothes to medicines before going onboard.
1. Vail Ski Resort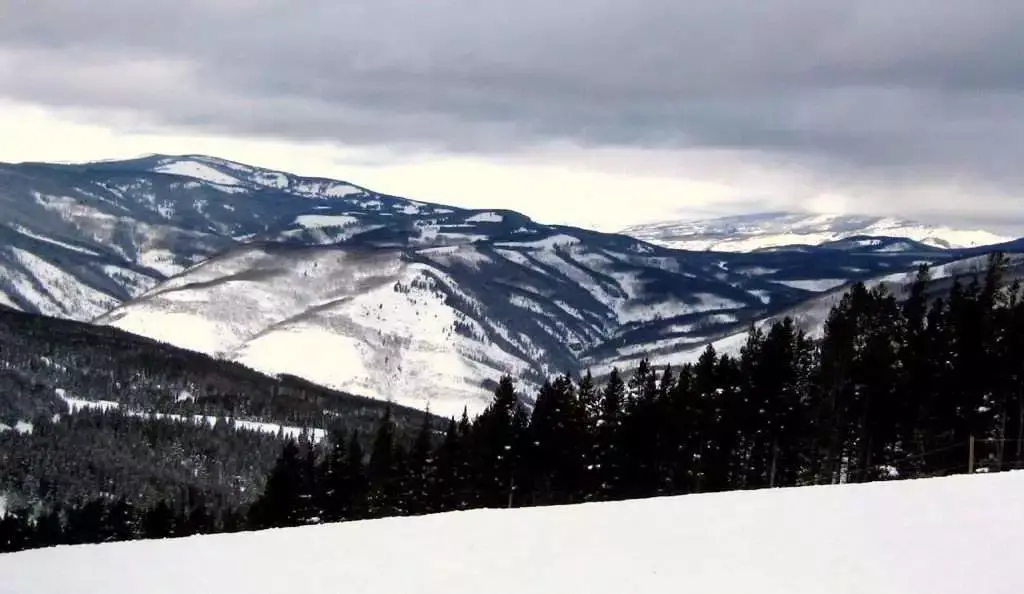 If you are looking for a diverse Colorado resort with everything in one place, Vail Ski Resort is just the right place. With 5317 acres of skiable area and more than 350 inches of snow, there is never a bad day to ski here.
Vail Ski Resort is known for its legendary seven back bowls, incredible views, three terrain parks, and is considered to have the best terrain in Colorado. You will find all kinds of skiable terrain here, from long groomed runs for beginners and intermediates to tree skiing, moguls, and steeper slopes at the backside for more advanced skiers.
At the base of the mountain, lies the Vail town. Here you will find accommodation for all price ranges, top restaurants for fine dining, and some of the best places for shopping. It is also a good spot for outdoor activities like hiking, fly fishing, and enjoying cultural festivals.
Even though Vail Ski Resort is one of the best ski resorts in Colorado, it is quite expensive to stay here. Lift tickets, lodging options, or restaurants, usually cater to high-end travelers who look to relax in the lap of luxury and just want to get pampered.
2. Aspen Snowmass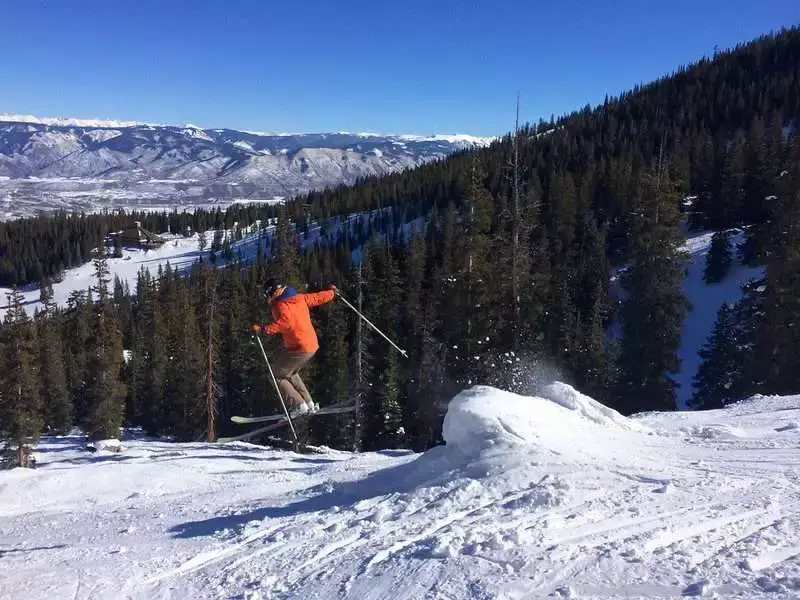 Aspen Snowmass is a combination of four ski resorts- Aspen Mountain, Aspen Highlands, Snowmass, and Buttermilk. All the Colorado ski resorts have something unique to offer and Aspen Snowmass doesn't fall behind. You can have the experience of four ski resorts within a few minutes distance. Aspen is covered in fresh and powdery snow for nearly a half year.
Aspen Snowmass is the biggest among the four ski resorts and probably the most crowded. It has all kinds of terrain and there are numerous lifts to provide access to all.
Aspen Mountain and Aspen Highlands are better known for their expert and advanced terrain. Lifts here are practically next to nothing and are a local favorite because of their largely uncrowded slopes.
Downtown Aspen, a mining town, is situated at the base of Aspen Mountain and is known for its celebrity status. It also offers a lot of recreational activities like cliff jumping, paragliding, and paddleboarding.
Snowmass has exuberant nightlife and excellent dining options. Therefore, travelers, you will never be out of activities here.
3. Steamboat Ski Resort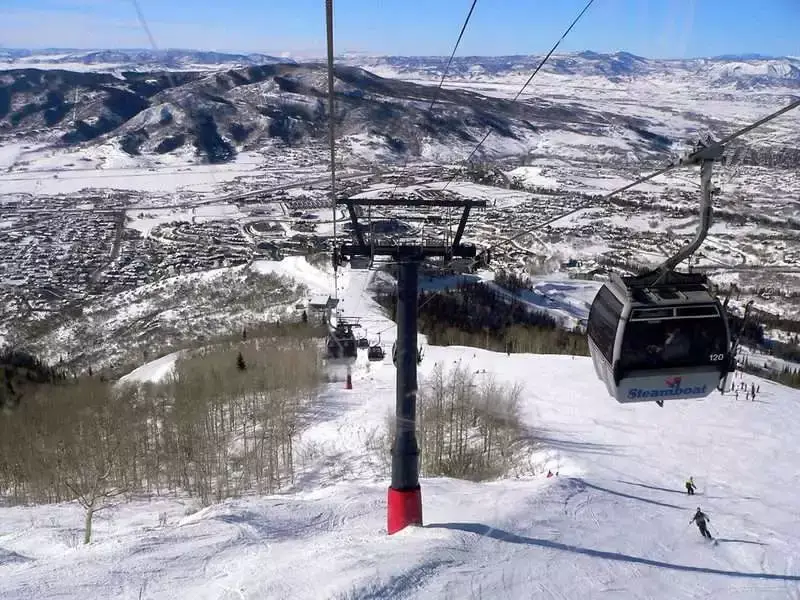 If you have altitude sickness or are scared of high slopes, then Steamboat Ski Resort is the best option for your ski trip. With a summit elevation of 10,568 ft / 3,221 m, this resort is known for its 'champagne powder' snow and tree skiing facilities.
This Colorado ski resort is at least a 4-hour drive from Denver International Airport. It has more than 165 trails for both beginners and intermediate skiers and has 3000 acres of skiable area.
Among all the Colorado ski resorts, Steamboat is one of the few which offers night skiing. They give access to five trails and a high-speed chair lift that takes you to the top of Christe Peak. Don't forget to add extra layers of warm clothes when going night skiing to keep yourself warm and dry.
Steamboat Springs, locally known as 'The Boat', is the mountain town near this resort. This place takes you back to the Old Western period of cowboys with an indie flair. The town has a long-standing history of rodeos and beautiful ranches passed down through generations. The natural geothermal hot springs are the USP of this place where you can relax and soak those tired muscles after a long day.
4. Arapahoe Basin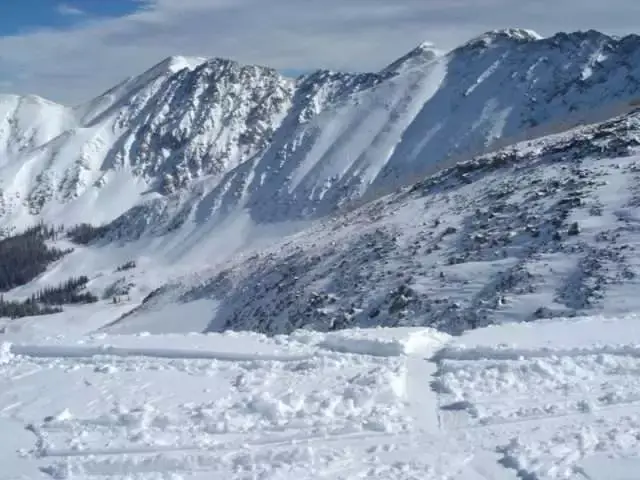 Skiers, if you are looking for a challenge, then Arapahoe Basin or the A-Basin is the best bet for you among all the Colorado ski resorts. With a base elevation of 10,780 feet, this legendary mountain focuses solely on keeping you skiing until you drop.
With its affordable lift tickets and laid-back atmosphere, locals often come here for day skiing and tailgating. Arapahoe basin is also regarded as the 'local's mountain'. It has the highest skiable terrain in North America and expert skiers can spend the entire day exploring its steep slopes and extreme chutes.
The only drawback of the Arapahoe Basin for visitors is that there is no accommodation at the base of the mountain but there are options in surrounding areas like Silverthorne and Keystone. Even then, the casual and easy-going ambiance of the mountain is what draws tourists to make it a favored destination in their ski trips.
5. Beaver Creek Resort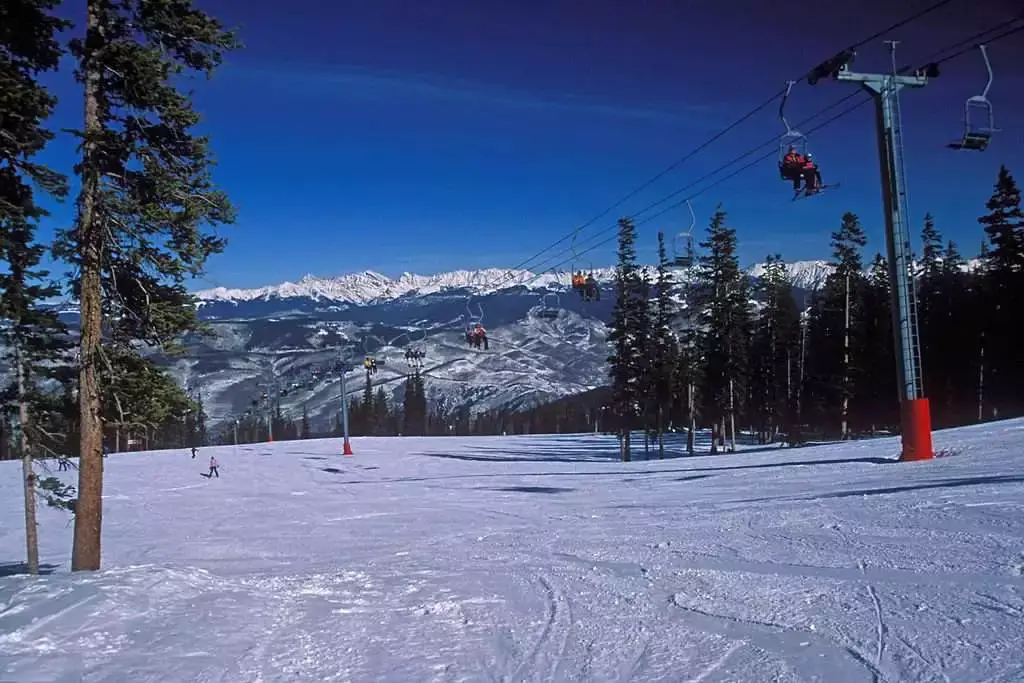 With a base elevation of 8,100 feet and a summit elevation of 11,400 feet, Beaver Creek is all about sophistication and luxury. It is just a few minutes distance from Vail and even though it does not have much terrain to offer, the groomed runs are perfect for new skiers. It has three terrain parks and more than 150 trails to choose from.
Featuring the 'Birds of Prey', an Olympic downhill, Beaver Creek is often the stop for Men's World Cup Tour. It does not have large crowds and is perfect for beginners as it offers the best ski schools in the country. The annual snowfall of Beaver Creek is around 325 inches and is ideal for skiing.
Beaver Creek Village is a mountain village of Colorado, at the base of the ski resort. It offers fine dining at upscale restaurants, lavish hotels, and a carefully curated range of fashion boutiques to shop. Behind the establishments, near the lining of the mountain, is a pedestrian-only area with a large skating rink at the center. It's a nice place to relax and enjoy the quaint village after a tiring day of skiing.
6. Copper Mountain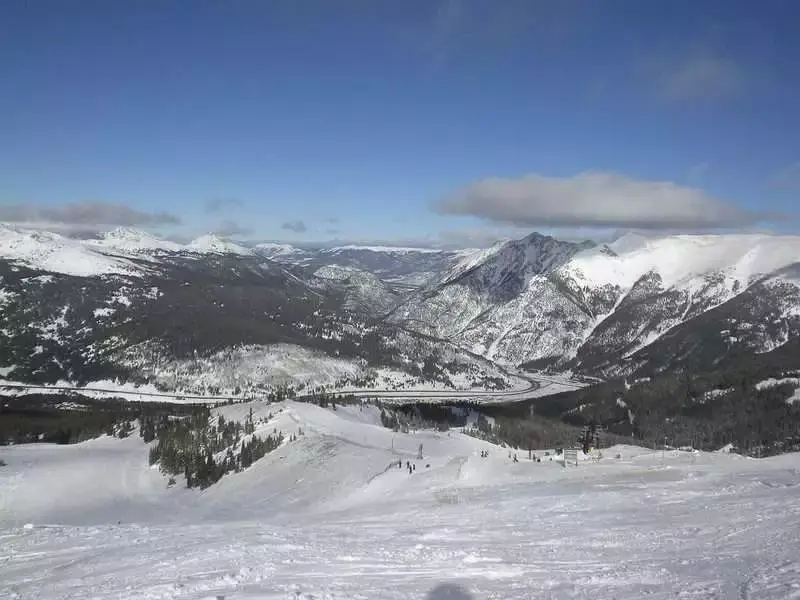 Colorado ski resorts are known for their heavy snowfall and majestic mountains for all types of skiers and snowboarders. Copper Mountain is another such resort in Colorado. At a distance of 2 hours from the Denver International Airport, this mountain is known for its unrefined topography, naturally divided terrain, and healthy summit elevation. Compared to other Colorado ski resorts, Copper Mountain receives less annual snowfall but after a good storm, the fresh snow is groomed perfectly for the skiers to spend their day exploring and having fun.
Copper Mountain has six terrain parks and offers free cat skiing to its guests, making the winter experience unique. The entire terrain is divided into three areas for beginners, intermediates, and advanced skiers alike. This ski resort has 2456 acres of skiable area with 23 lifts spread all across the terrain.
At the base of the mountain lies the town of this resort which will keep you sustained during your stay. This town has a very comfortable atmosphere with many family-friendly restaurants, shops, and intimate pedestrian-only villages.
It is a great place for families to come for their next ski trip.
7. Telluride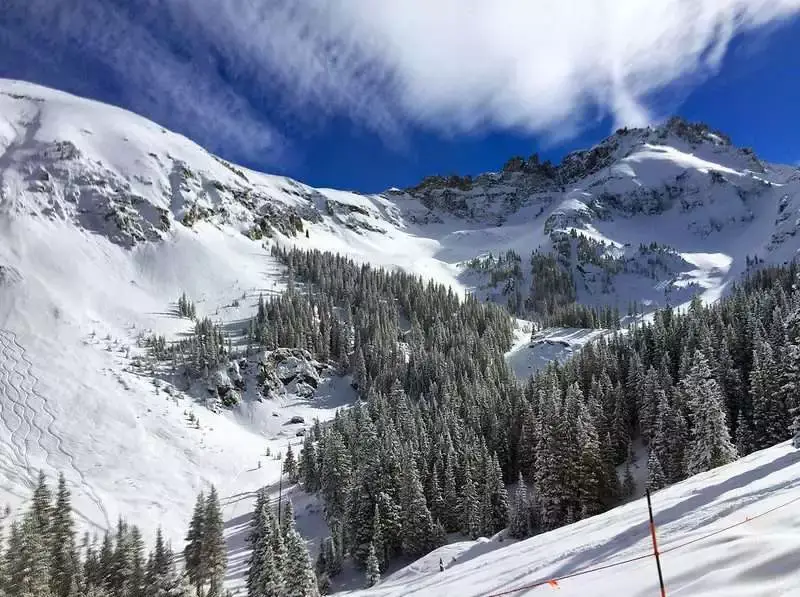 Out of all the Colorado ski resorts, Telluride is the most perfect and the truest ski area, hands down.
With its stunning mountain vistas and jaw-dropping scenery, this place has got skiers and travelers hooked. Situated in the iconic box canyon, this world-class snow destination receives an annual snowfall of around 300 inches, has a base elevation of 8,750 ft / 2,667 m, and a summit elevation of 13,150 ft / 4,008 m. The snow here is of the champagne powder variety.
Telluride might be a little difficult to reach, however, it is easy to get around other resorts. It has an exceptionally advanced and epic terrain keeping the people busy, skiing all day. The free gondola provides easy access to the Telluride town and also takes passengers to the Mountain Village.
The town of Telluride is independent on its own way. It has everything you may want for your perfect ski trip- less crowd, five-star accommodation, spas, and upscale dining. It also offers many recreational activities like fat biking, hiking, snow tubing, cat skiing, and many more.
Attending local festival schedules during summer is also one of the things you want to check off your list while visiting this resort. The town's authentic mountain character and the unspoiled atmosphere are what appeals to tourists looking for an ideal winter vacation.
8. Winter Park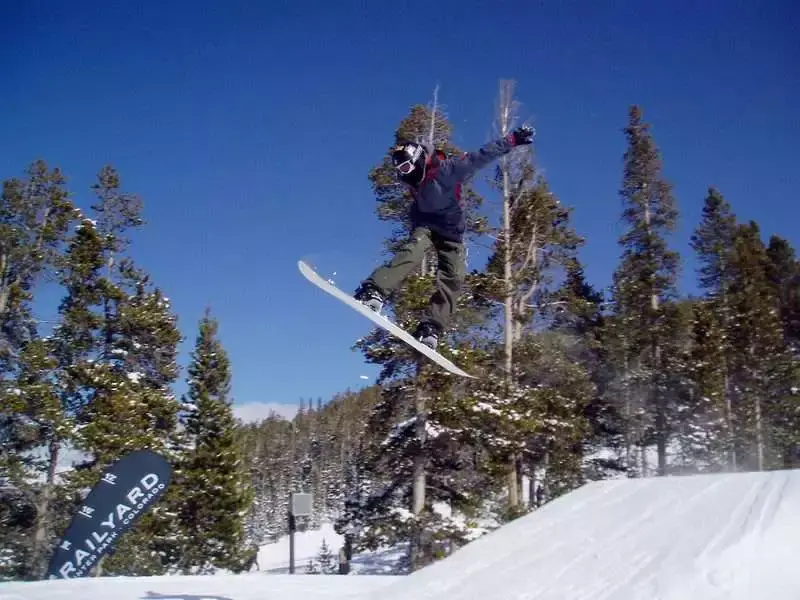 Formerly known as the West Portal, Winter Park is the largest running resort in Colorado. It has three terrain parks, 143 trails, and more than 3000 acres of skiable area. Winter Park is one of the closest destinations to Denver International Airport and has a base elevation of 9,000 ft / 2,743 m and a summit elevation of 12,060 ft / 3,676 m.
Winter Park is one of the Colorado ski resorts accessible through an Ikon pass. One of the unique features of this resort is that it has a train service called Winter Park Express operating during the weekends in January and March.
Here, you can also visit Mary Jane, an extension of the resort is known for its steep, bumpy, and tree-filled terrain and is regarded as the best mogul ski area in all of North America. In terms of skiing terrain, Winter Park is also known for its great versatility and having a ski terrain for all types of skill levels.
Winter Park and Fraser are the sister towns accessible from this resort. It has a variety of entertainment options for kids and adults alike. The calendar for this town is filled with exciting events happening all around the year. If you have a tight budget, the lodging options here are also pretty reasonable and you will definitely find something in your budget.
9. Breckenridge Ski Resort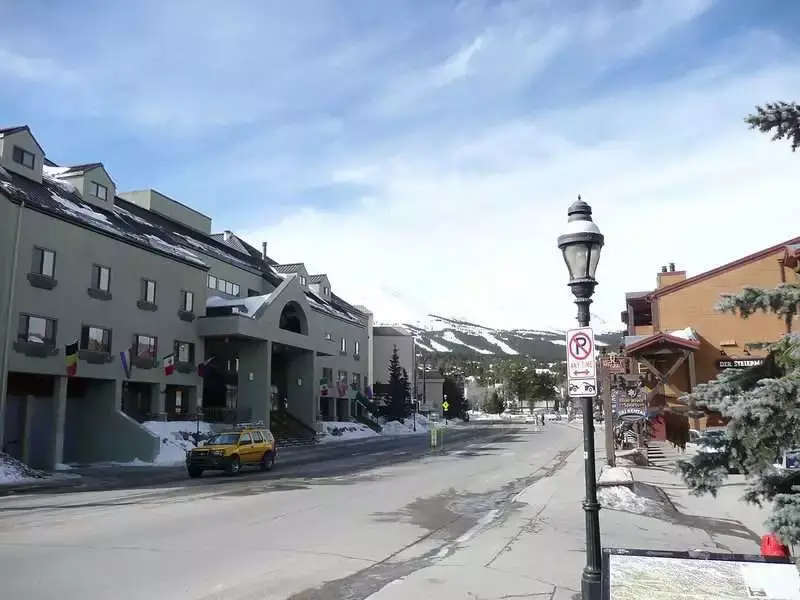 Situated in the heart of the Rocky Mountains, Breckenridge is one of the best ski destinations in Colorado. Colloquially known as the 'Breck', it is the easiest to access ski areas out of all the Colorado ski resorts. Constituting award-winning terrain parks and diverse lodging options, Breckenridge is a complete package.
The summit elevation of 12,998 ft / 3,962 m and a base elevation of 9,600 ft / 2, 657 926 m translates to mountains with high altitudes. This means that the snow remains hard even after the snow cycle is over. Breckenridge is an extraordinary mountain to ride and has a lot of variable ski areas for skiers of all types of skill sets and preferences.
The mountain empties into an adorable town at the base. It is a fun and lively place with great restaurants, an active nightlife scene, great shopping areas, and a historic main street full of bustling activities. However, it can be extremely crowded during the peak season. This picturesque town at the bottom of the mountain is a perfect mix of everything that you may want during your trip.
10. Monarch Mountain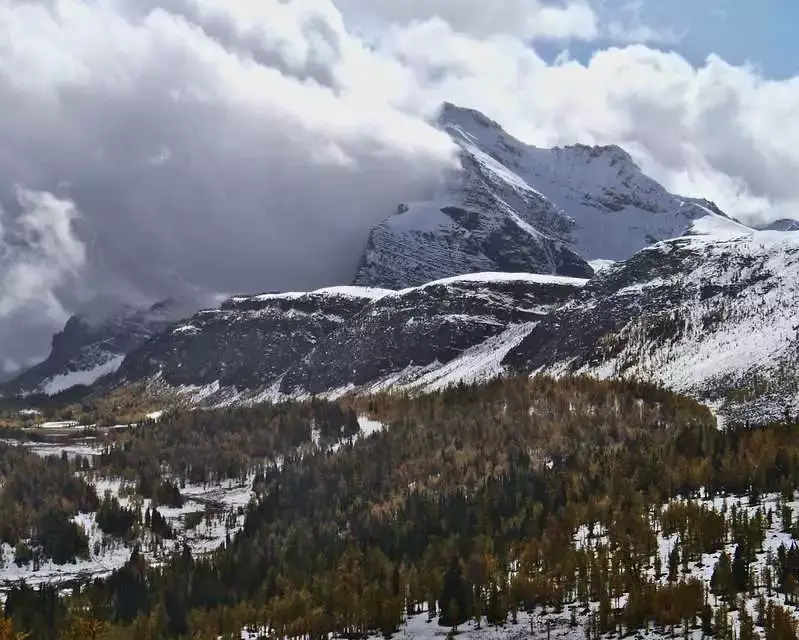 Monarch Mountain is a lesser-known resort compared to other Colorado ski resorts. Situated on the Monarch Pass at the continental divide, it is a great option for travelers who want to get away from the commotion and crowds of the big resorts.
Monarch Mountain receives an annual snowfall of around 350 inches, meaning you will get fresh powdered snow while skiing. It has 800 acres of ski area and over 64 trails. People with all types of skill levels can come here for skiing as the terrain here is very versatile. Another advantage of this place is that it is very affordable and budget-friendly.
While visiting this place, Monarch Cat Skiing is not something you would want to miss. Out of all the Colorado ski resorts, Monarch offers the city's most challenging cat skiing. Advanced skiers can also venture into Mirkwood, an extreme terrain ski area for a more daunting experience.
The town of Monarch has a very friendly vibe. You can find a lot of outdoor activities like mountain biking, hiking, horseback riding, and snowmobiling. Every year, hikers and mountain bikers specifically come here to scout the 500 miles of the Colorado Trail. You can also swing by the parks and The Children's center with your family for a day or a half to spend some time off the snow. So, head to Monarch Mountain for a true and exciting Colorado experience.
Now there you go, a detailed guide on Colorado ski resorts and everything that you may need to know. From the Breck and Aspen to Telluride and Monarch, Colorado ski resorts offer an unparalleled experience to skiers and travelers of every age and ability. Apart from the 10 Colorado ski resorts listed here, there are many more options to go through and every place has something unique and different to offer.
For example, Keystone has the largest night skiing operation in Colorado. (You can also find some interesting winter activities to do in Keystone here.)
Even if you are not a skier, these Colorado ski resorts will keep you occupied with various other recreational and outdoor activities. You can either immerse yourself in any one resort and enjoy all they have to offer or you can plan your trip, covering more than one place. Whatever it may be, these beautiful Colorado ski resorts will not disappoint you.
Verified Content by Experts
USA Tales has content written by niche experts, travelers, students, and those with real-life experience. Our content is also periodically reviewed by subject matter experts to ensure content accuracy and relevancy. Have a question? Email us at team@usatales.com